Short sellers are betting Florida real-estate developer St. Joe (NYSE:JOE) will continue to sag. They assume the Sunshine State's depressed real-estate market won't recover until at least 2010. This week's Barron's magazine notes some prominent value investors, who have recently taken big stakes in St. Joe, apparently disagree.
They argue St. Joe recently payed off all its outstanding debt and eliminated its dividend, putting it in "a great position to take advantage of the growth in the marketplace." An upcoming airport should boost tourism to the Gulf Coast of Florida, where it owns 700,000 acres.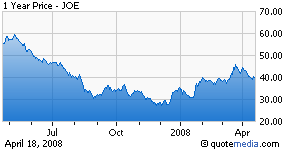 St. Joe is exiting its building business in order to focus on its specialty -- entitled land (construction-ready property sold to developers). It already has almost 39,000 residential units in various stages of development, and 12.3M square-feet of commercial land, all of which sit on its balance sheet at below-market-value prices. St. Joe is also looking to increase joint-ventures in which it receives a share of a development's future cash-flow.
Analysts note that its north Florida portfolio is more comparable to Alabama -- which is already prospering -- than to south Florida.
Shares, at about $40, equate to just over $10,000/acre for its prime land. St. Joe averaged $266,000/acre for its commercial land sales in 2007. Barron's thinks shares could rise 25% over the coming 12 months.
=================
Note that St. Joe averaged $1,500/acre for its rural land sales in 2007. Still, Clyde Milton thinks its shares, up from $27 in November, are a bit pricey at these levels. He's somewhat disconcerted by the company's recent ploy of selling 3,000 acres in an online auction.