Barron's says the U.S. dollar could gain 15% vs. the euro over the next year.
How so?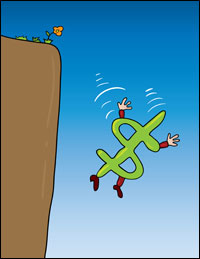 While the Fed is more-or-less at the end of its rate-cutting cycle, European central banks are still on the precipice of their credit crisis. As the spread in interest rates begins to narrow -- and as fickle investor sentiment makes an abrupt about face -- the dollar should rise, it says. Commodity stocks and overseas earners like Mosaic (NYSE:MOS) and Halliburton (NYSE:HAL) will likely fall as commodities prices fall and foreign earnings become less lucrative. Other stocks with much to lose from a rebounding dollar include Apache (NYSE:APA), Freeport-McMoran (NYSE:FCX), Southern Copper (PCU) and Bunge (NYSE:BG).
"Negatives about the dollar are more fully discounted compared to the potential positives," Brown Brothers Harriman's Marc Chandler says. 50% of global money managers said in an April survey the dollar is undervalued, while an amazing 71% think the euro has overshot.
Things could still get worse in the short-term, but Barclay's David Woo says one of three things could rekindle the dollar: a commodities crash; a major drop in U.S. stock markets that leads to a global economic slowdown; or a continued rise in long-term interest rates even as the Fed keeps short-term rates low.
Despite concerns about the dollar losing its coveted "global currency" status, the IMF noted that dollar reserves were steady at 64% even after its recent plunge, suggesting central banks are in no rush to dump the dollar.
==========================
Barron's has been unwavering in its case for lower commodity prices.
Here's a sampling of some pretty diverse opinions about the dollar and where it's headed:
Note Seeking Alpha's super-useful Currency ETFs and ETNs and Commodity ETFs and ETNs selectors.