Shares of luxury car dealer Asbury Automotive Group (NYSE:ABG) are down about 50% from last year's highs as an increasingly timid U.S. consumer cuts back on big-ticket items. Barron's says Asbury has taken an unfair beating, and thinks investors could make 50% on their money over the coming 12 months.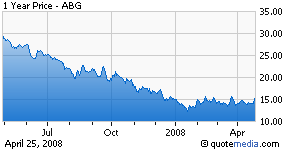 At a current $15, shares trade at just 8x 2008 earnings estimates of $1.87, compared to a much richer 13x for rival Penske (NYSE:PAG). "If you can buy a company at eight times trough earnings, it's a good deal," money manager Peter Siris says. Its $0.90 dividend offers investors a yield of 5.9% to sit around and wait; the next-highest yielding auto dealer, Sonic Automotive (NYSE:SAH), yields just 2.3%. CFO J. Gordon Smith tells Barron's the dividend is the company's "top priority," and says Asbury could support it for a year even if EPS were to fall to $1.40.
The low P/E and high yield recently caught the attention of legendary value investor John Neff, whose foray into Asbury is the first time he's ever owned an auto dealer. Neff says the U.S. consumer isn't as weak as the market thinks; he sees Asbury hitting the high end of its guidance at $2-2.25 this year.
Asbury is also growing revenue through acquisitions, while cutting costs and reducing its inventory. In the long term, analysts see annual revenue growth of 8% and earnings growth of 10%.
======================
Paul Price thinks Asbury's a better deal than better-known Carmax (NYSE:KMX) and AutoNation (NYSE:AN). He notes insiders are buying, and that some pretty heavy hitters have substantial positions in the stock.

Stockerblog thinks car dealers are the ultimate contrarian play.
On its earnings conference call last week, CEO Charles Oglesby had this to say about the subprime lending market:
What we notice is not really a lender pull back. But what is different in the marketplace is the structure of the deal... as the lenders look at the deal, they are not over-extending the loan requirements or the loans, as they did in the past, where they may give 110% loan approval to the customer, whereas now it is 90%. So other than that, where the deal has changed, the lenders are not pulling back, they're just tightened the box a little bit.