I've developed a screen for value-based stocks with a strong, growing dividend for income. Following this screen, I've decided to take a closer look at Staples (NASDAQ:SPLS). The screen itself consists of:
Security Type: Common Stock - I am interested in investing in U.S.-based companies.
Market Capitalization: Greater than or equal to $740 Million - I am looking for middle-large cap companies that have established themselves in the marketplace. Staples: $8.70 Billion.
P/E (Intra-day/ TTM) - Less than or equal to 12 - I want a company with a lower than average P/E to give it some 'value' and room for the stock price to grow. Following the screen, I must compare this to the industry and historical average. Staples: 9.02 TTM
Dividend Yield: Greater than or equal to 3.2% - I am looking for a yield above 3.2% to give myself a consistent stream of income above the current Treasury yield. Staples: 3.48%
Dividend Payout % Last Quarter: Less than or equal to 65% - while I would like a strong dividend, I want to ensure that the company is also investing some of its profits back into itself. Staples: 29.29% TTM
Dividend Growth Rate (5-Year Average): Greater than or equal to 5% - I want a dividend that has, on average, been growing over the past five years. Following the screen, I must check the dividends declared to ensure consistency in the growth of the dividend. Staples: 8.70%
Company Overview
Staples is the world's largest office supply retailer, providing products and services in office supplies, copy and print, technology, facilities, and furniture. The company's strategy is to maintain leadership position by delivering on the brand promise, "we bring easy to your office." The company is categorized through contract, catalog, on-line, and retail store customers through convenient sales channels. The online and catalog customers are generally small businesses and other organizations with up to 20 office workers while the retail stores target small businesses, home offices, and consumers. There are three large groupings through which Staples views its business: North American Delivery's focus is currently on expanding categories beyond core office supplies and includes Staples Advantage, Staples.com, and Quill.com. North American Retail's focus is on offering easy-to-shop stores with quality, in-stock products (retail stores have been downsized over the years, from 24,000 square feet to 15,000 square feet or less currently). Finally, International Operations focuses on businesses in 24 countries in Europe, Australia, South America and Asia. Staples does not feel it needs to be in every country, operating in countries where it can generate high returns is more necessary than operating everywhere.
Recently in the news, Staples has focused on the back-to-school market. On July 10, it kicked off the start of the season by ringing the First Bell at the NASDAQ, noting that it "is committed to providing incredible value so parents can make sure kids have what they need." For example, the company is offering a Back-To-School savings pass (available for $10 while allotting customers 15% off on purchases throughout the season, excluding technology such as computers or calculators). For laptops, college students can get a $100 Visa prepaid card as a rebate with relevant purchases. The company is also offering an incentivized package for consumers upgrading to Windows 8 through its store, in response to sales of software declining in the double digits in Q1.
Upcoming Events
Q2 Earnings August 15th (prior to market open): the company is expected to report earnings per share of $0.23, a one cent increase over last years' Q2 EPS.
Q1 Notes and Forecasts:
For North American delivery services, sales increased broadly with particular strength from the online business. Growth came from facilities and break-room supplies, which increased more than 20% while core office supplies decreased slightly. Meanwhile, for North American retail, software declined in the double digits while technology grew significantly: phones and accessories doubled, facilities supplies increased 30%, and tablets grew ~15%. Partnering with Apple (NASDAQ:AAPL) on selling Apple products will be something to look for moving forward, and in the Q&A section of Q1, management notes that both companies are happy with the roll-out in Canada. Internationally, the business suffered due to a strengthening U.S. dollar and declining demand; same-store sales in Europe were down 6% while total sales were down 8% in U.S. dollars versus Q1 of last year. Profitability remains key and the company is going to focus on slimming down for the rest of the year. In the first quarter, it trimmed 200 salary jobs in North America and 300 positions abroad.
Overall, gross profit margin decreased 14 basis points to 26.4% and Selling, General, and Administrative expenses increased 32 basis points. For guidance, the company left FY 2013 guidance unchanged while forecasting low single-digit sales growth and high single digit EPS growth versus FY 2012 adjusted EPS of $1.37. Current analyst consensus puts 2013 EPS at $1.49, which would mark an 8.76% increase over FY 2012. Revenue for FY 2013 is expected to be $25.3 billion versus $25.0 billion for FY 2012, a 1.2% increase.
Key Statistics and Notes
Staples currently trades at a P/E of 9.02 with a PEG ratio of .92, and there is value based on these statistics compared with averages: Its historical P/E is 16.79 while the specialty retail average PEG is 1.30. Its forward P/E is 8.54, which does not indicate that there will be outstanding or phenomenal growth for the coming year but the company is by no means overvalued based on this metric. In the short term, its current ratio of 1.55 indicates that it is quite liquid and that many of its current assets are not tied up in current liabilities. Meanwhile, it has a strong and growing dividend at 3.48% yield, a sub 30% payout ratio, and about an 8% growth rate. The company can be deemed "stable" at the very least and its dividend should not be in trouble.
Comparison of Key Statistics

Statistic

Staples

Office Depot

Office Max

Price Performance (last 52 weeks)

-17.54%

-46.67%

-31.12%

P/E (NYSE:TTM)

9.0

5.6

14.9

Revenue Growth

1.19%

-1.25%

0.50%

Gross Margin

28.57%

32.00%

26.64%

EBITD Margin

8.43%

2.76%

2.43%

Profit Margin

3.90%

1.02%

0.37%

Return on Investment

10.60%

6.41%

1.11%

Return on Assets

7.20%

2.75%

0.65%
Compared with competitors Office Max (NYSE:OMX) and Office Depot (NYSE:ODP), Staples has not experienced as much downward pressure. Office Depot is down 46.67% over the past 52 weeks, while Office Max is down 31.12%. Staples is down 17.54%. Staples has the strongest revenue growth of the three for the past 12 months at +1.19%, compared with OMX's +.5% and ODP's -1.25%. In terms of margins, Staples posts the highest EBITD Margin, 8.43%, and profit margin at 3.90%. Finally, Staples' return on investment is highest of the three at 10.60%, much higher than ODP's 6.41% and Staples' return on assets is 7.20%, much higher than ODP's 2.75% and OMX's .65%. Staples' is the strongest of the three competitors by most comparisons.
Overall, analysts are bullish on Staples. Fidelity lists the stock at 8.2/ 10 based on an aggregate of analyst opinions. Most recently, on July 18, UBS downgraded Staples to "hold" from "buy," pointing to a $13 price target. "UBS noted that while downside for the stock may be limited, it sees few catalysts for growth on the horizon."
The Chart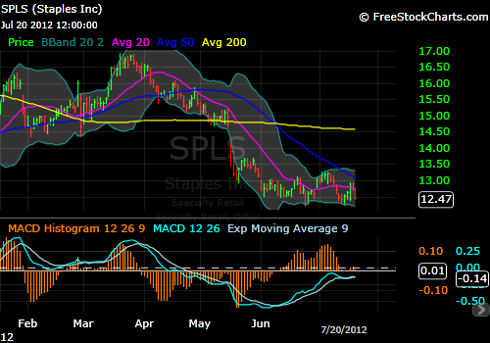 Click to enlarge
Since the end of May the stock's price has consolidated, varying within a $1 dollar range. The 20-day moving average is below the 50-day moving average, which in turn is below the 200-day moving average; these are bearish signals, though the crossovers, which are more significant, happened some time ago. Meanwhile, the MACD and its signal line have converged while remaining below the 0 center line. Overall, the stock looks neutral from the chart.
Margins:
Staples Fiscal Quarters

Q1 2013

Q4 2012

Q3 2012

Q2 2012

Q1 2012

Revenue Growth (Quarter over Quarter)

-1.10%

.70%

.49%

5.17%

1.90%

Gross Margin

28.03%

28.47%

29.41%

28.32%

28.20%

Operating Margin

5.67%

7.26%

8.11%

4.78%

5.64%
Revenue growth has largely stalled since Q1 2012, with Q2 2012 representing an overall earnings surprise and being an outlier amongst the rest of the data. Earnings and margins reflect competitive pressures and weak economic environments especially abroad.
Staples Fiscal Years

FY 2012

FY 2011

FY 2010

Revenue Growth (Year over Year)

1.94%

1.11%

5.16%

Gross Margin

28.61%

28.69%

28.53%

Operating Margin

6.51%

6.64%

6.22%
Yearly data points to low revenue growth for the past two years, with this low sub 2% growth also being forecast for the coming years. Margins have been under pressure due to high competitive pressures and weak economic environments. Key concerns moving forward are catalysts for future revenue growth, competition from other suppliers such as Amazon (NASDAQ:AMZN) and others (even if indirectly), and the economic environment.
DCF
Unlevered Free Cash Flow Section:
Sales growth is estimated at 1.2% given analyst estimates for 25.3 billion for 2012 and continued estimates at that pace. EBITDA margin is based on current margins and averages over the past years; 8.5%. Effective tax rate for the first quarter was 32.5% according to the Q1 conference call and I estimate the tax rate at 34.7% based on average taxes of the past four years. Capital expenditures and Depreciation are taken as averages, with a .3% addition to capital expenditures as a buffer moving forward.
WACC Calculation:
Debt to Total Capitalization is calculated through the 2012 Q1 balance sheet, taking total shareholder's equity/ (shareholder's equity + long-term debt + short-term debt). WACC used is 9.0%, in line with wikiwealth's 9.0% and Bloomberg terminal's 9.6%. Unlevered beta used: 1.12, estimated through multiple sources.
Implied Share Price: $12.26, indicating the stock is fairly valued.
Conclusion
While many of the valuation ratios indicate that Staples is undervalued by historical norms, the real thing keeping the stock from returning to these norms is a lack of growth prospects. Staples must perform well during the back-to-school period, and even still, does not stand to grow revenue significantly moving forward. While Staples is stronger than its competitors and offers an enticing dividend, the specialty office retail space is not a great play currently with a weak economic environment hampering growth. Overall, I agree with the UBS analyst, "while downside for the stock may be limited… (there are) few catalysts for growth on the horizon." I anticipate the stock trending sideways for some time.
Disclosure: I have no positions in any stocks mentioned, and no plans to initiate any positions within the next 72 hours.