A strong contingent of Longwei Petroleum (LPH) investors have grown confident in holding their shares of LPH because of the recent independent and certified reconciliation of LPH's financial data conducted by LPH's auditors, Child, Van Waggoner & Bradshaw, PLLC. The conclusion of the auditors' report was that LPH's SAIC and SAT revenues, income, and tax payments matched the SEC reported numbers from July 1, 2009 to March 31, 2012 without any material difference. The report included the Chinese tax documents utilized in the reconciliation, which were attached for all investors to study. To complement this reconciliation, we, a group of major and serious investors of LPH, have decided to share our diligent work with other investors because we believe that in the current distressed atmosphere for Chinese small caps, it takes all investors' collective efforts in order to assemble all the pieces of a company's true characteristics and business operations.
It is not an overstatement to say that 2011 was a difficult year for holding long positions in Chinese small-cap stocks, especially reverse takeover (RTO) stocks. During 2011, the threat of fraudulent accounting, theft of assets - including cash by nefarious members of management, and the threat of a company existing solely on paper and not in reality seemed magnified and were just some of the risks of holding China small-cap stocks. It was in this poisonous atmosphere that this group of major and serious LPH investors decided to conduct some on-the-ground due diligence in Taiyuan by hiring a professional Chinese business investigator to represent the group by attending the LPH 2011 stockholders' meeting and visiting the company's two oil storage facilities to conduct on-site inspections.
As experienced investors in Chinese stocks, the group's philosophy was "trust no one, not even yourself" when investing in a company. With that maxim in mind, the group chose an investigator from Hong Kong who had previously worked with the group and provided the experience needed to understand the culture, challenges of establishing trust, nuances of communication, and patience required for a successful correspondence with Mr. Cai. It takes an investigator with great skepticism to detect malfeasance and one with the wisdom to determine a legitimate company.
The following is a synopsis, as dictated by the investigator, of the conversations the investigator had with CEO Mr. Cai and CFO Mr. Toups in the former's office during the investigator's visit:
Investigator: "We understand you typically buy from state-owned (teapot) refineries. Is there any opportunity or benefit to purchasing from Sinopec or PetroChina, or do you consider them competitors?"
Mr. Cai: "There is no advantage to buying from Sinopec (NYSE:SHI) or PetroChina (NYSE:PTR) because of the way they do business. There are layers for approval before you can buy from them. This may take months and the price of oil changes daily. We have been successful without using them."
Investigator: "How often are you reviewed for your license to sell fuel?"
Mr. Cai: "The distribution license is reviewed every five years. If there are no special circumstances, the license will be renewed."
Investigator: "Are there any plans to expand into the gas station market?"
Mr. Cai: "No plans. We are strictly in the wholesale market. The wholesale market is more stable and relatively simple to understand and control. As long as we have enough cash to keep inventory, we make a profit."
Investigator: "What caused the inventory turnover to increase in 2011?"
Mr. Cai: "We intended to increase inventory. The increase in turnover was also caused because the price of oil was increasing constantly. In China, the increasing oil selling price is controlled by the government. Longwei has strong cash flow and this provides opportunities to buy before the price increases. This is why storage is important as is cash flow and cash on hand. We can often earn about RMB30 million (USD4.8 million) by re-evaluating the cost of inventory."
Investigator: "What benefit does having deposits with suppliers provide?"
Mr. Cai: "We can have a better price since the refinery can use our deposit as working capital. We can buy oil when the price is favorable to us and arrange delivery later as a result. Other distributors do the same."
Investigator: "What was the issue with the audit in the area of internal controls and has it been corrected?"
Mr. Toups: "This change was requested by the public auditor and was corrected."
Investigator: "Based on the numbers from the audited 10K, and the latest figures for the 10Q with sales volume of 93,862 metric tons (MT) for the quarter ended September 30, 2011, what are the reasons behind the consecutive drop in volume in the last six quarters? Does this mean the beginning of shrinking business volume since it is not limited to a one-quarter issue?"
Mr. Cai: "There are some industries or companies whose business has dropped or that is no longer supported by government policy. It is our intent to decrease our business exposure with these types of companies. This policy will help to improve the quality of our customer base."
Investigator: "Do Chinese laws cause any problem for Longwei to pay dividends?"
Mr. Cai: "There is no problem with the Chinese laws in this issue."
Investigator: "There is a lot of U.S. and European money being put into funds that pay a dividend since savings accounts (and bonds) do not provide an income. Paying dividends will attract institutional investors and large stock funds that can dramatically increase the price-per-share."
Mr. Cai: "Our industry is very special. Whoever has the largest storage facilities will generally be the market leader. Once we complete the acquisition of a new facility, Longwei will have the biggest storage capacity in the Shanxi private sector. We need cash to pay the balance of this new acquisition. If we use additional cash on hand to pay dividends at this time, we may not have enough cash to keep the necessary inventory. We will consider paying dividends only after the new acquisition is completed and we have returned to a strong cash flow. This may happen by the end of 2012 or in 2013."
Investigator: "Is there a future exit strategy, such as selling the business?"
Mr. Cai: "No. I only have this business and this industry is very stable and profitable."
Investigator: "Do you intend to remain on the U.S. stock market or list on another exchange (Hong Kong or China)?"
Mr. Cai: "I have no other plans at present."
Investigator: "Would you be willing to participate on conference calls in the future or be willing to write a summary of business for each fiscal quarter?"
Mr. Cai: "I can participate on conference calls with translation. It is good to have direct communication with our shareholders. I do not intend to write a summary quarterly report because my vision and plans are stated in each annual report. Also, this industry is very simple and straightforward. There would not be much to state quarterly."
Investigator: "Please explain the dynamics of the fuel distribution industry in China such as the type of competition (large and small) and what trends you see in the industry? What changes do you foresee in the industry in the next several years?"
Mr. Cai: "I believe that the market size will become bigger. It is because the increase of income for the Chinese population in general. People in the countryside now have the ability to buy a car, unlike the past. While there are competitors in the market, government control of the issuance of licenses ensures that competition will be relatively limited."
Investigator's note: According to my understanding, the government is encouraging acquisitions in order to decrease the number of smaller companies. Longwei is able to acquire smaller companies under this government policy.
Investigator: "Given the regulations on pricing, do all customers pay the same price for your products?"
Mr. Cai: "Basically, yes, and the regulations are fair. The price difference only depends on the quantity purchased."
Investigator: "What is the makeup (large, small, by industry) of your customers?"
Mr. Cai: "The percentages of sales for industrial users, large-scale gas stations, and small independently owned gas stations and small users are 55%, 35%, and 10%, respectively."
Shown below are photos the investigator took during his trip to the company's facilities. These photos, along with additional photos, will be posted in the near future at btwresearch.com which is currently in development:
Photo 1: The investigator and CFO Mr. Toups in front of the company's sign at Longwei's headquarters.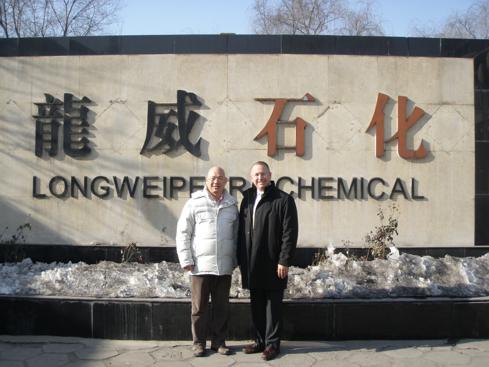 Click to enlarge
Photo 2: Mr. Cai and the investigator in Mr. Cai's office.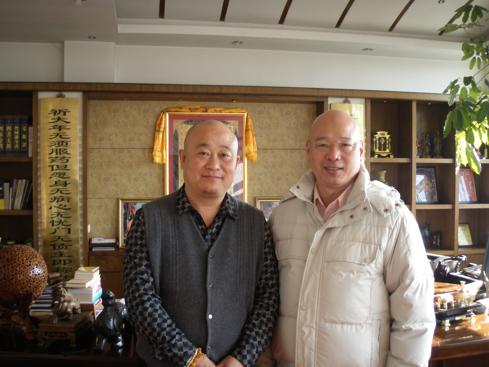 Click to enlarge
Photo 3: A parking lot of the headquarters.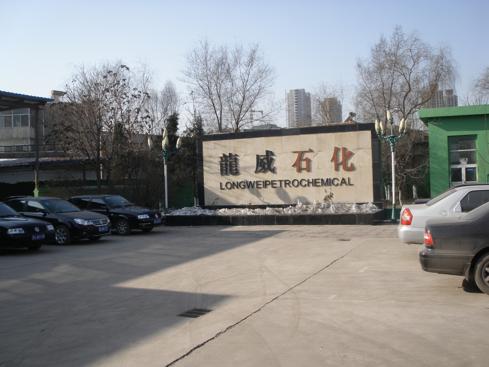 Click to enlarge
The investigator spent a couple of hours with Mr. Cai, Mr. Toups, the VP of Marketing and Sales, and the accounting manager. His findings brought a high level of reassurance to us as investors and made us believe strongly that we were investing in a real company with a real business and real earnings. Below are the investigator's independent opinions from his onsite inspections and meeting with the management team:
1. I found that many of the oil tanks in Gujiao have rust. In my opinion, this is caused by bad quality paint and shoddy workmanship. Mr. Cai told me that he is aware of this and is negotiating with the vendor who painted the tanks.
2. I talked with the account manager privately and confirmed that the payment terms for customers is cash before delivery.
3. Mr. Toups told me there are a total of about 70 employees in the two facilities. Basically, I agree, based upon my observations.
4. The two facilities are both operating, based upon my observations. I observed trucks loading oil at both facilities. The workers at both facilities appear to be experienced.
5. Mr. Cai appears to be intelligent and straightforward. The information that he told me about the industry is correct, according to my understanding in China.
6. All facilities are covered by insurance as confirmed by Mr. Cai.
7. Mr. Cai is open and straightforward. It is my opinion that the information provided by Mr. Cai is true. The oil distribution license Longwei has is extremely valuable. It is very difficult to get government approval for such a license. The oil industry is very stable and profitable in China. It is protected by the government. There is no debt and this is an advantage for Longwei. I talked with the account manager privately and confirmed that the standard payment term for most customers is cash before delivery.
Disclosure: I am long LPH.