Somehow I missed this from last week. Hat tip to Todd Sullivan's - ValuePlays:
Apparently on Monday there was heavy call buying in RadioShack (NYSE:RSH) - ironically a day I was writing puts on the name. Rumor is that Dell (NASDAQ:DELL) is kicking the tires. It would be an easy way to get into retail in a bigger way.
Here's a video discussing the rumor.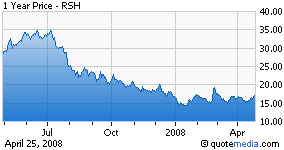 Anyhoo - my original thesis was that RadioShack's valuation is cheap, at ten or eleven times earnings. My preferred measure, the free cash flow yield, is a downright juicy 14.3%. With that kind of cash flow yield, RSH could generate double-digit returns even if cash flow declined 4.3% per year.
With five-year Treasuries yielding just 2.5% the declines could be even larger and still earn investors the typical risk premium that would be expected for holding stocks. That and the fact that there seems to be solid technical support contributed to my writing put options at $15 each of the last two months.
Disclosure: At time of publication, William Trent has written put options against shares of Radioshack (RSH).