I tend to be described as a conservative buy and hold investor. I like solid companies that have a defensible market share, strong entry barriers, and a history of proven returns. Tobacco fits this bill perfectly, with the added advantage of selling an addictive product. Finally, many investors choose to avoid such 'sin' stocks, allowing yields to remain high.
In 2008, Philip Morris International (NYSE:PM) was spun off from Altria (NYSE:MO), which was known for being the most profitable stock in US history. Altria now does business within the USA, and PM internationally. Out of the global tobacco companies PM has the highest market capitalization when compared with competitors British American Tobacco (NYSEMKT:BTI), Imperial Tobacco Group (ITYBY.PK), and Lorillard (NYSE:LO).
Over the last year Philip Morris has returned 34% with the S&P 500 returning only slightly over 5%. With yearly total returns of 10, 21, and 34% for 2009, 2010, 2011 respectively, company financials look on track to continue such comparable growth.
Over the last 4 years for the years 2011, 2010, and 2009, earning per share grew at 23%, 21%, and -2% respectively. Discounting the decrease in earnings per share between 2008 and 2009 because of the financial crisis, PM has shown a consistent ability to increase shareholder value each year since.
In the time period from February to March this year, reported insider trades were slightly positive with 32 increased positions and 26 reduced positions; this neither strongly points to either a buy or sell, however the slight positive slant is reassuring. At this point the long term data indicates that PM is still a profitable stock to hold, but the ideal time to initiate a new position must be found.
While many buy and hold dividend investors would say it is rational to buy on any low, I like to take the time to find the correct time to enter the market based on macroeconomic events. I already hold PM and am looking to add to my position at the appropriate time to maximize dividends and overall returns. As PM has been reacting to the Eurozone crisis extensively this year, events within the eurozone may determine when the appropriate time to enter the market is.
For these purposes, we will compare a couple indicative stocks and ETFs with the price of PM over the last 6 months.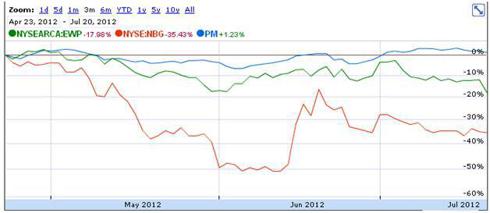 Click to enlarge
(Source: Google Finance)
Greece and Spain are the main EU troublemakers in recent history, so for Greece we will be comparing PM with the National Bank of Greece (NBG) and for Spain we will use the iShares MSCI Spain Index ETF (NYSEARCA:EWP). Banco Santander (NYSE:SAN) can be overlaid with EWP and the motions are consistent; either can be used here.
In this we can see several apparent correlations; in early May, as both EWP and NBG were going bearish, PM was still bullish for several days before joining the EWP and NBG bears on their way down. In the final days of May both NBG and EWP hit their bottoms at essentially the same time, however PM took several days longer to bottom. EWP even began to go bullish before PM bottomed, and again PM followed with a lag.
Now of course PM is responding to other factors besides EU problems, which may explain why in July PM initially rose with a lag following NBG and EWP, but continues to slowly increase even as NBG and EWP falter. However, with EWP showing an almost 7% decrease on July 20th, and NBG decreasing over 8% on July 23rd, PM may be expected to go lower in the upcoming week.
So before I add to my position I will be waiting for any good Eurozone news that leads to price spikes of at least 5-7% in the indices of any European country, with a focus on Greece and Spain. However should an appropriate time not be found within the next few weeks, I am prepared to initiate a position simply on the long term performance of PM and tobacco in general.
Disclosure: I am long PM, MO and may add to these positions in the near future.