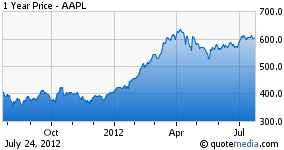 Apple (NASDAQ:AAPL) is expected to report an EPS of $10.35 per share for its Q3 earnings today at about 4:30 p.m. EST, with a conference call to follow at 5:00 p.m. EST. Analysts' estimates range between $9.45 to $12.51), well above the $7.79 in the prior year period. Revenues are expected to come in at $37.23 billion.
The share price of Apple has been consolidating around the $600 mark for some time and we expect a short term up-move after the results. It would be supported by Apple's upbeat guidance for the fourth quarter and a confirmation by the management that the company is surging ahead for enterprise development.
Apple Quietly Makes Move Into The Enterprise Market: iOS Soars Ahead of Android Development
The Apple iOS is surging ahead of the Google (NASDAQ:GOOG) Android platform for enterprise development, according to survey results from Appcelerator, the mobile platform development company.
In the largest survey of its kind, Appcelerator developers were asked what operating system is best positioned to win the enterprise market. Developers said iOS over Android by a 53% to 38% margin. Last year, in its second quarter survey, the two companies were in a dead heat for the enterprise market, tied at 44%.
Each quarter, in conjunction with IDC Research, Appcelerator surveys its community of 340,000 developers. It is the largest survey of mobile developers. This quarter, more than 3,600 developers participated in the survey.
Apple's dramatic push ahead is in part attributed to developers' perception about Android. When asked what interests them, developers said the size of the market and the price point of the devices. "Apple is a consumer centric app in the eyes of developers," said Appcelerator's Director of Enterprise Strategy, Michael King.
Apple has also put more emphasis on supporting the enterprise through better security. They have worked closely with mobile device management companies such as Mobile Iron, SAP Afaria and Symantec's Nukone.
On its website, Apple has successfully marketed its iOS products. For example, it markets the ways it is used; the companies that have adopted it; the apps and its security features. It beautifully shows the iPad and the innovative ways it can be used. Its resources page helps people understand how to use, integrate, and support iPad in business environments.
DigiTimes reports Apple iPhone shipments are expected to come in between 20 and 25 million units for the Q3 period as production of a new version of the device begins in August 2012.
In addition, Apple now has an enterprise associate in every Apple store. We believe Apple has silently made significant progress in the smartphone software market, and it will be certainly reflected in the company's Q3 earnings report. Moreover, the iPhone 5 is set to be a resounding success, and Apple's suppliers are upbeat about the opportunity that it presents.
If Apple Disappoints: The 50-Day SMA of Apple's share price is located near $580. In case of any disappointment the share price could slide at that level or slightly below it.