Studying the technical charts can often help an investor determine which way a stock is heading. For example, two stocks I cover, Antares (NASDAQ:ATRS) and Zalicus (ZLCS), offered the fortunate a quick gain during an overall down market May-June malaise. I also correctly predicted that Pharmacyclics (NASDAQ:PCYC) would begin to retrace (Monday's close: down $49.50/share) and that Lexicon (NASDAQ:LXRX) could also move down (now to $2.60/share). In this article, my attention and interest is drawn to the technical charts of iBio (NYSEMKT:IBIO). I see a unique opportunity here as the stock looks way over-sold. Here's why:
Opportunity is Knocking
Last month the company informed its shareholders: "iBio Announces Important Expansion of its Intellectual Property Portfolio: Allowance of Patent for Anthrax Vaccines and Further Application of Modulator Platform". That press release was one of many examples exemplifying how iBio is on the cutting-edge of biotech medicine. I highlight from that news release:
The ability to provide better immune response and longer-term protection with fewer or zero booster inoculations adds significant value to a vaccine by reducing the overall costs and logistical difficulties of its use.
Working with the U.S. Department of Defense, iBio has the technology to improve upon the bio-defense anthrax vaccine which currently requires five injections. The company's CEO stated:
"Although we recommend its use together with our iBioLaunch platform to achieve maximum efficiency in producing the fused protein, the iBioModulator is usable independently and is applicable to recombinant vaccines made with any system. We expect strong interest in its use by both corporate and government clients."
I am of the opinion that iBio's iBioModulator and iBioLaunch platform makes the company an attractive buy-out target, or as the CEO stated, a large partnership is on the near-term horizon such as the Department of Defense.
On Monday's close the stock was up 21.74% closing at $1.12/share. The low volume stock (167,919 average volume [3mths]) is on another bull run confirmed by today's volume (337,409 -- nearly double the average) and the direction of the chart. Is news on the way? Some on the chat boards think so; I don't know, but I do want to look at the charts, past and present.
Looking Back on iBio
On 13 July I documented the beginning of a new bull pattern. The dip below $0.80/share was bearishly oversold and the recovery showed a definitive bullish uptrend. I explained the high risk, yet I also pointed to the potential high reward -- iBio should be trading above $2/share.
Here's that chart from 13 July: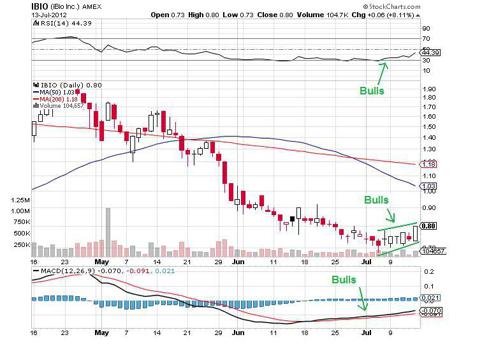 Click to enlarge
(Click to enlarge)
I pointed out to biotech traders that iBio's bearish trend had run out of steam and that the bulls were making a re-entrance. Quite frankly, iBio was way-oversold and the RSI and MACD confirmed this. I also thought the 50 MA might begin to re-cross the 200 MA once the bulls took over. But here's where we are Monday evening, 23 July.
Looking Forward on iBio
iBio has few low sellers as today's action confirmed because the stock has bullishly surged upward. A long-term and short-term chart is very interesting to those who trade on the technicals:
1. Long-term Chart
The long-term chart represents a wider view of where iBio may be heading on the broader scale. Given the partnering interest of the Bill & Melinda Gates Foundation, Fraunhofer USA Center for Molecular Biotechnology, GE Healthcare, Fiocruz/Bio-Manguinhos, CBR International Group, and the U.S. Department of Defense, the opportunity of an exciting pipeline with above-average partnership interest suggests how iBio is what may be defined as a "biotech break-out stock" -- highly volatile, subject to volatile swings, but a lucrative opportunity when its share price is low as it's been in recent days.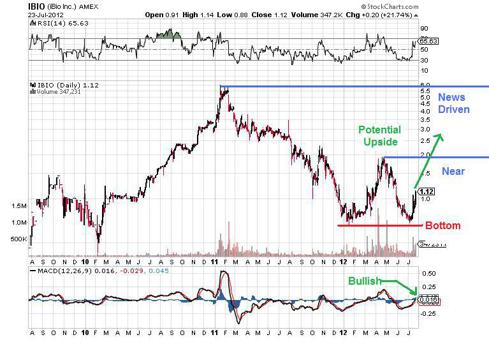 Click to enlarge
(Click to enlarge)
From a three year chart perspective, iBio is poised to break-out should it go over $2/share in the "near-term." Above $2/share, iBio could go much higher driven by a "news-driven" event. One thing though is certain: iBio is coming off the bottom and investors shouldn't be surprised by the significant high percentage upside.
2. Short-term Chart
The short-term chart explains why iBio may be a great buy. It appears to be a spike, reload/retrace, and a new spike on Monday.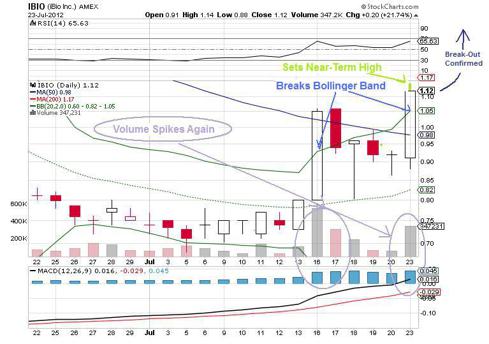 Click to enlarge
(Click to enlarge)
Within six days, iBIO has broken the Bollinger band twice. It also finished at a new near-term high signifying a new break-out may be in the offing. The MACD and RSI are very strong. Notice the volume spikes. iBio looks like it may want to test that $2/share mark.
Volume Creates a Bio-Opportunity Break-Out
Here's the outlook of an iBio faithful holder; I think his/her comments warrant a careful read (Note: DARPA means 'Defense Advanced Research Projects Agency'):
definitely bullish movement ...

we have a DARPA grant coming this week ...

... if this grant is announced, the h5n1 results published, we will run...does it change expectations about licensing now? later? maybe ...
If iBio is going to receive a new cash infusion, then expect the share price to jump. I suspect the company's intellectual property around vaccine development makes it an early buy-out target.
It's a Wrap!
I have taken a position in iBio because I not only like the company's fundamental direction, I am of the opinion that the chart is considerably bullish. Furthermore, I think iBio could be bought-out for its intellectual property by a much larger vaccine manufacturer, and if not, the company certainly seems positioned to land a large contract very soon.
Investors who like new ideas and contrarian opinions may want to follow me. My goal is to make money and my disclosure is an open declaration of my trading perspective. In the final analysis, I think iBio is going to break-out to the upside and that the run will return double -- possibly triple -- digit gains. Happy investing.
Disclosure: I am long IBIO.
Disclaimer: Investors buy and/or sell at their own risk. For me 'Long' means until I sell. I do not 'Short' stocks. I declare that I may day-trade any stock at any time represented in this article.