Units of Dorchester Minerals (NASDAQ:DMLP) offer high estimated distribution yield and low McDep Ratio among the 14 oil and gas income stocks in our weekly analysis.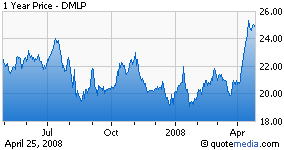 When the Henry Hub natural gas price index was $6.87 a million btu in 2007, income distributions were $2.01 a unit. Recent futures prices are $10.23 for the year ended March 31, 2008, up 49%, and our estimate of distributions for the same period is $3.02, up 50%.
Most of our estimated Net Present Value [NPV] of $27 a unit is supported by the relationship of cash flow multiple and reserve life. The difference is more than justified by DMLP's conservative reporting that excludes commonly reported undeveloped reserves and by the low-cost, preferential status of valuable royalty interests and mineral rights. The partnership has a treasure trove of documents conveying mineral rights that in some cases date from the 19th century. In the hot Fayetteville Shale trend in Arkansas, DMLP's mineral rights have been turned into royalty interests and working interests that are just beginning to produce.
Hidden Value in Mineral Rights
Mineral owners typically are the original holders of subsurface oil and gas rights that are usually leased by operating companies. DMLP is the successor owner of mineral rights acquired by pioneers of the oil and gas industry throughout major producing areas of the U.S. Most of its more than 300,000 net acres are not now under lease to operating companies, but new technology and higher oil and gas price are sparking interest in a broad range of plays. Some of the acreage may be prospective for natural gas in the Marcellus shale in Appalachia as well as for oil in the Bakken formation in North Dakota, to mention two areas in the news. Two years ago the partnership leased 10,000 acres in the Fayetteville Shale Trend of Arkansas to operating companies who are actively drilling.
The Fayetteville leases may lead to natural gas reserves of some 120 billion cubic feet (bcf) to be developed over perhaps ten years. DMLP has retained a 25% royalty interest that would give it the revenue from 25% of production without any obligation to pay development or operating costs. Royalty interests have a premium value, say, $2 a thousand cubic feet in this case for purposes of analysis. In that event, the Fayetteville royalty interest may be worth $2 a unit to DMLP.
The remaining 90 bcf in our illustration constitutes the working interest through which the operating company earns its return. On two thirds of its Fayetteville land, DMLP retained the option to participate in the working interest at the rate of about 25%. Thus in our illustration, DMLP might have a 25% working interest in two-thirds of 90 bcf for a net 15 bcf worth perhaps a nominal $0.50 a unit.
When DMLP elects to participate as a working interest owner, the general partner [GP] advances the funds for investment and recoups that investment from production before any cash is distributed to the limited partners. In actual practice, the GP rolls over recoupment into new investment such that there is a rapidly building backlog of production about to generate cash and reserves for limited partners that does not yet show in the financial statements of the partnership. At the end of 2007, the GP made a cumulative investment of $7 million in new wells on the limited partners' behalf.
Once royalty interests start producing, the cash flow stream can go on indefinitely in the higher quality properties. Royalty interest accounted for 47% of last year's natural gas production and 95% of oil production. Those properties are analogous to the assets of Sabine Royalty Trust (NYSE:SBR), which are still pumping out record cash flow more than 25 years after SBR was formed.
All royalty cash flow is "free" cash flow after maintenance investment. Similarly, unlevered cash flow multiples (EV/Ebitda) will look high for royalty production because no portion of the cash flow needs to be held back for reinvestment to maintain production. In their own wisdom, income investors may take a simpler approach and reckon that if DMLP is paying 13% and it has sound operations and capable management, it ought to be a decent investment.
Originally published on April 11, 2008.