Johnson & Johnson (NYSE:JNJ) continues to be on everyone's buy list and for good reason. The stock has a long string of increases in sales and earnings and still sells for a discount to the market. Now, due to a recent pullback in the market, this might be a nice time to buy shares or add to your holdings on this recent pullback. Notice this hourly trading chart over he past month provided by Barchart: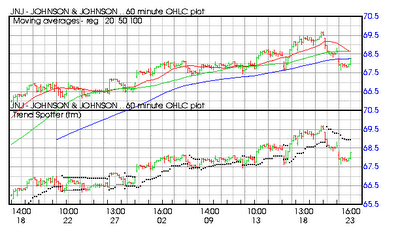 Over the past 6 months the stock has held its own compared to the market as measured by the Value Line Index. In fact since the end of April the stock has out paced the market: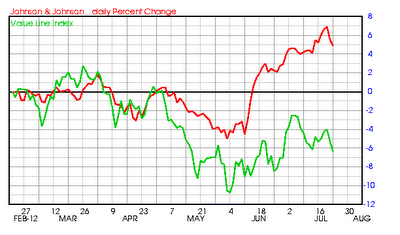 Johnson & Johnson, together with its subsidiaries, engages in the research and development, manufacture and sale of various products in the healthcare field worldwide. Its Consumer segment offers products for use in the baby care, skin care, oral care, wound care, and women's health fields, as well as nutritional and over-the-counter pharmaceutical products, and wellness and prevention platforms under well known brand names. This segment markets its products to the general public, as well as to retail outlets and distributors.
The company''s Pharmaceutical segment provides various products in the areas of anti-infective, antipsychotic, contraceptive, dermatology, gastrointestinal, hematology, immunology, neurology, oncology, pain management, thrombosis, vaccines, and infectious diseases. This segment distributes its products directly to retailers, wholesalers and healthcare professionals for prescription use.
Its Medical Devices and Diagnostics segment offers electrophysiology and circulatory disease management products; orthopaedic joint reconstruction, spinal care, neurological, and sports medicine products; surgical care, aesthetics, and women's health products; minimally invasive surgical and sterilization products; blood glucose monitoring and insulin delivery products; professional diagnostic products; and disposable contact lenses. This segment distributes its products directly and through surgical supply and other distributors to wholesalers, hospitals and retailers. Johnson & Johnson was founded in 1886 and is based in New Brunswick, New Jersey. (Yahoo Finance profile)
Factors to consider:
Barchart technical indicators:
40% Barchart technical buy signal
Trend Spotter buy signal
Trading above its 20, 50 and 100 day moving averages
11 new highs and up 2.28% in the last month
Relative Strength Index 57.84%
Barchart computes a technical support level at 67.77
Recently traded at 68.13 with a 50 day moving average of 65.47
Fundamental factors:
Widely followed on Wall Street where 16 brokerage firms have assigned 26 analysts to monitor the numbers
Analysts project revenue to increase by 3.70% this year and another 7.40% next year
Earnings are estimated to increase by 1.60% this year, an additional 7.50% next year and continue increases at an annual rate of 6.60% for the next 5 years
These consensus estimates resulted in analysts issuing 8 strong buy, 9 buy, 9 hold and no under perform or sell recommendations to their clients
If estimates come in analysts predict a 10% - 14% total annual rate of return for investors over the next 5 years
The P/E of 13.80 is below the market P/E of 14.60
The dividend rate of 3.51% which is about 50% of earnings is higher than the markets dividend rate of 2.40%
The company has a very solid A++ financial strength rating
Solid worldwide brand name recognition is the stocks strong suit
With worldwide earnings comes exposure to currency translation uncertainty
Investor interest:
I use Motley Fool to gauge the individual investor interest and a whopping 14,053 readers have expressed an opinion on the stock
97% of the general readership thinks the stock will beat the market
98% of the more experienced All Stars voted for the same result
Firms positive on the issue are Zacks, JPMorgan, Barclays Capital Management and Wells Fargo
Columnists with positive comments include Jim Cramer, David Tepper, Chris Davis and Gary B Smith
The stock has performed favorable against its peer group and over the last year gained 5%, with McKesson (NYSE:MCK) up 15%, Cardinal Health (NYSE:CAH) up 3% and AmeriSourceBergen (NYSE:ABC) up 7%: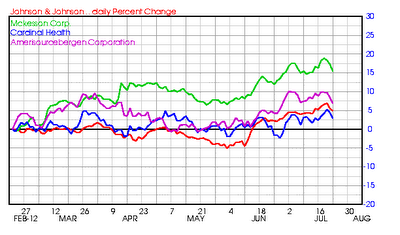 Summary: Johnson & Johnson has been a world wide healthcare conglomerate that has been on every firm's conservative holding lists. Watch carefully the moving averages and 14 day turtle channels to find ideal entry points if you decide to jump in: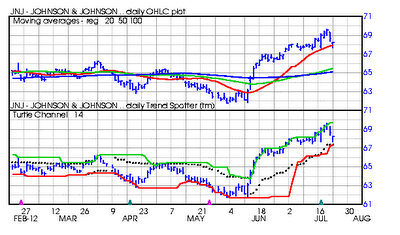 Disclosure: I have no positions in any stocks mentioned, and no plans to initiate any positions within the next 72 hours.