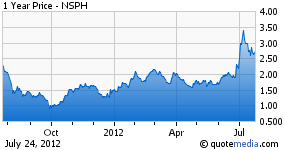 At least once a week I tried to publish an article on a speculative small capitalization stock in the biotech or medical device sectors. Although only a small portion of my portfolio is allocated to these plays, it is by far the most exciting part of my allocation as the shares can shoot up 50% or more in a short amount of time on any kind of good news. And what investor doesn't like to hit a "home run" every now and again? I tend to look to at firms with rapidly growing sales, a solid balance sheet, interesting product(s) and some recent insider buying. The stock I planned to write up today which I found over the weekend with those characteristics was Galectin Therapeutics (GALT). Unfortunately, it announced positive news first thing Monday and the stock soared some 60% yesterday before I could purchase it or complete an article on the company. Timing is everything in life! However, another stock with similar characteristics is Nanosphere (NSPH) which is holding up well in today's downturn and has had significant insider buying as well as an important FDA approval recently.
7 reasons NSPH is worth a look as a speculative play at under $3 a share:
The company has over $30mm or approximately 25% of its market capitalization in net cash. It is also raising approximately $25mm in new capital. This should give it plenty of funds to ramp up production and marketing of its core product.
A director has bought around $4mm in new shares in June and July.
Revenues came in at just 2.53mm in FY2011. However, analysts expect over $8mm in revenue in FY2012 and over $25mm in sales in FY2013.
Consensus earnings estimates for both FY2012 and FY2013 have improved over the past three months and the company has beat earnings estimates in five of the last six quarters.
The four analysts that cover the stock have a $4.25 median price target on NSPH.
The company just received FDA approval in late June to market its Gram-Positive Blood Culture Nucleic Acid Test (BC-GP) on the automated sample-to-result Verigene System. This will allow hospitals to get results in 2 to 3 hours versus the 2 to 3 days with competing tests.
Given its small market cap (around $80mm after net cash), rapidly growing sales and this important approval; the company could be an acquisition target for a larger player in the space like Cepheid (CPHD).
Disclosure: I have no positions in any stocks mentioned, but may initiate a long position in NSPH over the next 72 hours.