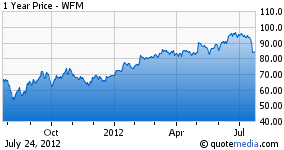 Whole Foods (WFM) reports fiscal 3rd quarter earnings after the bell on Wednesday, July 25th, with analyst consensus looking for $0.61 and $2.73 billion for expected year over year growth of 14% and 22%.
Comp growth has been 8% - 9% the last 8 quarters (with one exception where comp's grew 7.8%) and last quarter WFM put up comp's of 9.5%. From our internal spreadsheet gross and operating profit margins hit records of 36.31% and 7.09% last quarter, too.
Fiscal 2012 and 2013 earnings per share (EPS) and revenue estimates continue to get revised higher for the specialty / organic grocer. At $2.47 and $2.83, WFM is expected to grow earnings 28% and 15% this year and next, on expected revenue growth of 16% and 11%. At 34(x) and 30(x) those expected earnings, WFM is right in line with its expected growth rate and has little room for error. Also at a 15(x) EBIT and 17(x) price to cash-flow (from our internal spreadsheet, and using the April numbers), like the earnings multiple, WFM seems pretty fully valued. At $84 - $85, WFM is trading exactly where it was last quarter when it reported, so the market has taken away the recent pop into the mid $90's and begun to compress the multiple.
WFM's previous high was $79.90 on January 4. 2006, before the mortgage crisis and the consumer shock took the retailer down to $7 - $9 in late '08 - early '09. (Since the '09 low, WFM has built smaller stores, more productive square footage, and used more private label, all successful adaptations from the early 2000's. )
Personally I love the brand and the store and shop there often. WFM has successfully lowered prices and tried to dispel their "whole paycheck" moniker, which seems successful given WFM has twice the comp and EBIT margins as the majority of their competitors.
That being said, as we saw with Chipotle (CMG), Intuitive Surgical (ISRG) and some other "growthier" names last week, [even McDonald's (NYSE:MCD)] there is little tolerance for even a slight miss or cautious guidance when a stock sports this kind of multiple.
The one other thing that bothers me is that most analysts are bulling the stock into the quarterly release. Id prefer to see a lot more skepticism or outright pessimism. This kind of market is intolerant of any kind of cautious guidance, so while WFM will probably put up the numbers, if like other retailers that we heard from last week, WFM says May, June and July were somewhat weaker, the stock mighty not receive that too well.
We like WFM in the mid $70's which would be a nice correction after its monster run. We are still long half our original position in WFM, having sold some last week. The way a lot of retail is acting, i just think that we want to be better buyers at longer-term support. (We could sell the other half of WFM before tomorrow night's release - it depends.)
Disclosure: I am long WFM.