Sector Snap: Analyst says end of ethanol oversupply in sight
In Alternative Energy Hunt, Ethanol Under the Gun
These two news items were right next to each other on the summary page for VeraSun Energy (VSE), the largest pure play ethanol producer.
The first article reported that an analyst from Oppenheimer & Co. announced he believes the current oversupply of ethanol will disappear in the next 5-12 months. I am not sure there is really an oversupply because, as far as I can tell, all ethanol producers are selling every gallon they are producing and I have not heard of any idle production. There has been a worry of an overbuilding of ethanol plants, but many have been canceled or put on hold, and it appears production capacity will really level off the middle of 2009.
The second article focuses on the twin problems of corn ethanol's bad public image and high corn costs that really cut into margins. There are some interesting comments on the politics of ethanol and the belief that the next administration would not be a supporter of corn ethanol as a renewable fuel.
The article also discusses the hard times ethanol companies have fallen on, stock price wise, and getting financing for new plants. Again the cry for cellulosic ethanol is raised, but the article does point out that there are currently 134 producing grain ethanol plants and 61 under construction and exactly zero cellulose ethanol plants producing ethanol.
My own belief is that the U.S. will continue towards about 10% ethanol blend in all gasoline, for both clean air and reduced oil dependence reasons. This give an annual requirement of 18 million gallons and current production is about 7.5 million gallons with capacity peaking in 2010 at about 14 million gallons. The current Renewable Fuel Standard calls for 36 billion gallons by 2012 and the Democratic presidential candidates are calling for 60 million gallons by 2030. But of course they do not want it to be corn ethanol. I do not see any way to meet the RFS without significant corn ethanol production.
I also think that when/if cellulose ethanol becomes viable, it could benefit corn ethanol producers in several ways:
Corn ethanol producers are natural candidates to switch to cellulose with their already built and functioning plants.
Competition from cellulose feed-stocks should drive down corn costs as less is needed for fuel. Cellulose ethanol producers may be surprised what their feed-stocks cost once there is a market for them. See this story.
The government will need to support ethanol prices so all of their "friends" who build cellulose ethanol plants can get a decent return on their investments.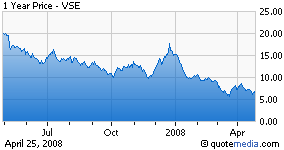 I think VeraSun Energy, on its way to becoming the largest ethanol producer, will surprise many with its profitability over the next few years. I have started picking up a small position at current prices.
Note: I am long VSE.