For May 2012, the Federal Housing Finance Administration (FHFA) reports that home prices increased by 0.8%. This follows a previous report of a revised 0.7% increase for April 2012. This increase follows a similar trend with other indexes and metrics for the housing market. The index is calculated using the purchase prices of homes with mortgages backed by Fannie Mae (OTCQB:FNMA) and Freddie Mac (OTCQB:FMCC).
The last monthly drop came in the December 2011 to January 2012 period, making this a 4-month period of increased home prices. This is also the highest reading for any period in the past 18 months and matches levels seen in May 2004.

Click to enlarge
The compound annual growth rate since 1991 now stands at 3.0%, while growth since the year 2000 stands at 2.6%.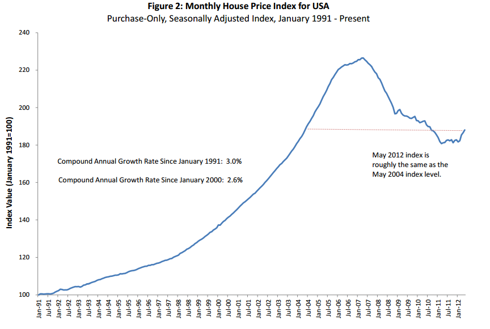 Click to enlarge
Increases in home prices are primarily due to tighter supplies of homes on the market, record-low mortgage interest rates, and increased costs of renting.
With the 30-year Fixed Rate Mortgage now touching 3.53%, we may expect that home prices will continue to move higher. Some homeowners have been holding properties off the market, renting them, or leaving them vacant. The improvement in prices could put marginally underwater homes at a position to be sold. Then, additional homes will come onto the market, which will hopefully be purchased quickly. This appears to be the beginning of a tenuous housing recovery, helped partly by a flight to quality by bondholders and easing by the Federal Reserve.
Additionally, programs like the Home Affordable Refinance Program (HARP) are helping underwater homeowners reduce payments and stay in their homes. As of June 2012, over 2.3 million mortgage modifications have been completed by Fannie and Freddie through government-mandated programs. Some of these programs appear to be having an effect reducing the available foreclosure inventory and protecting the housing market.
Zillow's Housing Report
Yesterday, Real Estate website Zillow.com reported that the housing market has turned the corner. Home prices have bottomed and the first annual increase in 5 years will be recorded. Zillow reports that home values increased 2.1% from the 1st to 2nd Quarters of 2012. The forecast for future gains shows the biggest changes coming from Phoenix and Miami.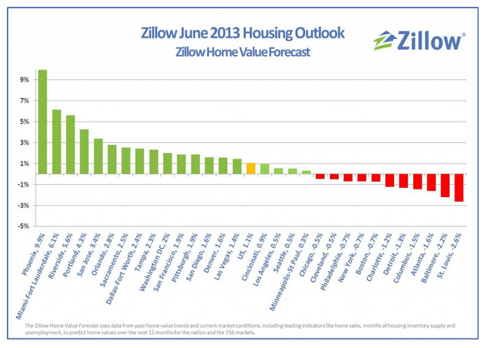 Click to enlarge
"Due to very low inventory levels paired with greater consumer and investor appetite and low mortgage rates, home values have appreciated faster than anticipated in markets like Phoenix and Miami, creating a V-shaped recovery in home values." - Zillow.com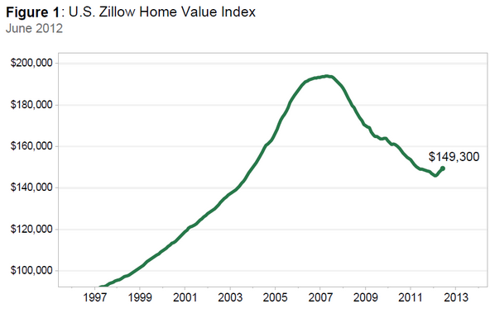 Click to enlarge
Interestingly, the cost of buying a home and renting a home are both rising. This relationship usually tends to be an inverse correlation. However, reductions in available inventory appear to be increasing both measures in the market, creating inflationary pressure.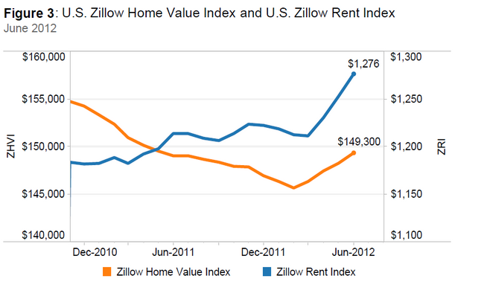 Click to enlarge
As home prices continue to rebound, mortgage insurers like MGIC Investment Corp. (MTG) and Radian Group Inc. (RDN) look good. Both stocks are trading below book value and continue to write new business.
Disclosure: I am long OTCQB:FNMA, OTCQB:FMCC.
Additional disclosure: Long GSE Preferreds, not common stock.