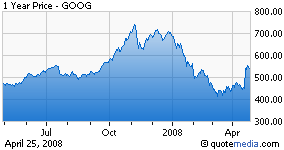 Google (NASDAQ:GOOG) has several recent drivers that could propel the stock back to its 52 week high.
According to the San Jose Mercury News, there is no economic slowdown on the Internet.
According to Google's earnings call, it now makes more than 50% of its revenue from overseas. The fallling dollar gooses Google's earnings. Should Bernanke / the Fed continue to debase the currency, the earnings will continue to benefit from the exchange rates.
The unresolved Microsoft (NASDAQ:MSFT) dance with Yahoo (NASDAQ:YHOO) weakens Google's competitors. A proxy fight could further hurt Microsoft and Yahoo in the short run and will likely strengthen Google's position with advertisers and investors.
Google has recently introduced brand image ads for cellphones. The move extends Google's reach into the mobile advertising market. The move could further benefit Google in the long run in emerging markets where internet use is more prevalent on mobile phones than on laptops or desktops. Google has rolled out the service internationally, and it is available in Australia, China, France, Germany, India, Ireland, Italy, Japan, Netherlands, Russia, Spain, the UK, and the United States.
Google has upgraded Google Finance to include more news stories and links on its home page. In addition, Google has added templates to Google Docs.
In China, Google has entered into an agreement with China Mobile that gives Google the exclusive rights to process search queries from China Mobile's customers. The agreement will help Google in its efforts to supplant Baidu in the world's largest internet market. China currently has more than 565 mobile phone users -- more than the entire US populaiton. It further has more than 210 internet users.
And of course, Google has major initiatives that will come to fruition in the 3rd and 4th quarters. Google Android promises to be one of the big stories during the Christmas shopping season.
Add it all up, and I find myself extremely bullish on the stock.
Disclosure: Author has a long position in GOOG