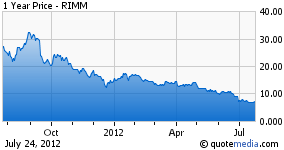 Research In Motion (RIMM) is moving up, up, and almost away -- after Prem Watsa, the Canadian investor known a touch generously as the Warren Buffett of the North, announced via a filing that he doubled his stake in the embattled Canadian company, which seems to specialize these days in getting its clock cleaned by Apple (AAPL) and Google (GOOG). Watsa now owns just under 10 percent of the reeling RIM.
After news of the bumptiously increased stake broke, everyone immediately began wrestling with the concept of confidence.
Right from the start, The Financial Times, which ran with the headline: "Watsa shows confidence in RIM strategy" sees the boost in holdings of the embattled RIM as a straightforward display of confidence. ZDNet headline, however, sees Watsa's confidence as purely misguided. Their headline sneered: "Fairfax doubles stake in RIM; a blind vote of confidence?"
The Wall Street Journal looked at confidence as a measured tool, noting that Watsa's filing provided "a modest boost" to the company and the few traders who still owned a nickel's worth.
Sifting through all this rank speculation about the role of confidence in this RIM purchase, which is it? Watsa's stake should provide at least a fleeting bump of it (it already has, as the stock has run up in unreasonable fashion) but considering Watsa's track record with RIM (he's been an enthusiast though thin and thin) -- well, it won't last long.
That is not to say, however, that Watsa's confidence is blind, as ZDNet contended. He is informed, even if ultimately incorrect. His take on the sustainability of RIM's cash level, the eventual potential of its much-delayed product line and perhaps his sense that the company can be sold for parts, should not be given a reflexive back-of-the hand
He is confident and just put even more money where his confidence lay. He deserves a hearing and though his confidence will translate into a teaspoon of it for the stock over the short-haul, it is, in the end, too hopeful by half and won't last. RIM's inability to keep pace with Apple and Google and inability to get new products to market in a timely manner are ultimately defining and will prove it's undoing. It is saddled with such trouble that an acquisition at a favorable price seems unlikely.
Pretty confident about all that.
Disclosure: I have no positions in any stocks mentioned, and no plans to initiate any positions within the next 72 hours.