When venture capitalists seek candidates for start-ups in which to invest money, some of their major concerns as they weigh the many opportunities before them are quality management, a competitive or innovative advantage, and industry growth for companies of interest. Importantly, these are much the same concerns that should be on the minds of investors as they review potential investments from among the thousands available today on the world's stock exchanges.
As readers know, one of the companies about which I have been writing on Seeking Alpha since April 2011 is Vical Incorporated (NASDAQ:VICL) of San Diego, CA. (You can find my latest three articles here, here, and here.) Selling for around $3.50 per share, the company focuses on vaccines and gene therapies. Given that we now are approaching a critical time in Vical's life cycle - that is, the anticipated release of data from the pivotal Phase 3 trial of its lead drug, Allovectin®-I thought this would be a good time to learn a little more about Vical's management in general and its President and Chief Executive Officer (CEO) in particular. So, I asked Vijay Samant if he would take a few minutes out of his busy schedule for an interview. He readily agreed.
Vijay B. Samant joined Vical as President and Chief Executive Officer in November 2000. He previously had 23 years of diverse U.S. and international sales, marketing, operations, and business development experience with Merck. From 1998 to mid-2000, Mr. Samant was Chief Operating Officer of the Merck Vaccine Division. From 1990 to 1998, he served in the Merck Manufacturing Division as Vice President of Vaccine Operations, Vice President of Business Affairs, and Executive Director of Materials Management. Mr. Samant earned a master's degree in management studies from the Sloan School of Management at the Massachusetts Institute of Technology in 1983. He received a master's degree in chemical engineering from Columbia University in 1977 and a bachelor's degree in chemical engineering from the University of Bombay, University Department of Chemical Technology, in 1975. Mr. Samant has been a member of the Board of Trustees for the International Vaccine Institute (IVI, Seoul, Korea) since 2008; a member of the Board of Trustees for the National Foundation for Infectious Diseases (NFID, Bethesda, MD) since 2003; and a Director of the Aeras Global TB Vaccine Foundation (Rockville, MD) from 2001 to 2010.
Cohen: Thanks, Mr. Samant, for taking the time from your busy schedule to answer a few questions today.
Samant: My pleasure, Ted. And please call me Vijay. Let me say, first, that my comments today will essentially repeat material presented previously in public presentations to the investment community such as the one I recently gave at the JMP Securities Healthcare Conference. Any forward-looking statements, including financial expectations, and projections of progress in our research and clinical development programs, are subject to risks and uncertainties that could cause our actual results to differ materially from those projected, including the risks set forth in our annual report on Form 10-K and quarterly reports on Form 10-Q filed with the Securities and Exchange Commission (SEC). The company has no intent or obligation to update these statements. (News Releases and information on corporate Events and Presentations are available on the corporate Web site. Cohen)
Cohen: Thanks, Vijay. I know one thing on everybody's mind when they think of Vical is the status of the pivotal Phase 3 trial for your lead drug for metastatic melanoma, known as Allovectin. Are you still looking to complete adjudication of the data in the next few months and announce results for both endpoints at the same time, in late 2012?
Samant: That's right, Ted. Our primary endpoint is objective response rate at 24 weeks or more after randomization, which is a measure of meaningful, long-term tumor shrinkage. We have a formal adjudication process in place for this endpoint which I described in detail in our last earnings call, so I won't repeat that information today. That adjudication is going on right now, and should be finished by the fourth quarter. Around that same time, we expect to reach the target number of death events for our secondary endpoint, overall survival. We plan to unblind the data and announce the results for both endpoints at the same time late this year. This is, of course, only an estimate, and timing could change based on the event rate.
Cohen: If I recall correctly, you recently announced new results for the subset of patients in your Phase 2 study, is that correct?
Samant: Yes it is. We've been doing a bit of data analysis, looking at results from past Allovectin trials to help support our expectations for Phase 3. As we have reported in the past, more than 60% of the patients in our high-dose Phase 2 trial received one cycle or less of Allovectin, most because of progressive disease under standard RECIST criteria. Because Allovectin typically takes at least two cycles to work, we thought the subset of patients who got one cycle or less of Allovectin might be a good comparator in terms of survival to patients getting treated with chemotherapy in the control arm in Phase 3. We found the median survival for this subset, which included a balanced mix of Stage III and Stage IV disease, was about 12 months. We believe this result supports our previous expectations.
Cohen: Have your analyses turned up any additional insights from prior studies?
Samant: You may remember our early low-dose, 10 microgram Allovectin Phase 3 trial comparing DTIC alone vs. DTIC plus Allovectin. That trial did not show a statistical difference in survival between the two arms. As a reminder, our current Phase 3 trial uses a 200-fold higher dose of Allovectin, but we thought the low-dose trial could provide some insights for the control arm in our current study. We looked at patients in the low-dose trial who had normal levels of LDH, which is an entry requirement in our current Phase 3 trial. I should note that less than 15% of these patients had Stage III disease, while the mix in our current Phase 3 trial is expected to be evenly balanced between Stage III and Stage IV. Whether we looked at the normal LDH patients in the low-dose trial treatment arm, in the control arm, or in both arms together, the median survival was about 12 months. We believe these results also are in line with our expectations.
Cohen: You, of course, had a safety monitoring board monitoring the Phase 3 trial. If the results of the Phase 2 trial were so good, and postulating that similar results might be seen in the Phase 3 study, wouldn't you think that at some point, the board would have stopped your current trial and put all patients in the control group on Allovectin? This was done recently, for example, by the data and safety monitoring board for J&J's (NYSE:JNJ) pivotal Phase 3 trial for Zytiga in the pre-chemo indication, when the trial achieved statistical significance on one primary end point (progression free survival, or PFS) but not the other (overall survival, or OS).
Samant: Let me clarify a key point here, Ted, that unlike the J&J trial and many others, our Phase 3 trial had a safety monitoring board (SMB), not a data and safety monitoring board (DSMB). The safety monitoring board looked only at safety data, not at efficacy. I'm happy to say that we completed five safety reviews, and the board recommended continuation of the trial after each review. Our Phase 3 trial was designed with no interim analyses for efficacy to keep it as small and cost-effective as possible. Because there were no interim looks at efficacy, there would be no basis to allow crossovers from the control group to the treatment group. The lack of crossovers also prevents compromise of the survival data. Bottom line - we need to wait for the data to mature and unblind only at the end of the study.
Cohen: You have licensed Allovectin to AnGes MG in Asia, where they are interested in the treatment primarily for use in head and neck cancer. Could you tell us a little about the terms of the partnership and how it's worked out?
Samant: The collaboration with AnGes has been extremely positive, and they have been a terrific partner on both the Allovectin program and their independently developed Collategene® angiogenesis program for treatment of peripheral arterial disease. Their financial support paid for the majority of our Phase 3 trial. We have established a great working relationship, and manage the program under the oversight of a joint steering committee with representatives from both companies. If Allovectin is successful, AnGes will have commercialization rights in the Asian territory, which excludes Australia, New Zealand and India, and we will receive low double-digit royalties.
Cohen: But, other than Asia, Vical has retained rights to commercialize Allovectin in North America, Europe and other regions, correct?
Samant: That's right Ted. We have retained rights for the rest of the world outside the defined Asian territory. Ideally, we would like to commercialize Allovectin in the United States, and find a partner to help with commercialization in Europe and other regions.
Cohen: We recently witnessed the launch of another immunotherapeutic product for cancer - Dendreon's (NASDAQ:DNDN) Provenge - that was marked by a number of missteps, to put it lightly. Even though that launch ranks in the top 10 of oncology products, there are significant takeaways from Dendreon's experience I'm sure have not escaped notice. For example, how are you going to handle the transition of what basically has been a research and development corporation into a product-driven operation? Put another way, is there anything you can say at this time about the corporation's preparations for launching your product in terms of restructuring the corporation, marketing, secondary offerings, and so forth?
Samant: Well, we certainly try to learn as much as we can from those who have gone before us. Dendreon has done many things very well from the release of its pivotal data, through the Advisory Committee and regulatory approval, and on to product launch. Our current efforts are focused on preparations for the path forward, including our manufacturing facility, our product configuration, our clinical and regulatory package, and our commercial considerations. We have a strong team driving these efforts at Vical, and as needed, we bring in outside help such as consulting firms and scientific advisors. Once we have the Phase 3 data, we will accelerate the process and add appropriate staff when the time is right.
Cohen: I know you have a number of other products under development and in the clinic, but frankly, the one that excites me the most-and the one that seems to elicit the most comments from my readers is your work in the area of the herpes simplex virus ... or HSV-2, to be exact. I am constantly getting questions, via formal Comments beneath my articles as well as private messages via Seeking Alpha, asking when the clinical trial will begin and how patients can enroll in the trial. Can you talk a little about this disease and your development program?
Samant: We're very excited by the results we got in our mouse and guinea pig testing of the HSV-2 vaccine, and are working now on preparations for the initial human testing. Herpes simplex type 2 is a major health problem, with one out of every four people worldwide being infected. There are antiviral treatments available, but 80% of infected individuals are asymptomatic, and typically do not get treated. Even among those who suffer periodic outbreaks of genital lesions, the vast majority do not comply with the rigorous daily treatment regimen that is required to control the disease. And even those who do follow the treatment regimen can continue to shed virus and transmit it to others. A vaccine that would provide lasting immunity could significantly reduce the spread of the HSV-2 virus. We expect to start our Phase 1/2 trial in 2013, and we'll announce trial details when it begins.
Cohen: Another program you have in the clinic is your TransVax™ therapeutic vaccine for cytomegalovirus (CMV). Here, you are teamed with Astellas Pharma, which has exclusive, worldwide, royalty-bearing license to develop and commercialize the product. The last I heard, you and Astellas were expecting to begin a multinational Phase 3 registration trial of TransVax in hematopoietic stem cell transplant (HSCT) recipients in the second half of 2012 as well as a Phase 2 trial in solid organ transplant (SOT) recipients shortly thereafter. Can you give us an update?
Samant: I'll tell you, Ted, we have found the ideal partner for the TransVax program in Astellas. Their extensive knowledge of the transplant market combined with our expertise in vaccines provides true synergy. Financially, this partnership is a win-win for Vical, since Astellas is covering all program costs moving forward and paying us substantial milestones as the program progresses as well as low double-digit royalties. A lot has happened since we entered into this agreement, including transition of program leadership and transfer of the IND to Astellas, clarity in guidance about trial endpoints from the FDA, and excellent progress toward completion of trial design details. Astellas has advised us that they expect to start the Phase 3 trial by year end, and the Phase 2 as soon as possible after that.
Cohen: I don't want to take too much more of your time, Vijay, but of all the other programs you have under development, which one not mentioned above has yet to catch fire in Wall Street's mind ... that is, which one is the sleeper in your pipeline?
Samant: We've been talking about our Vaxfectin® adjuvant for several years now, Ted, but investors haven't placed any value on it because we have not yet established its value through a license agreement. Having said that, we have been working with a number of potential licensees who are evaluating Vaxfectin with their own product candidates, and expanding its use through our independent programs for influenza, CMV, and HSV-2 as well as our collaborative programs for malaria and dengue. But Vaxfectin is not really the sleeper in our pipeline. I'd have to assign that status to our infectious disease vaccine platform because success with any one program should have a notable impact on credibility for the rest. Whether this comes first from one of our independent programs like HSV-2 or CyMVectin™, or through one of our government collaborations on programs like HIV, dengue, or malaria, the broad scope of applications should serve to multiply the effect of the initial achievement.
Cohen: Thanks, Vijay. I sincerely appreciate your taking a little time to talk with me today. I know my readers will find what you had to say interesting. And we wish you well in all of your endeavors.
Samant: That's very kind of you, Ted. We appreciate your interest in Vical and your efforts to explain our programs to a broad section of the investment community.
Technical Analysis
As of the close, Monday, June 23, the Daily chart courtesy, StockChart.com, shows the stock touching the 50-day and closing just above it at $3.41. The Relative Strength is descending and MACD is negative. If the stock breaks support at $3.40, I would expect it to test the 200-day moving average, which currently stands at $3.22.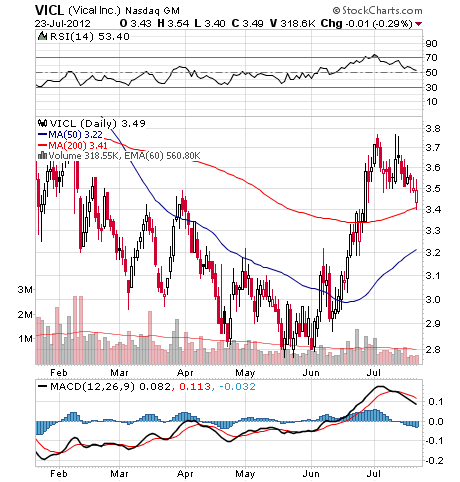 Turning to the Weekly technical data, the stock has dipped to the 50-week moving average, which, interestingly, lies just below $3.40. Major support is at $2.97. While the Relative Strength is declining somewhat, the MACD is positive.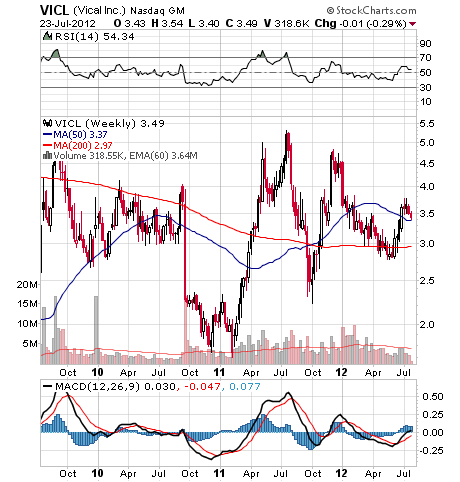 Disclosure: I am long VICL, DNDN.
Additional disclosure: I am long VICL and DNDN, and will not alter my position within 72 hours of the time of publication of this article. I am not a registered investment advisor and do not provide specific investment advice. The information contained herein is for informational purposes only. Nothing in this article should be taken as a solicitation to purchase or sell securities. Before buying or selling any stock you should do your own research and reach your own conclusion. It is up to investors to make the correct decision after necessary research. Investing includes risks, including loss of principal.