It's helpful to introduce other disciplines into the study of the stock market (or any study really). Nothing says "other discipline" like fantasy baseball, so allow me to bring in the concept of the "Post-Hype Sleeper" as a way to scout for stocks worth trading or investing in.
In fantasy baseball, the post-hype sleeper refers to a player who was much hyped and ballyhooed upon his arrival to Major League Baseball, and at first struggled to live up to that mountain of expectation. After the cycle of hype and disappointment passed, the player, newly shorn of his overbearing expectations, achieves success and lives up to his natural abilities. ESPN.com writer Tristan Cockcroft defines it as, "A player who, once considered a future star, has undeservedly had his career written off as a bust due to past instances of falling short of expectations."
Substitute "An IPO" for "A player" and "its stock price" for "his career" and you have the transition to the stock market. Think about how many IPOs got hyped, pumped, dumped, and forgotten about. There are obviously a bunch of big names that fall into this category (think Facebook (FB) and Zynga (ZNGA) of recent vintage), but also smaller IPOs that fell off early highs due to natural volatility or a sobering of the overall marketplace.
These post-hype sleepers offer possibility for profit and risk-taking, either as traded entities or as speculative investments. I made two investments in this "sector" last year, both illustrating the potential risks and rewards. The first was in Velti (VELT); I invested at 11.5 in March 2011, below the initial IPO price of $12 and well below the initial trading high of 15.58. I watched the stock rise to 19 in a month and sold enough of my position to play with house money. The price peaked at about 20 before dropping over the back half of 2011. I later decided to make a fuller speculative investment in Velti, but that's a separate story. The point is that the volatility in the stock's initial public life provides opportunities.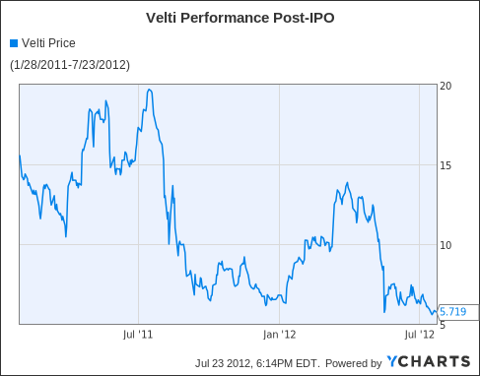 My second choice in this area didn't pan out. I tried a similarly mobile-connected tech play in Motricity (MOTR), carefully adding to my position as the stock continued to drop in the spring and summer of 2011. By the end of the year, all the stock was good for was to balance off any capital gains I might have had that year. The small position I still own in the stock is only there for that purpose as well.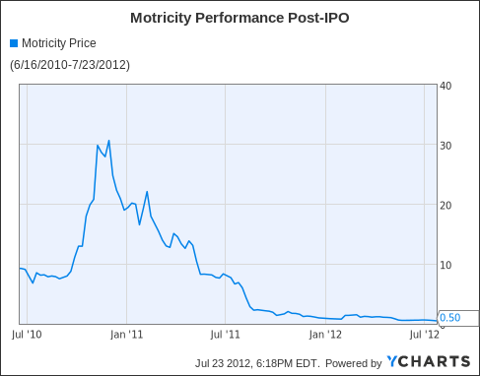 Those examples are meant to illustrate the potential of this segment (note that with Motricity there was a similar post-hype pop to play) and the risk. For disciplined traders and bargain hunters, however, there are opportunities to be had,.
Purchasing a print copy of Barron's this weekend, I ran an old fashioned eye and pencil screen. I looked for companies with the "N" symbol for new listing in the past 12 months (July 20th, 2011-July 20th, 2012), companies that were forecast to have positive earnings in either 2012 or 2013, and companies that were at the lower end of their respective 52-week ranges. That screen, possibly inexact, yielded 26 companies. Included most prominently among those companies are the aforementioned Zynga and Facebook, but also a boatload of tech stocks, oil-related plays, small industrial companies, and other interesting opportunities. Interesting enough to write about anyway, which makes this the first in a series of articles that might not cover all 26 of these stocks (I'm not so sure I need to say something about Facebook, and it doesn't really qualify for this specific context), but will get to a good chunk of them.
A couple things about the group in general before I start. First, the reason these stocks offer strong opportunity is precisely the reason they are risky: not as much is known about the stocks. Analyst coverage is sparse, interest on Seeking Alpha and other sites is low, and the past results are not bountiful, making it harder to draw comparisons or trends that can help us predict the future. Hence, these stocks might pop up and down, ala Velti, or they might bomb, ala Motricity. It's partly for surety that I look for stocks with positive earnings already or expected down the line, which leads to the next point: this sort of screen will leave out a lot of hot biotech and pharmaceutical names that operate at a loss until they get a major product or drug approval that sends the stock price skyrocketing. This is not that sort of screen.
With all that said, I'm also going to start the series with an IPO that predates the time range I set above. I have two companies that I wanted to write about here that had IPOs in early 2011, so I'm going to cover one in this article and one in a subsequent article, before moving on to the list of 26.
Without further ado, let's go beyond the hype!
Reconnecting Knee Bones, Shoulder Bones, Ankle Bones, etc.
We start with Tornier N.V. (TRNX). Tornier, based and incorporated in the Netherlands, is a medical devices company with a long history. Founded in the 1930s by Rene Tornier, a French scientist, the company grew from a maker of orthodontic equipment such as mouth guards and dental impressions to a global maker and seller of sophisticated knee and hip replacement devices. In 2006, under the leadership of Tornier's son Alain, the company was sold to Warburg Pincus, an American investment fund which eventually brought the company to an IPO in February, 2011.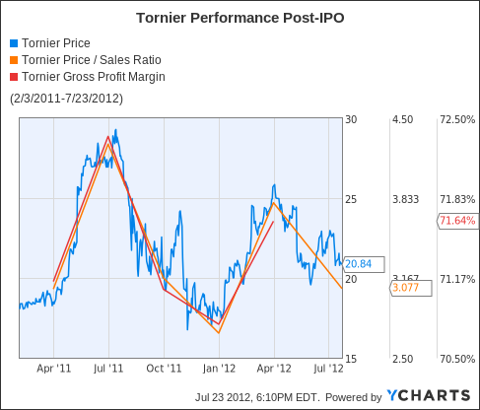 Tornier has shifted its focus in the past decade, and now makes most of its money as a producer of prosthetic devices for "extremities," i.e. shoulders, wrists, hands, elbows, ankles, and feet. 78% of Tornier's 2011 revenue came from this category, and the company has a goal of earning 85% of its revenue in this category five years from now. The category also includes sub-category focusing on sports medicine and a sub-category focusing on the use of biologics that do anything from, "'non-hardware' implants to 'regenerative therapies' to induce tissue remodeling and regeneration." These latter two sub-categories account for only 7% of Tornier's extremities revenues, but there is room to grow in both areas. Upper extremity joints and trauma as a category make up 81% of Tornier's extremities revenues and 63% of total revenues. The non-extremities part of Tornier's revenues comes from the legacy large joint devices business, namely hip and knee replacement devices.
The distinction might seem trivial or even alarming; knee and hip replacements seem more common than ankle or hand replacements, for example. That said, this segment is a less mature area and has more room to go. One report forecasts 9% CAGR for the global Small Joints and Extremities Arthroplasty (joint reconstruction) Devices, while another says the US Orthopedic Extremity Device Market could reach $4.2B by 2016. For its part, Tornier boasted 65 products in this line as of year-end 2011, with 31 more in the pipeline, and claims 22% of the U.S. market share for shoulder devices, 31% for ankle and foot devices, and overall leadership in extremities for the global market.
Tornier has the market opportunity, but what about the numbers?
Key Stats
| | |
| --- | --- |
| Tornier's Stats | (Source: TDAmeritrade) |
| Market Capitalization | $824.9M |
| 52-week range | 16.69-27.45 |
| Historical Volatility | 52.9% |
| Total Debt-Equity Ratio | .11 |
| CEO | Douglas Kohrs |
Tornier's balance sheet is quite secure, with a rather low amount of long-term debt on the balance sheet compared to equity and assets. The stock is more volatile than most stocks, and the jump from bottom to top of its 52-week range is over 64%. The company is a small-cap but not a micro-cap, i.e. it has some heft and leverage. Kohrs, CEO of the company, came in with the Warburg Pincus purchase but is no outsider, having headed American Medical Systems (AMMD) for six years (the company has since been bought out by Endo Pharmaceuticals (ENDP)) among other C.V. lines.
Moving on to the valuation, it becomes clear that Tornier is still priced as a strong growth company. I compare it to other smaller medical device and orthopedic arthroplasty related companies: ArthroCare Corporation (ARTC), Wright Medical Group (WMGI), NuVasive (NUVA), CONMED Corporation (CNMD), and Stryker (SYK) to give a large-cap comparison to the group:
(Sources: TDAmeritrade, WSJ, Yahoo Finance)
| | | | | | | |
| --- | --- | --- | --- | --- | --- | --- |
| As of Q1 2012 | TRNX | ARTC | WMGI | NUVA | CNMD | SYK |
| Market Cap | $824.9M | $824.8M | $742.9M | $1B | $782.2M | $19.3B |
| Revenue TTM (in thousands) | $266,214 | $359,825 | $504,217 | $567,731 | $735,943 | $8,453,000 |
| Revenue/share TTM | 6.96 | 13.14 | 13.17 | 14.06 | 25.7 | 21.67 |
| Quarterly Revenue Growth (Q-over-Q) | 7.84% | 0.50% | -0.17% | 1% | 4.71% | -2.44% |
| Quarterly Revenue Growth (Y-over-Y) | 7.23% | 5.62% | -6.45% | 21.87% | 5.92% | 7.20% |
| Yearly Revenue Growth (1 year prior) | 14.87% | 4.76% | -1.17% | 13.02% | 1.59% | 13.48% |
| Gross Margin (most recent quarter) | 71.64% | 69.95% | 70.35% | 73.78% | 51.70% | 66.40% |
| Gross Margin Growth, Q-over-Q (in BPs) | 86 | 75 | 285 | -3 | -76 | 205 |
| Gross Margin Growth, Y-over-Y (in BPs) | 50 | -42 | -99 | -6.24 | flat | 139 |
| EPS Growth (Annual past two years) | NA | 39.22% | 4.70% | 197% | 22.05% | 12.30% |
| Estimated Earnings Growth (next 3 years) | 15.10% | 4.09% | 23% | 6.12% | 12.89% | 9.40% |
| Earnings 2011 | -0.83 | 1.42 | 0.69 | 0.24 | 1.5 | 3.72 |
| Earnings 2012 (Est.) | -0.05 | 1.43 | 0.2 | 1.07 | 1.78 | 4.1 |
| Earnings 2013 (Est.) | 0.16 | 1.53 | 0.28 | 0.95 | 2.04 | 4.46 |
| Free Cash Flow 2011 | -0.08 | 2.6 | 0.34 | 1.05 | 2.84 | 3.1 |
| 2011 P/E | neg. | 21.00 | 27.39 | 97.25 | 18.43 | 13.64 |
| 2012 P/E | neg. | 20.85 | 94.50 | 21.81 | 15.53 | 12.38 |
| 2013 P/E | 130.31 | 19.49 | 67.50 | 24.57 | 13.55 | 11.38 |
| 2011 P/FCF | neg. | 11.47 | 55.59 | 22.23 | 9.74 | 16.37 |
| P/S for TTM | 3.00 | 2.27 | 1.44 | 1.66 | 1.08 | 2.34 |
| Forward PEG Ratio (for 2013 P/E) | 8.63 | 4.77 | 2.93 | 4.01 | 1.05 | 1.21 |
| Price (as of 07/23 close) | 20.85 | 29.82 | 18.9 | 23.34 | 27.65 | 50.75 |
(Notes: ARTC's earnings growth is for only one prior year; TRNX's estimated earnings growth number comes from Yahoo (I calculated the others based on earnings estimates); CNMD and SYK pay dividends with yields of 2.17% and 1.67%, respectively; SYK's numbers are based on Q1 to keep comparison even, not the recently reported Q2)
Tornier is richly valued by every metric, even accounting for its leadership in just about every growth category on this table and its very strong gross margin. Even for 2014 forecasted earnings of $.43, Tornier's P/E is nearly 50. The price to sales metric is high, the PEG Ratio is out of whack, and so on. As such, as intriguing as Tornier's leadership position in a new field is, the stock does not scream out as a strong investment right now.
Despite that, analysts are bullish on the stock, which may be enough to send Tornier through another positive price cycle. 9 out of 13 analysts covering the stock rate it a buy, and 5 of those 9 consider it a strong buy. The low target out of the 10 analysts who set a price is 23/share, the high target 33, and the median and mean are between 25.5 and 26.1/share. Those forecast 10, 25, and 60% upside for the stock at current levels. I'm not privy to those research reports or the analysts' arguments, but for our purposes that suggests that there will be continued volatility in the stock, which is positive for traders.
Miscellaneous Issues
Assorted issues facing the company in its numbers include heavy exposure to international markets - 47% of Q1 revenues came from abroad. While Tornier operates in a relatively secular market, any slow down on health spending or issues of currency translation could slow its top and bottom line growth; Tornier does operate in Australia and Southeast Asia, and has plans for China, Japan, and Brazil, but most of its international operations are based in Europe, which of course is not the best place to be right now.
This currency and economic impact caused Tornier to lower its guidance already in Q1, as the company lowered forecasted revenues 1.5% and adjusted EBITDA 4.5% at the respective midpoints. It would not be surprising to see a similar haircut during the Q2 earnings report.
The last bit of relevant news is that Tornier just last week announced a change in the CFO, with Carmen Diersen stepping down for "personal reasons", and Shawn McCormick replacing her. This came suddenly, and for that reason alone is worth considering for those who like stable management.
Summary
Assessing Tornier as strictly an investment, I would say pass on to cheaper, almost as green pastures. As a post-hype sleeper trade, however, Tornier has some possibilities. Tornier came on my radar at the same time Velti did in early 2011, at which point the stock was trading at about 18, slightly below its IPO price. It has twice peaked since then, once rising to nearly 30 before falling off last summer, and again growing to nearly 26 this spring before cooling off. If nothing else, Tornier well illustrates the principle of the post-hype sleeper that I'm getting at.
We all get excited about the next hot young thing, whether that thing is a new stud pitcher cracking the rotation or an IPO that has everybody on the street talking. Sometimes, the young one steps up and delivers on its promise. When the prospect doesn't pan out at first, the opportunity arises to find out if there's more of the story that hasn't been told or hasn't played out yet, and whether the core of the story and talent will win out.
Once everybody turns away to another next hero, we can start digging for alpha, and for the chance to profit, just so long as we're careful about it.