Background
Mixed results from semiconductor companies are presenting a challenge for investors who want exposure in the sector. Confidence for a recovery in global economies is dropping, due to a weak forecast from Intel (INTC) and weak results from both Advanced Micro Devices (AMD) and OCZ Technology (OCZ). Weakness at AMD were company-specific. The company confirmed that weakness in demand from both China and Europe hurt results. The company said in a press release that "business conditions that materialized late in the second quarter, specifically softer-than-expected channel sales in China and Europe as well as a weaker consumer buying environment" was impacting its manufacturing business.
When Intel reported earnings, the company said during its conference call that "inventory levels across the worldwide PC supply chain are healthy, but are being managed below historical averages based on macroeconomic uncertainty and ahead of the Windows 8 operating system release." Intel is adjusting to the weaker outlook by slowing hiring, lowering spending forecast for the year to $18.2 billion, and forecasting flat spending for the next two quarters.
At a macroeconomic level, the economic story remains largely unchanged since the start of the year: Europe will continue to be weak, and semiconductor companies will continue to grow cautiously. Investors who focus on the renewed product cycle for PCs, due to the Microsoft (MSFT) Windows 8 upgrade will be rewarded.
In this space, OCZ Technology offers the most upside for investors who recognize that demand for solid-state storage will grow as prices fall.
What Happened
OCZ shares traded steadily at around $5 since May, but collapsed at $4.26 after reporting its earnings. OCZ closed recently at $6 on above-average volume, after rumors circulated that Seagate (STX) would be interested in buying the company.
Quarterly Earnings
Concerns
The company blamed the temporary shortage of power regulators for its shortfall during its conference call. More notable in its 10-Q filing were the following:
Cash balance declined $49 million to $43 million, from $92.3 million
Inventory levels increased by $17 million to $126 million
Management said an end-of-quarter NAND purchase of $14 million pushed inventory higher
The chart below shows OCZ inventory increased steadily since January 2011: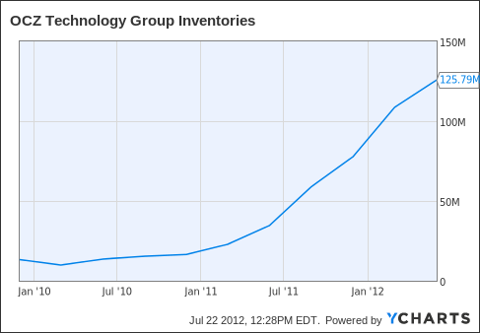 Click to enlarge
(Click to enlarge)
OCZ Inventories data by YCharts
Accounts receivables increased by $16.6 million
Average receivable days increased to 64, from 56 in Q4
Highlights
OCZ reported lower losses, losing $6.2 million (negative 9 cents per share) during the quarter compared to $9.09 million a year earlier (negative 20 cents per share). The company also spent $19.3 million in R&D, compared to $4.3 million a year before.
Reasons to Buy OCZ
Despite the run-up in OCZ shares (OCZ is up around 45% from its low), investors should consider starting a position in the company. The reasons are that:
1) OCZ expects seasonal strength to be repeated this year. Historically, 60% to 65% of revenue occurs in the second half of the year.
2) OCZ forecast revenue of $630 - $700 million for the year.
3) OCZ increased its headcount by 46, to 754 in the areas of sales and marketing and R&D. Companies positioning for growth often sacrifice short-term results for long-term benefits.
4) Rollout of Barefoot SSD controller technology, gained through $32.2 million Indilinx acquisition on March 2011 will keep OCZ products at an advantage over competitors.
5) Sanrad acquisition in January 2012 provides future revenue in cloud storage acceleration and virtualization.
6) Investors who bought OCZ from $9 share offering in February 2012 will demand a higher price if a buyer emerges
7) Expected option vesting of 7,669,826 shares will dilute float by only 1.8%
Conclusion
OCZ recently introduced new products that include the Vertex and Agility product series and the Revo, Z-drive and Deneva product series. The company continues to benefit from the transition towards higher-margin SSDs. OCZ experienced higher R&D expenses due to costs associated with quality assurance spending. OCZ's newer Vertex 4 and Agility 4 use the Everest 2 controller. OCZ saw inventory increase, but $18.1 million was primarily due to inventory purchases for its recently introduced Vertex 4 and Agility 4 SSDs.
Disclosure: I have no positions in any stocks mentioned, but may initiate a long position in OCZ over the next 72 hours.