Recently, National City Corporation (NCC) received a capital infusion of approximately $7b which in all likelihood will be used for both recognized and new loan losses. While devastating for existing shareholders who stand to lose a third of their share's value, this financial maneuver gives National City the wherewithal to cover losses and move forward going into the 2009 fiscal year.
National City was overloaded with high risk real estate and to make matters worse deployed a lot of capital to buybacks and acquisitions during the 'bubble," so the old shareholders are getting payback for irrational exuberance. This is bad for them, but good for you. In my view, along with several respected analysts' opinions this past week, NCC now will become a good bank vs. a bad bank.
It is now likely that National City will sell vagrant portfolio loans at a deep discount or by moving the loans held for sale and thus marking them to market. Before the bank turns a profit next year, the estimated book value of NCC now is $7.00 per share. Earnings at NCC will hopefully come in at $0.40 per share in 2009, and $0.55 per share in 2010. At that time, NCC will roll on, putting the 2007/08 near collapse onto the ash heap of history.
National City Corporation is a financial holding company operating primarily in Ohio, Florida, Illinois, Indiana, Michigan, Kentucky, Missouri, Pennsylvania and Wisconsin, In addition, NCC operates 410 retail mortgage offices throughout the United States. Buying MidAmerica Savings in the Chicago region and Fidelity Bankshares of southeast Florida gave the bank some terrible loans, but also a large Hispanic footprint which will be an important building block for future market penetration in Latino communities.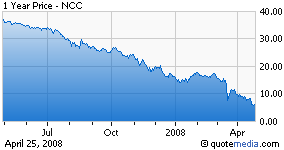 Trading at $6.32 per share, and way below the 200-day average due to the dilution of shareholder value, I believe that the market has over compensated for NCC's near demise. The bad news is known, and the transparent manner of Nationl City's funding and flawed loan disposition leaves hardly a doubt that this company will rise up in relatively short order and reward new shareholders willing to forgo dividends common to financial stocks for the likelihood of substantial long term capital gains. Being traded almost like a penny stock on steroids with huge average daily volume over the past ten days, the price action may have bottomed from a 52-week high of $38.32 to a low reached April 23 of $5.87, which is concurrent with the news of the financial strategy of the company.
National City Corporation may suit the speculator who believes that all that could go wrong for NCC is, indeed, old news. National City Corporation's Series F Preferred [NCC+F] 9.875%, currently yielding 11%, may be a nice way to game NCC's comeback as well.
Disclosure: The author does not own NCC stock, but he does have a business relationship with the bank.