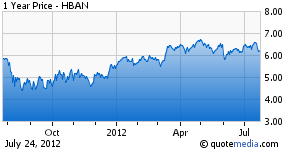 Huntington Bancshares (HBAN) reported second quarter earnings on Thursday. The regional bank continues to see strong growth in consumer and commercial accounts as it cross promotes several banking tools to its customers across six states.
For the second quarter, net income increased 5% to $152.7 million. Earnings per share came in at $0.17, beating last year by $0.01, or 6%. The earnings per share also came in 6% higher than estimates from Yahoo Finance analysts.
Total core deposits grew 3% during the second quarter. Huntington Bank also saw tangible book value rise to a new rate of $5.49 per share. The company also updated its progress on a new loan initiative in Michigan. In the first year of a four year $2 billion program, Huntington has successfully loaned $1.5 billion already.
Both consumer and commercial accounts remained strong for Huntington. Consumer checking accounts were up 11.6% in the second quarter to 1,167,000. Part of that gain was from the Fidelity Bank acquisition. Huntington has worked hard at expanding its commercial accounts by cross promoting. The bank reports that 32.6% of its commercial customers use four or more products from Huntington. That is really a great statistic to have if you're a bank. That means commercial customers count on Huntington for loans, checking accounts, lines of credit, mortgages, and other banking needs.
One of the keys to Huntington's continued success is their recent FDIC assisted acquisition of Fidelity Bank. About half of the core deposit growth seen in the quarter was related to the Fidelity deal. With the takeover of the Fidelity branches and brand, Huntington gained $0.8 billion in assets and $0.7 billion in deposits. The key for Huntington was gaining over 18,000 customers. Fidelity also expanded Huntington's presence in the eastern region of Michigan.
In a previous article about Huntington shares, I discussed the expansion of the bank into new Michigan cities via a deal with Meijer grocery stores. Huntington is working on building banks inside Meijer stores that will have extended hours and also be open seven days a week. The deal is set to double the number of Huntington branches. Huntington did a similar deal with retailer Giant Eagle previously.
The biggest positive of the Meijer deal is Huntington gaining a base in several new Michigan cities. The company touched on this during the earnings call. The company was especially excited about getting a base in Lansing and Ann Arbor. These cities mark the 5th and 6th largest cities in Michigan (2010 Census). Both cities also have large universities (Michigan State University, University of Michigan) with thousands of students who need somewhere to keep what little money they have, while they attend school. By establishing a location at Meijers in the city, Huntington can then build normal bank locations inside the city as it lures customers away with its convenience in the grocery store and new initiatives like "
Huntington continues to rewards its shareholders through dividends and stock buybacks. Huntington bought back 6.4 million shares at an average price of $6.26 during the quarter. The company declared a $0.04 quarterly dividend, giving shares a yield of 2.5% at today's levels.
Huntington Bancshares was pleased with their second quarter results and expect the growth to continue. The company says total loans should increase during the remainder of the fiscal year. Analysts are calling for full year earnings per share of $0.66. With a current share price of $6.33, shares still trade at a price to earnings of less than ten. In my last article, I called for shares to grade at $9.45. This price target was based on fifteen times earnings per share of $0.63. With new guidance of $0.66, this would raise my price target to $9.90. I think the company's Meijer deal and Fidelity acquisition will come closer to tripling its banking base locations.
Disclosure: I have no positions in any stocks mentioned, but may initiate a long position in HBAN over the next 72 hours.