RadioShack's (NYSE:RSH) first-quarter net income fell 8.7%, hurt by increased promotions and lower sales of Sprint Nextel (S - Annual Report) wireless services. Shares are down more than 13% today on the news, wiping out the gains driven by last week's rumor of an acquisition by Dell ( DELL).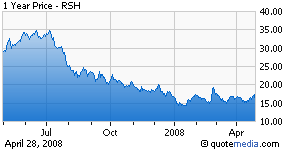 Part of my thesis for RadioShack is that declines are already priced in. I've said I'd accept a return in line with that of RadioShack debt – which reflects the company's relative risk and allows for a modest premium based on the more favorable tax treatment of equity returns. At the time, RadioShack's May 2011 note was yielding about 7%. To generate equity returns higher than this, RadioShack will have to limit its free cash flow declines to 8% per year – in other words, they can't get any worse.
Still, my cautious side has limited my willingness to accept exposure to the stock. As I said at the time:
Given the state of the economy and particularly RadioShack's wireless exposure, I think the company will eventually stem the bleeding to within my acceptable range, but probably not this year.

As is often the case, though, I think the doubt can be addressed by using a put-write strategy to enhance returns and further reduce the potential entry point. As I write this, April $15.00 puts are selling for $0.80 – a 5.3% premium on money that is risked for about six weeks. If the stock declines and the options are exercised, the effective entry price would be lowered to $14.20 – a price that would boost the effective free cash flow yield to 17.8% and increase the margin of safety to permit an acceptable return even with annual free cash flow declines of 10%.

That starts to look like a risk worth taking.
And indeed I took that risk. After the article I bought the April puts for an effective price of $0.60 per share, and they expired worthless. I reloaded that position by writing May puts at the same $0.60, and time will tell if they are exercised against me. If they are, my effective price will be down to $13.80 so I have room for further downside before I'll feel much pain.
Disclosure: At time of publication, William Trent has written put options against shares of RadioShack (RSH).