National Presto Industries (NYSE:NPK) is an eclectic mix of completely unrelated businesses. Defense products are about 53% of revenues, Housewares and Small Appliances are 31% and Absorbent Products [private label diapers and adult-incontinence products] represent approximately 16% of sales.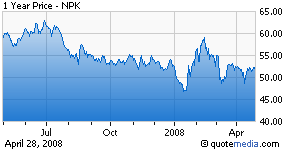 This old-line company has held so much cash over the years that the SEC went to court to try to have them treated as a registered investment company rather than a normal corporation. After a few years of legal battles Presto won and is now able to proceed with business as usual once again.
How much cash do they hold? With only 6.84 million shares outstanding [at year-end 2007] they held $143.3 MM and had zero debt of any kind. That works out to $20.95 /share or 40.24% of the current share price.
They have a stated annual dividend rate of $1.00 per share that is paid once a year in the first quarter. In each year since 2004, however, they have paid more by declaring substantial extra payouts. In 2007 the total distribution was $3.80 /share and in this year's first quarter it was $4.25 /share. Thus the shareholder yield based on that amount and today's price is 8.16%.
While there is no assurance that trend will continue, the company is so cash-rich that they can pay pretty much whatever they like for years to come. Officers and directors hold 30.2% of the shares so they are likely to continue to be generous with payouts in the future.
Other big holders include Royce & Associates with 11.8%, Dimensional Fund Advisors with 6.3% and Barclays Global Investors with 5.2%.
How's business? Very good. 2007 set an all-time record for EPS at $5.65 making Presto's P/E a very low 9.2x last year's earnings. Very few analysts cover this small-cap company. Value Line is carrying a 2008 estimate of $6.35 and projects the next year's total dividend payout to rise to $4.75/ share. If they're accurate the forward multiple is just 8.2 and the 12-month yield will be 9.12% of today's quote.
Here are the last five years of data in some key categories (source: ValueLine):

Click to enlarge
Now that's what I call GARP [Growth at a Reasonable Price – for the novices in the crowd].
I believe the lower P/Es seen in 2006 – 2007 were the result of the uncertainty of the court case that was recently resolved favorably for NPK.
Their 10-year median P/E is 15. Value Line is using a conservative 13.5 multiple for their 3 – 5 year projections for Presto.
By 2011 – 2013 Value Line see EPS of $8.25 and a share price range of between $90 and $135.
NPK shares hit $62.70 and $67.00 at its peaks in 2006 & 2007 on EPS of $4.09 and $5.65 respectively. Even the basic $1 /share basic dividend equals more yield than do 2-year U.S. Treasuries right now.
Even 13 times Value Line's 2008 estimate of $6.35 would lead to an $82.55 12-month target price. That's 58.56% above Friday's close. Add in the generous dividend and this sleepy [Beta = 0.9], Wisconsin-based company starts to look pretty exciting.
Disclosure: Author owns shares in National Presto.