Eight weeks ago, I examined differences in company size (i.e., large, medium, small, etc.) and investing style (i.e., value, blend, growth). What I found in late February was resilience in the mid-cap space. In particular, the greatest love could be found in mid-cap growth.
The assessment in February 2008 was straightforward. Which of the 9 size/style boxes had demonstrated the largest percentage gains off the January lows for the U.S. market? Mid-cap growth came out on top.
However, the financial markets retested the lows in March. Once again, then, we find ourselves looking for momentum off the March 08 bottom.
Ironically... or perhaps not... mid-cap growth has once again moved to the front of the leader board. For each of the 9 possible combinations for size and style, no other area showed stronger 4-week returns; that is, each of the mid-cap growth ETFs reign supreme.
Over 4 weeks:
iShares S&P MidCap 400 Growth Index (NYSEARCA:IJK) gained 9.75%
iShares Morningstar Mid Cap Growth (NYSEARCA:JKH) picked up 11.43% and...
Vanguard MidCap Growth (NYSEARCA:VOT) garnered 10.26%
In fact, it actually gets more impressive; specifically, other than mid-cap growth, one is hard-pressed to find any other size/style ETFs above the long-term 200-day moving average. Mid-cap growth seems to stand alone in its claim to a technical uptrend.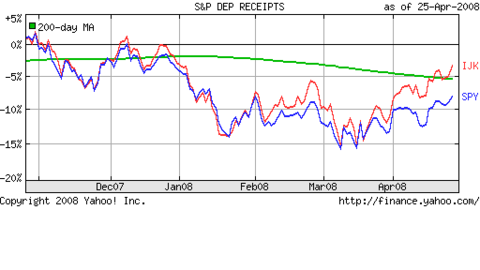 It may be important to note that mid-cap growth was the strongest of the 9 size/style areas, not once, but twice! Its 1-month rally off the January lows and its 1-month rally off the March lows have more impressive than any other.
Granted, momentum is merely one bit of information to consider when a market becomes "bullish." And the investing public has hardly embraced the notion that the bearish environment is over.
What's more, there are those that feel that mid-cap growth only represents a "fairly valued" area of the broad market... not an undervalued bargain. Morningstar analysts claim to estimate the "fair value" of ETFs by estimating the fair value of the stocks that a given ETF holds. In fact, Morningstar analysts regard most of the other U.S. size-style areas as "undervalued," whereas mid-cap growth is not being labeled as a bargain.
Yet this fact shouldn't surprise too many folks. The differences between fundamental valuation and technical tools like charting or momentum constitute an age-old debate.
Nevertheless, an aggressive investor who believes that the U.S. market will recover strongly from its current recessionary pressures might like the iShares S&P MidCap 400 Growth Fund (IJK). Top holdings like Intuitive Surgical (NASDAQ:ISRG) have been beating expectations while guiding higher. Forward P/E ratios are lower than the historical average fro the grouping. And projected 5-year earnings growth for the majority of stocks are in the 15%-20% range. (Tough to top that!)
Disclosure: Pacific Park Financial, Inc., a Registered Investment Advisor with the SEC, may hold positions in the ETFs, mutual funds and/or index funds mentioned above.