Market Recap: The market got hit again for day #3, and this time the market could not make much of a comeback after descending for most of the morning. The cause: Europe. The situation in Europe continued for the second day to create fear for the market as a declining euro and rising yields created more "risk-off" trading. The market has no catalyst right now to get it going. Earnings were just so-so with some of the best coming from the likes of Dominos Pizza (NYSE:DPZ) today. At the same time, things were just okay for AT&T (NYSE:T), Whirlpool (NYSE:WHR), and others, which did not give the market a boost. Further, we continue to lack data that is exciting. Moody's did not help as well with its cut on ratings of some of the best European debt like Germany and Netherlands.
The market will get Apple (NASDAQ:AAPL) earnings tonight, and that will really be the catalyst for tomorrow along with some data, but if AAPL can give us something exciting, we will see a solid comeback tomorrow. If we cannot get anything from them of significance, it could be another day of weakness. Watch those earnings to get a sense of what we should expect for tomorrow.
Two Trades
Two trades we like right now are long 3D Systems (NYSE:DDD) as well as shorting Mosaic (NYSE:MOS). DDD is looking great right now. The stock is holding a solid upward channel and is outperforming the market. We believe that the company will have another solid report and can be a nice trade into earnings for a trade tomorrow and out of earnings. It has a very solid growth business right now, and we believe it will continue to see nice growth as 3D continues to develop for the movie industry and television industry. MOS had decent earnings recently, but we did not see it as overly great. The market quickly popped on it, and it has been dropping since. We expect market weakness to continue, and MOS does not do well during weak market times. It could see a lot more downside if it fails near-term support, and it has already failed its earnings pop low.
Trade #1: DDD, Long
Trade #2: MOS, Short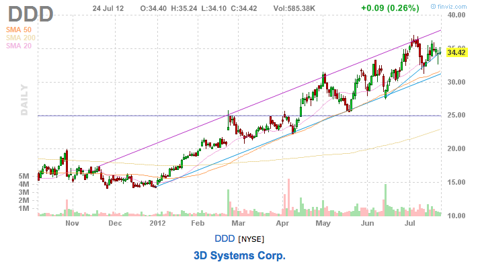 Tomorrow's Outlook
Tomorrow, the market will be all based on some important tech earnings from Broadcom (BRCM), Juniper (NYSE:JNPR), and Apple this evening and big reports tomorrow morning from Caterpillar (NYSE:CAT), Boeing (NYSE:BA), Ford (NYSE:F), PepsiCo (NYSE:PEP), and many more will take a look at manufacturing and more multi-nationals. So far, blue chips have not been positive, so we will see if these stocks can change a tune. Additionally, we get some interesting data from the housing market, and there were late reports that the Fed is getting closer to action at the close today. If it starts to do something, this market will reverse itself very quickly!
Oxen Group Moves:
We had a good day in the market as we closed down 1/3 of our long in Domino's Pizza from our long-term Extended Value Portfolio for a 10% gain. We also closed down 1/2 of our MDC Holdings (NYSE:MDC) position from Goldman Sachs Portfolio for 1.5% gain, but we lost 4% on a pair trade in Ashland (NYSE:ASH) long, McDonalds (NYSE:MCD) short. We added a long in 3D Systems and Wolverine Worldwide (NYSE:WWW) to Equity Portfolio as well as short in MOS. We added a long in American Eagle (NYSE:AEO) as well to Earnings Alpha. We shorted AptarGroup (NYSE:ATR) in Goldman Sachs Portfolio.
We have the following positions:
In our Short-Term Equity Portfolio we are long DirecTV (DTV), Dollar Tree (NASDAQ:DLTR), DDD, WWW. We are short RR Donnelly & Sons (NASDAQ:RRD), Pall (NYSE:PLL), MOS.
In our Options Portfolio, we are long Monsanto (NYSE:MON), Dollar General (NYSE:DG), Home Depot (NYSE:HD). We are short Facebook (NASDAQ:FB).
In our Earnings Alpha Portfolio, we are long VeriSign (NASDAQ:VRSN), Seagate Tech (NASDAQ:STX), Apple , Disney (NYSE:DIS), and American Eagle Outfitters . We have a reverse iron butterfly in F5 (NASDAQ:FFIV).
In our Goldman Sachs Up/Down Paper Portfolio, we are long Calpine (NYSE:CPN) MDC . We are short AptarGroup .
Chart courtesy of finviz.com.
Disclosure:
I have no positions in any stocks mentioned, and no plans to initiate any positions within the next 72 hours.