Apple (AAPL) disappointed investors, reporting $9.32 in earnings for the quarter ending June 30, 2012, and shares are down sharply after hours.
Yet the latest balance sheet shows the company now has $117.2 billion in cash - an increase of about $7 billion over last quarter and about $41 billion more than in June of 2011.
To be clear, "cash" refers to cash, short-term investments and long-term marketable securities.
Here's a look at the cash on the balance sheet: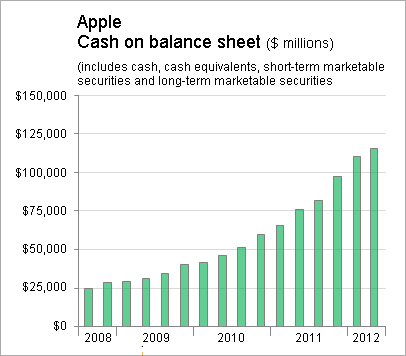 So on a per share basis, Apple now is now worth $123 per share just in cash.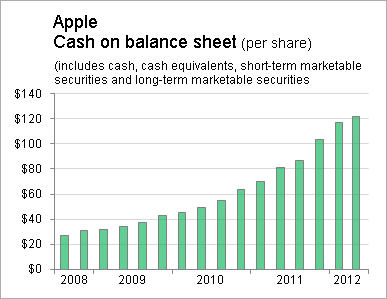 Yes, it appears that growth in cash is slowing, but $123 in cash amounts to a significant fraction of the value of the shares (especially after hours)
Dividend declared
And it's official now. Apple will be paying its first dividend in many years this month. From the press release:
Apple's Board of Directors has declared a cash dividend of $2.65 per share of the Company's common stock. The dividend is payable on August 16, 2012, to stockholders of record as of the close of business on August 13, 2012.
Based on about 947 million shares outstanding, that $2.65 totals about $2.5 billion, so the company clearly has the cash to cover it.
Disclosure: I am long AAPL.