Commodity Chart Of The Day
Daily S&P
(click image to enlarge)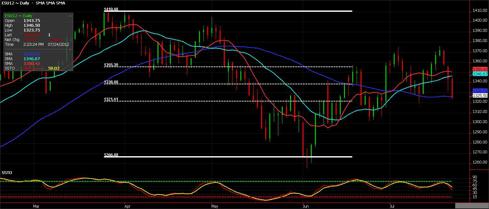 Click to enlarge
Stocks have started to sell off, with prices down 3% in the last three days. The 20 day MA gave way yesterday, as seen by the light blue line in the chart above. As for next support, the 50 day MA. If the dark blue line gives way just above 1325, expect a trade less than 1300.
Looking at a longer term chart, I would not rule out 1265 on September futures if more problems arise in Europe, negative earnings persist and economies globally continue to slow.
My favored play for option traders would be bear put spreads. For future traders, I would be short futures while simultaneously selling out of the money puts 1:1. I would take 1/2 the position off at 1300, and exit the remainder if prices find their way to 1265. With regard to risk, as long as the S&P remains under 1350 on a closing basis, I remain bearish.
Risk Disclaimer: The opinions contained herein are for general information only and not tailored to any specific investor's needs or investment goals. Any opinions expressed in this article are as of the date indicated. Trading futures, options, and Forex involves substantial risk of loss and is not suitable for all investors. Past performance is not necessarily indicative of future results.
Disclosure: I have no positions in any stocks mentioned, and no plans to initiate any positions within the next 72 hours.