History tends to repeat itself. On approval of Belviq on June 27, 2012, Arena (NASDAQ:ARNA) peaked around $13 per share and dropped back to a trading range near $10 per share. Likewise, following the July 17, 2012, approval of Qsymia, Vivus (NASDAQ:VVUS) peaked at over $30 per share and is now trading around $23 per share.
Arena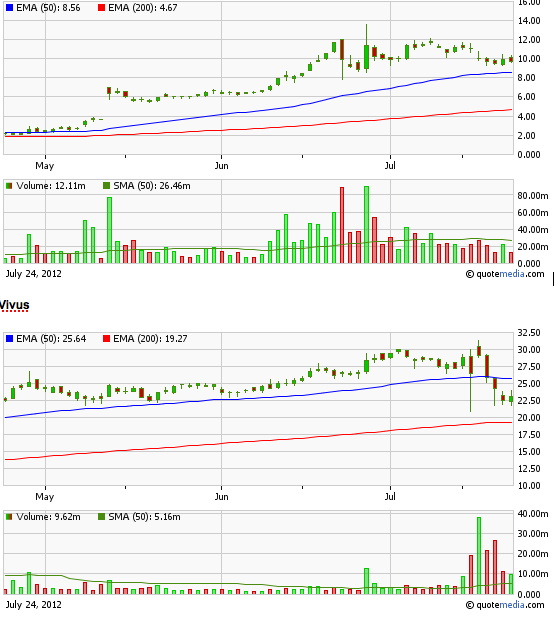 Source: The StockMarketWatch.
The decision is expected July 26, 2012, for AMR101. Price fluctuation of shares related only to key drug approvals, a weak reason to sell Amarin (NASDAQ:AMRN), perhaps. This reasoning was also mentioned by The Street.
There are two other reasons to sell Amarin shares.
AMR101 will only be approved initially for adult patients with very high triglyceride levels (>500 mg/dL). This is important because of the risk of pancreatitis. AMR101 will not be FDA approved initially for treating residual cardiovascular risk for patients with moderate or no elevation of triglycerides.
Based mostly on the ACCORD trial, it is controversial whether reducing triglyceride levels with drugs, mainly Fenofibrate, reduces cardiovascular event risk. Indeed, the FDA required labeling changes for Fenofibrate, which is sold by Abbott (NYSE:ABT). This may not bode well for expanded labeling or market share for AMR101. (See this Seeking Alpha article for a more complete discussion.)
If you agree there may be a short-term decrease in share price, but disagree with the latter discussion on market potential for AMR101, a long term investor can repurchase the Amarin shares.