Celadon Group (CLDN) provides long haul, full truckload services between the United States, Canada and Mexico. It also offers truckload transportation services within the United States, including long-haul, regional and logistic services.
Investment Thesis: The Tide is Turning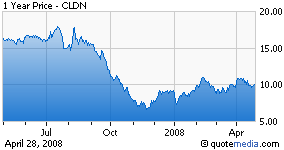 Although CLDN reported a pretty weak Q3 last week, now looks like the time to start buying shares as there are finally tangible signs that freight rates are improving as industry supply/demand comes back into balance. Demand is not, and has not been, the issue pressuring freight rates and share prices; it is oversupply that has been hurting the truckers. As the ATA Tonnage statistics show, volumes (demand) have been healthy but the oversupply has weighed on rates which when coupled with higher fuel costs have hurt the truckers and crushed stock prices. Supply is now being taken out of the industry in a meaningful way.
When asked on the earnings call how many carrier failures CLDN saw during Q3, they said there were 935 carrier failures which according to them was the highest number ever for a Q. This follows Q2 where there were 3x the number of failures vs. the historical average. As a result, CLDN's revenue per loaded mile (proxy for freight rate) ticked up on a q/q basis, the first increase in over a year.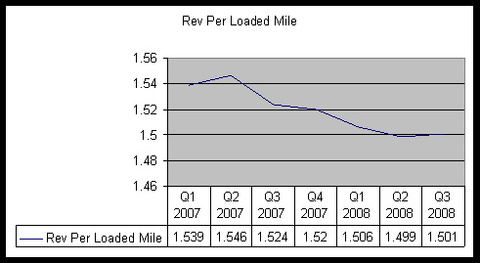 Even more encouraging is the trend within Q3 which management broke down on the call.
Furthermore they said they are seeing the trend continue into April.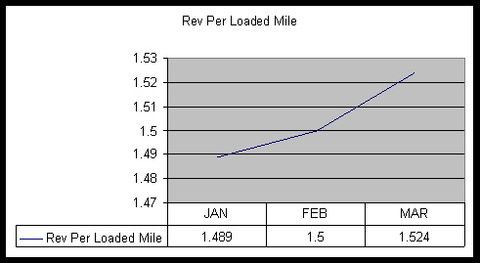 CLDN also reported that major shippers, such as Wal-Mart (NYSE:WMT) and Target (NYSE:TGT), are now trying to lock-in current rates for 2-3 years, which suggests that they too expect rates will rise. I can't substantiate this but CLDN also said that they are seeing a flight to quality as shippers migrate towards larger and more economically stable carriers; it makes sense. The market for used trucks remains strong as smaller carriers are forced to buy used trucks as opposed to new ones because they can't get financing. Also, international demand for used trucks is strong (particularly in Russian and Asia), which reminds me of what we are seeing in used aircrafts. CLDN's CEO said this is the first freight recession that has not seen a decrease in used truck values.
Cash flow from operations for the past 12 months is $54m and if we estimate that maintenance CAPEX is $35m, FCF% is 9.4%. EV/EBITDA=8x. Keep in mind that these valuations are based on trough earnings. I expect sentiment to turn in the near future once the market realizes that freight rates are improving.
Huge potential upside via Mexican drivers, free call option
On September 1st 2007, the US launched a 1 year pilot program which allows Mexican truck drivers access to US roads in compliance with the NAFTA agreement. NAFTA requires that all roads in the US, Canada and Mexico be opened to carriers from all three countries. Canadian trucking companies have had full access to US roads since 2001 but Mexican trucks have only been allowed about 20 miles inside the country at certain border crossings where they would then transfer loads to US drivers. A similar pilot program was put in place with Canada before permanent adoption. On September 12 2007, the Senate voted to prohibit the Transportation Deparment from spending money on the pilot program, which temporarily put the program on hold. I believe this was a temporary set back to what will ultimately be full compliance with NAFTA. The US has an obligation under NAFTA to allow Mexican trucks fair access to US roads so long as the vehicles meet the proper safety standards. CLDN is one of only two US trucking companies that own Mexican trucking companies; the other is Swift, which took itself private at the beginning of this year. Mexican law prohibits US trucking companies from acquiring Mexican companies. CLDN and Swift were grandfathered in because they made their acquisitions before the law was passed.
Once the program is approved, CLDN will be able to use Mexican truckers all the way to the cargo's final destination, which will provide significant cost savings. Currently, Mexican cargo is driven from the point of origin by Mexican drivers but then unloaded at the border once they clear customs, at which point a US driver picks up the cargo. Once the NAFTA agreement is fully enacted, Mexican drivers will be able to transport the cargo all the way to the final destination. CLDN's customers are paying market rates and have no idea the nationality or wage of the driver. CLDN's business is 50% US, 40% Mexico, 10% Canada. The average US driver earns $.40 per mile, while the average. Mexican driver earns $.18 per mile. Based on 2007 results, I estimate that CLDN could realize a maximum of roughly $25 million annually by using all Mexican drivers for freight originating in Mexico. Even if CLDN is only able to recognize half of the potential savings, a $12.5m perpetuity discounted by their cost of capital (~12%) is worth $104m which, compared to the market cap of $218m, is significant.
This issue is very politically charged and as a result CLDN has been hesitant to flaunt their potential new advantage. This has resulted in the Street ignoring the future cost savings and the impact this will have on CLDN's value. Furthermore, there are no size or volume constraints on how large CLDN can grow the Mexican subsidiary, which leads me to envision a scenario where one of the larger trucking companies takes over CLDN to get access to Mexican drivers and the cost savings that come with them. The larger company could then ramp up the Mexican subsidiary which would make this asset more valuable to the acquirer than the subsidiary's current operations are to CLDN.
Diversified cargo mix, ability to prop up revenue
CLDN has taken steps to insulate its cargo mix from economically cyclical products. A few years ago, CLDN was a big shipper of US autos. Now the company is more focused on consumer goods, or what one analyst dubbed "tobacco and tampons". No single customer makes up more than 5-6% of CLDN's revenue. In addition, CLDN has the ability to prop up revenue in a slow economy by acquiring insolvent trucking companies. CLDN buys the distressed trucking companies at the book value of their trucks and then turns around and sells the trucks but retains the drivers and customers. In effect, CLDN acquires the customers and drivers for free in these transactions. In many cases, the owners of these trucking companies have pledged their personal assets and so, by cutting a deal with CLDN, they lose their business but are able to keep their homes. The success of this strategy can be seen in last quarter's revenue growth.
Risks

Rising fuel costs outpace fuel surcharges.
Industry fundamentals deteriorate further.
Disclosure: I am long CLDN.