United Rentals (NYSE:URI) plunged 8.86% today, a day on which the Dow dropped 100 points. It is not certain if the reason for such a sell-off in the broader market and in URI was because of Spain, Europe in general, anticipation of Apple's earnings or the Richmond Fed manufacturing reading that came out worst since 2009, but it happened.
(click image to enlarge)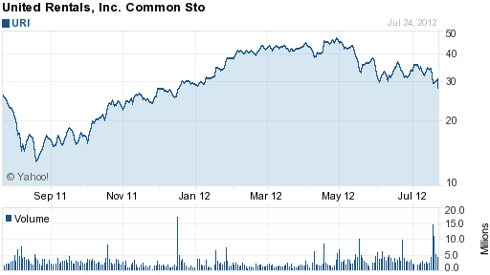 What Should Investors Do, And Why?
Before deciding on action, first let us go through the decision making process together.
What Drives URI?
I had bought United Rentals at $14.87 in August 2011, and since then, it has been the naughtiest component of my portfolio. 10-15% swings are not unusual for this stock. When such swings happened last year, I did not panic. And I will not panic now.
Yesterday, United Rentals announced pro forma financial guidance for the second half of 2012. Was it scary? Not at all.
In fact, the company said that it was positive for the remainder of the year, with an expected revenue range of $4.6 billion (up 11.3%) to $4.7 (up 13.7%) billion and adjusted EBITDA of $1.95 billion to $2 billion. If you segregate URI's first half performance and compare with the second half expectations, there is considerable improvement. For example, EBITDA margin for the first half was roughly around 40%. Based on this recent announcement, the margins are expected to be up 5% to around 45% for the second half.
So back to the question -- what will drive United Rentals? The answer is as simple as it could get -- rental rates. As of June 2012, rental prices were already 12% below peak levels, and are expected to rise as demand increases due to more construction activity.
United Rentals is an equipment rental company, and looking at a 50,000 foot view of things, it will benefit from rising rental rates.
Other catalysts
I am sure this statement will receive many scoffs and probably laughs looking at the current economic macro environment in the United States (remember URI operates in the US and Canada only). Nevertheless, let me say it -- our country will see increased construction activity which will drive companies like URI. Construction has bottomed, and analysts are expecting an increased activity in the commercial construction and industrial end market.
In April 2012, United Rentals completed its acquisition of RSC Holdings Inc. This acquisition will provide United Rentals a much greater scale and attractive growth prospects. The company's equipment fleet is now more flexible to demand, and hence productive.
In June 2012, I stated in my article that the best time to buy a stock like URI is over time. In fact, I discussed a comprehensive list of catalysts for United Rentals in that article. In spite of disappointing economic indicators related to jobs, construction and industrial activity since June, those catalysts still do apply to United Rentals.
Here is an excerpt from that article:
So what is the best time to buy URI? I believe, over time.

URI's beta is 2.47, and it easily swings 10% both ways in a week's time. With the Fed's latest Twist, the market might be heading towards choppy trading, treading waters for next few weeks or going lower, causing good entry points for investors.

It is strongly recommended that you don't buy 100% of the position at one strike price, rather invest in increments of about 30%, at different price points. Why? Remember, in June 2011, we rallied too after dropping May, then stopped before making a new high. And in July again, we treaded water looking for opportunity but then the bottom fell like the end of the world is coming.

A wise investor would start making a shopping list and wait for such opportunities, and since past performance does not guarantee future results, it's better to start with small positions and grow the overall position through the fall.

Source: Top 12 Reasons URI Must Be On Your Summer Shopping List
Next Steps
It is possible there is more downside as worse earning results come out. In such cases, URI could trade in the range of $24 to $32. After this 8%+ slide, investors should not panic.
Agreed, there is going to be increased volatility in the industrial and construction space given the weakness in the monthly economic indicators, but if you have already bought URI at higher prices, there is no need to sell at a loss. Rather, average down, and do it carefully and in small increments (usually I am strictly against averaging down). The downward pressure in URI for the next few weeks will create new opportunities for us.
For new investors, this is the time to start nibbling on URI, instead of taking a huge bite. If you are extremely concerned that a great recession will hit the United States, you may decide to short the Industrial ETF XLI as insurance if you want, but keep the exit plans ready around the end of August.
Conclusion
United Rentals will show outperformance and when that happens, the entry doors will have elevated to much higher levels. The last time we discussed URI in June, our decision was to add it the shopping list. Now the decision is to keep your cash ready and check out.
Disclosure: I am long URI.