The China stock market as measured by the iShares China 25 index (NYSEARCA:FXI) has had a rough start to 2008. But the market appears to have put in a significant low point and lately has been showing exceptional strength.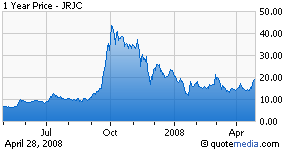 One way to take advantage of this ramp higher might be to invest in China Finance Online Co. (NASDAQ:JRJC). The company is one of the largest providers of stock market data to Chinese investors. Similar to a Yahoo Finance (NASDAQ:YHOO) or Marketwatch, the firm's website offers retail investors information on stock prices, market dynamics, and news items. In the past, a significant amount of revenue had been collected from advertisers which bought space on the company's website. After disappointing results, and a management change, the focus has shifted away from advertising revenue to a majority of subscription based revenue.
As of the end of 2007, the company's website has a total of 9.0 million registered users. This is up from 8.1 million at the end of the third quarter and is especially impressive considering the fact that the overall China stock market took a 20% hit during the quarter. Still, the number of registered users has little effect on earnings as these users must first be converted to paying subscribers to premium products before their potential begins to be realized.
Management reported 56,200 paying retail subscribers at the end of 2007 which was up 24% sequentially and again a very strong showing given the dynamics during the quarter. Net revenue for the quarter was up 263% from the previous year and non-GAAP EPS came in at 16 cents.
The guidance issued in the conference call appeared to be very positive with full year revenue being guided higher than previously noted. At this point the company expects $54-61 million in revenue and $22-28 million in non-GAAP earnings. Advertising only made up 5% of total revenue in the fourth quarter as the company has started using more and more of its ad spots on the websites to promote its own products.
The balance sheet is very strong with $74.7 million in cash split between RMB currency (51.1 million) and other foreign currency (23.6 million). There is no long-term debt on the books and so it appears the company has a good foundation to ride out difficult times as the market ebbs and flows.
One of the most exciting initiatives with the potential to drive revenue is a recent partnership with the Shanghai Stock Exchange and China Telecom. With the three companies working together on technology and distribution initiatives, JRJC should get much more exposure to the growing China investor base (180 million stock trading accounts at the end of 2007) and will likely be able to convert a portion of these into paying subscribers.
Telemarketing is also playing a key role in encouraging registered users to move to subscription based services. With less than one percent of users participating in subscription packages, there is a large potential base of new clients waiting to be tapped.
Finally, management announced that they have completed their acquisition of Daily Growth Investment Company which is a licensed brokerage company. JRJC should be able to promote its own brokerage through its advertising slots to the 9 million registered users.
The potential for commission revenue is huge although management cautions that they do not expect this segment to pick up substantially at least until the second half of 2008. This segment has the potential to be a catalyst for higher prices along with the overall trend of the China market. As the stock has broken higher out of a trading range, and volume has spiked, it appears institutions are putting money to work in this name and the potential for further gains is very good.
Disclosure: Author has a long position in JRJC.