Scrolling through charts Monday, I was surprised to see Giant Interactive Group Inc (NYSE:GA) trading 15% higher on incredibly strong volume. The company is not slated to report earnings for another week and the overall China 25 index (NYSEARCA:FXI) was not particularly active. Upon further investigation, the news surfaced: Over the weekend, ZT Online (the company's flagship game) broke a record with a peak of 2.1 million users online concurrently.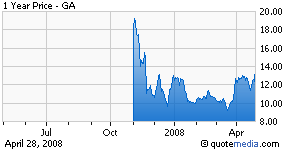 The record was broken in conjunction with celebrations and special activities planned to mark the second anniversary of the game's launch. It appears the events were a huge success as the record eclipsed the previous mark held by Netease (NASDAQ:NTES) with 1.67 million concurrent users. The news goes a long way towards cementing Giant's slot as one of the top three Massive Multiplayer Online Role Play Game (MMORPG) companies. The other two primary players in the market are Netease (NTES) with its Fantasy Westward Journey game and The9's (NASDAQ:NCTY) with its World of Warcraft.
With ZT Online entering its third year, analysts are beginning to concern themselves with "what is next" and how the company will continue to grow its revenue base. However, there is historical evidence showing that mega-hit games such as ZT Online have the potential to remain at blockbuster levels for 5 years or more. With gamers continuing to compete and build their characters, there is a vested interest for hard core players to continue to be involved, and new entrants are more likely to begin playing games that are highly ranked and the most popular.
Still, the company has several new concepts in the pipeline including "Giant Online" which has already been launched. Management has intentionally kept the entry costs low for this game in order to build a strong user base. Once there is a critical mass of players involved, it is likely to introduce items for participants to purchase which are priced at higher levels and will add more revenue to the company's bottom line.
The current revenue model is one in which it is free to play the game, but users are soon enticed to buy items within the game which are purchased for actual Chinese currency. The accounting is a bit difficult for this type of purchase in that revenue for each item must be accrued over the useful life (potentially years), but at the same time, this leads to more stable reported revenue. To get a truer sense of the revenue stream, it is more helpful to examine the cash flow statement.
The management team has quite a strong reputation among analysts as they are known for strength in marketing and promotion. This is evidenced by the successful campaign in which GA broke the previous concurrent user record by a significant margin.
The team has put together a non-conventional strategy whereby it employs more than 2,000 marketing representatives to various regions in China to encourage internet cafes to devote resources to the games, and offering customer service to individual users. The approach has given the company a broad geographic footprint not only in the first tier cities with large populations, but also in the second tier cities which are likely to have less competition from other game platforms.
Despite the rosy outlook, the industry is not without its share of operational risks. Government regulation is still a major concern as game content is scrutinized and a new age rating system is likely to be introduced this year. There is potential for the government to shut down non-registered internet cafes, which could cause disruptions for many gaming companies, and the approval process for new games can be very cumbersome. Yet, the proven ability to generate revenue, and the talent with which management drives customer participation, points to an attractive investment opportunity in a dynamic and changing marketplace.
Disclosure: Author does not have a position in GA.