We now have a large number of disparities facing gold investors. Here are a few oddities I've noticed and I saved the biggest for last:
- We are now facing the $120 level for oil, yet gold is currently at $890.
- Rice, a staple food for half of the global population, has doubled in price over the past three months, yet gold is falling.
- Currently gold continues to drop when U.S. markets are open, yet overnight gold typically ends up in Asian markets.
- Mid-large cap U.S. gold equities, such as Yamana Gold (AUY: 13.44 +0.37%, vol: 4,800,957), Barrick Mining (ABX: 39.87 +0.50%, vol: 3,674,910) and Newmont Mining (NEM: 44.52 -0.47%, vol: 2,603,548) have roughly dropped 20-25% in the past two months. In Asian markets, many mid-large cap gold equities have dropped 50% or more.
-Many gold equities are trading at prices when physical gold was in the $700-$750 range.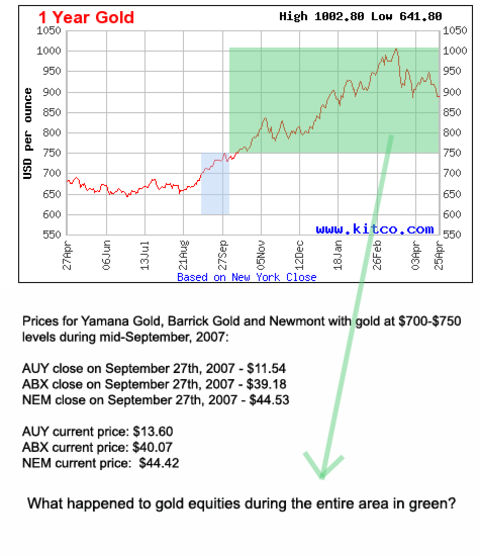 The brilliant minds of the gold investment world have reported about the perfect economic storm brewing for gold and gold equities. To a large extent they were correct as we witnessed a dramatic surge in physical prices from the fourth quarter of 2007 to the first quarter of 2008. All the financial turmoil, rate cuts and rise in inflation should have propelled gold equity investments as a safe hedge against a falling market. What we witnessed with gold equities was an entirely different story leading to a large disparity.
There seems to be a weaker connection between the rising physical price of gold and gold equities, than the falling price of physical gold. When the physical price of gold drops, as we have seen in the past two months, the price of gold equities drops doubly. We are now rapidly approaching heavily oversold territory for gold equity investments. Once financial markets stabilize and capital begins to flow back into equity markets, gold equities have tremendous room to play catch-up. This is contrary to what many people are reading from analysts and the media.
Looking back at gold equities' rise in 2005 and 2006, we can see that rising prices had little to do with financial turmoil in global markets. Pandemics, terrorism and natural disasters seemed to push gold equity investments higher than a possible financial collapse. This is why it will be prudent to watch capital markets stabilize before shifting a large share of your gold investments in favor of equities.
Disclaimer: The author hold no positions in any of the stocks mentioned.