The management of EnCana Corporation (NYSE:ECA) concentrates on legacy projects and what is termed "unconventional production." This extracts natural gas from gassy shales, tight sands and coal-beds, as well as tar sands in the Athabasca region of northern Alberta, Canada. These types of projects take many years to be identified, developed, and produced, but once ongoing they often maintain output for long periods of time (15 - 30 years).
One problem is that at the just getting started phase capital costs are great. However, they do produce at continuous rates that are often higher than regular wells in their maturity. Further, they are especially enhancing to earnings when prices for oil and gas are rising and the sunken costs of unconventional wells are able to set a strong pace of output without replacement.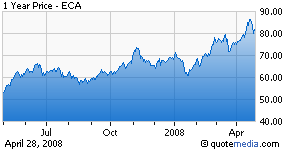 ECA's ouput continues to rise, quarter after quarter, which means for Q1 2008 up 18% for gas and 10% for oil means a 9% increase per share. Compared to ECA's peers this is astonishing, as nearly every gas producer in Western Canada is struggling with the likelihood of having seen Peak gas production. Thus ECA can outrun this trend for many years. And moves that the company made to build expertise in new drilling technologies and gain access to coal and shale are now living up to their promise and paying off with consistent production and returns.
Q1 shows operating earnings at $1.39 per share; cash flow of $3.17 per share, up some 15% above estimates; Capex was up 25% in line with guidance; FCF increased $271 million to $540 million, far outpacing expectations (see conference call transcript). Moreover, the 50%-50% deal with COP (ConocoPhillips) 16 months ago to extract from the Athabasca tar sands grew by 26% vs. the prior years first quarter, to 29,400 b/d net to ECA. And ECA looks like it's on pace to have earnings for 2008 come in at $6.00 p/s.
Finally, ECA dominates the natural gas industry in North America and it holds the largest land position in NA for future hydrocarbon exploration of 26 million acres, which assures ECA a long-life reserve capacity.
Disclosure: Author has a long position in ECA