As the credit crunch rages on, the latest arrow comes from Citigroup, who have downgraded Royal Bank of Canada (NYSE:RY) to a 'Sell.'
Citigroup analyst said:
In our view, as the largest of the Canadian banks, Royal likely has significant exposure to the deteriorating credit markets. Given the bank's size, C$632B in assets and diversified lines of business we think long term the bank will be able to withstand the current credit crunch. In the near term, we anticipate credit related write downs to adversely impact earnings and book value. We also expect increased provisions for loan losses as credit trends continue to deteriorate.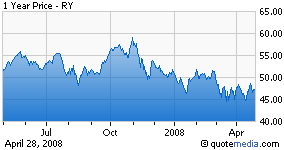 There is no doubt that the Royal Bank has exposure to melting credit markets, and given its size the bank does have its hands in a lot of cookie jars. It is important to note though that Royal derives a significant portion of the revenue from Canadian retail banking, as well as Canadian wealth management, which are in healthier current states and will buoy them. One of the larger Canadian banks, in fact the largest and arguably, the best positioned and strongest, being rated as a 'Sell' is likely a rare call in Canada or the U.S. for that matter.
If Citi's call comes to fruition this could be a great opportunity for long term dividend growth investors. Citi changed its target price for shares of The Royal Bank from C$47 to C$40.
Royal trading at C$40/share (Citi's target price) means the following:
Its P/E is under 10x trailing EPS.
Its Dividend Yield is pushing 5%.
It is reassuring for Citi to point out that Royal should survive the credit crisis long term and thus should not go bankrupt due to it. I'm glad it pointed this out, as I would have assumed the bank would fail. (Do you sense the sarcasm here?)