Since the market correction started in November 2007, Tech stocks have been hit really hard as investors sold everything they own, the good and the bad. The Nasdaq composite was down about 25% when it hit bottom a month ago, while the S&P 500 was down about 20%. If you look at the market leaders before the correction, Google (NASDAQ:GOOG) and Apple (NASDAQ:AAPL) were both down more than 40% from their October highs.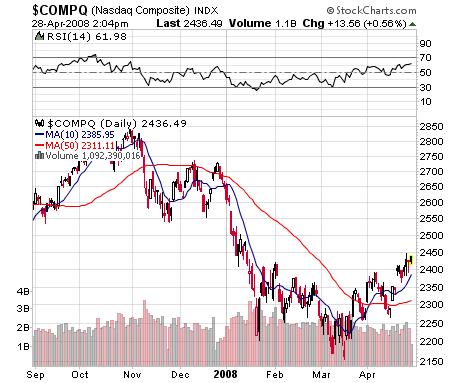 The reason behind selling tech stocks was that the financial crisis will lead to slower IT spending by the Banks and Brokers, and a consumer led recession will result in slower tech sales. Six months later, those same big tech companies reported earnings for the first quarter and they easily beat wall street expectations. So why were analysts estimates so low for the tech sector?
In GOOG's case, revenues for the first quarter were 42% higher than a year ago, and they beat analysts earnings expectations by 7%. It turned out that the data on paid clicks that all analysts base their numbers on was seriously flawed and they all blamed their bad estimates on the firm that provides these statistics. As for AAPL, revenues were also around 43% higher, and earnings beat expectations by 8.4%. It was the incredible number of Mac computers sold that boosted AAPL revenues. Analysts realized that even during a recession people are willing to spend some money to get AAPL's cool products. Both companies also benefited from strong international sales.
Even if you look at other big cap tech names like IBM (NYSE:IBM) or Amazon (NASDAQ:AMZN), they reported very strong numbers that nobody on the street was expecting. Some of them even guided higher for the remainder of the year. But can these growth rates be maintained in the foreseeable future? Well, if with all the problems that hit the US economy in the first three month of the year they can report such numbers, it is highly unlikely that things will slow down in the second half when it is seasonally the best time for tech companies to sell their products. In addition, the US economy is now supposed to be getting better with all the Fed and Government bailout plans.
In addition to looking at the fundamentals, we also like to check the Technicals. Both GOOG and AAPL broke out from sound bases and are now back above their 50-day moving average.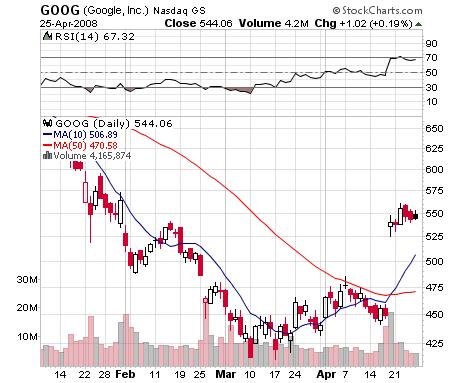 GOOG broke out and gapped higher on strong volume the day after releasing its earnings report. Its relative strength is making new highs already. This is very bullish for the stock going forward. You can also look at the QQQQ chart which tracks the Nasdaq 100 index to get a more general picture. It bottomed at around $41 in March and is now trading at $47, around 15% higher. RSI is also making new highs.
Given both strong fundamentals and technicals, we believe that the Tech sector will outperform the overall markets for the remainder of the year and will be leading the markets higher going forward. If you would like to take advantage of these moves without being exposed to only one specific stock, you can invest in the Nasdaq 100 ETF (QQQQ), or if you can handle more risk you can buy the Ultra QQQ ProShares ETF (NYSEARCA:QLD). With the recent run up of all the stocks mentioned here, you might want to wait for a pullback before investing your money.
Disclosure: Author currently owns GOOG and AAPL through mutual funds in his personal account.