Netflix (NASDAQ:NFLX) shares fell 16% during the after-hours session following its Q2 earnings release on July 24th, despite beating Q2 estimates. Netflix's second half guidance (near-breakeven Q3 and losses in Q4) clearly disappointed investors, but I think that a larger, ongoing communication problem is also partially responsible for growing investor dissatisfaction. Netflix communicates with the investing community as though it's 1999, but it's now 2012 and Netflix is a maturing company; investors demand financial results, not fluffy business milestones or projections.
One of the most recent examples of this happened early in July, when Reed Hastings posted (boasted?) on Facebook about Netflix viewership in June exceeding one billion hours. Investors apparently interpreted this as a very important and impressive metric, as shares rallied tremendously in the sessions following the piece of news. (Chart is courtesy of Yahoo Finance)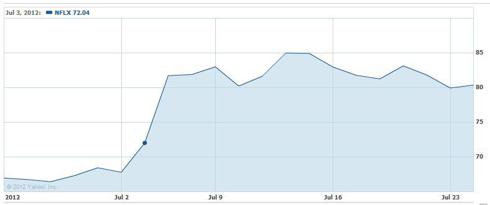 Investors may have attempted to wring some financial meaning out of the post, thinking that the statistic meant that subscriber growth was more robust than expected. However, that was not evident in the Q2 results. Now that it's clear that people are just watching a lot of Netflix (which doesn't translate into anything positive for the company as its streaming packages enable unlimited viewing), shares fell back to July 2nd levels.
More examples of this fluffy communication are littered throughout the letter to shareholders that accompanied the Q2 earnings release. The letter's entire first page is devoted to puffery about Netflix's "successes" in growing its streaming business, domestically and internationally. Sure, it's great that Netflix managed to sign up one million U.K. subscribers in the past six months, but investors would have probably appreciated that more if it hadn't been responsible for massive financial losses. Additionally, on the first and seventh page, Netflix mentions that it will be launching in its "next international market" in Q4, and does so in a very 1999-like way, teasing by closing with "we will have more to say about this market in Q3." Infinite possibilities always sound better than tangible plans, as evidenced by Pets.com and many others of the first golden internet era.
Perhaps the most egregious example of the tech-bubble-era public relations style of Netflix may be Hastings' famous letter to a short seller published on Seeking Alpha in December 2010. Publicly "defending" your company against a relatively small hedge fund manager and part-time author seemed tacky to most observers - it's just not something that a CEO of a major corporation is supposed to do. Additionally, while Hastings was temporarily "right" as Netflix shares rallied from $200 to $300, he now looks very foolish as shares fell to $60 earlier this year.
Of course, beyond the strange corporate communications, the real problem with Netflix is that the underlying business is doing poorly. Netflix management (almost certainly driven by Hastings) chose to deliberately abandon its highly-profitable mail business to focus on the streaming business, and Netflix has destroyed customer loyalty, brand reputation, and earnings in the process. Now, Netflix may lose money in FY12 (-.08 Q1, +.11 Q2, plus a projected breakeven Q3 and loss in Q4) all in pursuit of the vision of a worldwide all-streaming business. At best, the streaming business may one day provide modest returns, as content owners are going to constantly squeeze every cent possible out of Netflix when it comes time to negotiate agreements.
I bought puts before Tuesday's report anticipating a continuation of deteriorating results, and I was not disappointed. I am not in any hurry to close the position, and I do not see any immediate catalysts that should make an investor want to go long. Netflix will not be attractive until it starts to make money again, and more-than-marginal profitability is not imminent; the company is forecasting a continuing decline in lucrative mail subscribers while it plans to expend precious resources on expanding the low-margin streaming business. It seems best to stay short (or to simply stay away from) Netflix at this point.
Disclosure: I am short NFLX.
Additional disclosure: I am short Netflix via puts.