Enterprise Products Partners L.P. (EPD) is the largest publicly traded energy partnership. The company has provided consistent results since their initial public offering (NYSEARCA:IPO) in 1998. The partnership provides midstream enterprise services in North America. Midstream operations are less prone to commodity price swings. A successful 14 year track record suggests this is a blue chip income stock to buy and hold. An investor has received an annual return of 22.08%, on average, with dividends reinvested since 1998. As the company has 32 quarters of consecutive increases, I address 3 key reasons why Enterprise Products Partners is a compelling valuation.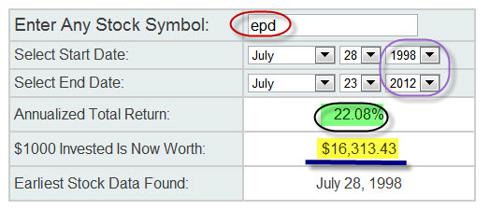 1. Growth Catalysts - Texas Express Pipeline
Enterprise Products Partners confirmed the Texas Express Pipeline project is projected to generate revenues starting in the first quarter, 2014. This is a major project with joint partners Enbridge Energy Partners, L.P. (EEP) and Anadarko Petroleum Corporation (APC). Anadarko has significant oil and natural gas production interests in Eagleford Shale, Ozona area and Permian Basin. Enbridge Energy Partners is a major midstream entity in western Canada.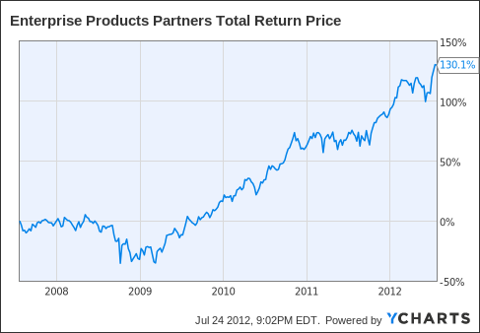 EPD Total Return Price data by YCharts
A 15 year transportation agreement has been established for 232,000 barrels per day. The pipeline is 20 inches in diameter and will begin in Skellytown, Texas to Mont Belvieu, Texas. The pipeline is 580 miles in length.
2. 100% Distributions Paid to Unit Holders
Enterprise Products Partners does not have General Partner Incentive Distribution Rights (IDR). The partnership pays 100% current distributions to unit holders. Kinder Morgan (KMI) is the General Partner of Kinder Morgan Partnership (KMP). Kinder Morgan's General Partner IDR's retain 45% of Kinder Morgan Partnership available distributions.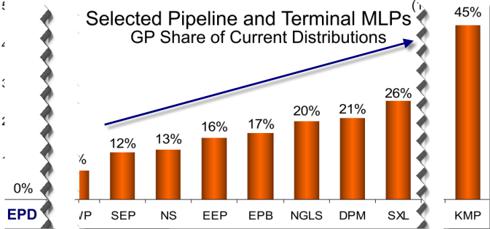 Enterprise Products Partners' management eliminated the General Partner IDR for the benefit of all unit holders. Unit holders are not beholden to a General Partner to withhold a portion of available funds for distribution.
32 Consecutive Quarters of Increasing Dividends
Enterprise Products Partners has increased the dividend for 32 consecutive quarters. Investors can rely upon the quarterly income increasing each quarter. The ability to increase dividends is due to project management, fsical prudence and focusing upon adding growing revenue projects.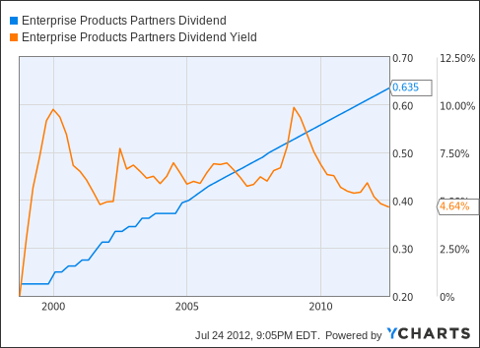 EPD Dividend data by YCharts
3. Benefits of Distributable Cash Flow (DCF) Retention
Enterprise Products Partners' management has made an intentional decision to retain DCF to pay out as future quarterly distributions. Enterprise Products Partners will not be forced to seek equity or debt markets if immediate cash is required to pay for capital expenditures or distributions.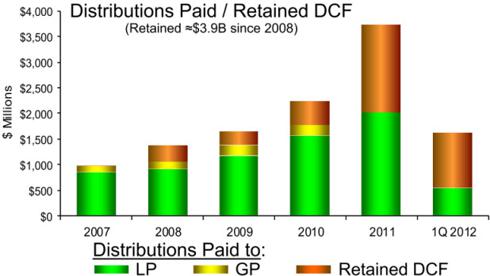 Action
I believe unit holders have reason to hold their units and utilize the dividend reinvestment program. A 5% unit discount is offered for reinvested dividends. I believe Enterprise Products Partners is the best of breed midstream partnership. The current yield is 4.6%. The quarterly dividend has increased for 32 quarters, so a growing yield is likely. This is a blue chip built for income investors.
Disclosure: I am long EPD, KMI.
Additional disclosure: Longrundata.com owners have provided permission to use their DRIP software.