Paul Tudor Jones II founded his diversified investment management company, Tudor Investment Corporation, in 1980. The company currently has more than $10 billion in assets under management (AUM). It follows a global macro trading and fundamental equity investing strategy. It invests across developed and emerging markets and in venture capital, currencies, and commodities. It also applies an event-driven approach and technical trading. Jones' broad and opportunistic approach to investing has earned him the title of the macro trader.
Jones is famous for anticipating the 1987 market crash. Reportedly, his investments during that time tripled his capital. Jones is not a great believer in taking risks in business; he is keener on risk controlling. His investment services are rather pricey when compared to standard charges assessed by other hedge fund managers. Tudor assesses annual management fees of 4% of AUM and 23% of any profits, compared with 2% of AUM and 20% of profits for most other funds. Recently, Tudor Investment Corporation introduced a new class of shares for its flagship $8 billion Tudor BVI Global Fund that charge 2.75% of AUM in fees, albeit with a higher 27% charge on gains. Tudor BVI Global Fund returned 2.12% net of fees in 2011.
Jones was instrumental in establishing FINEX (Financial Instruments Exchange), the currency derivatives exchange on the New York Board of Trade, including the inception of the U.S. dollar index futures contract on the exchange. Paul Tudor Jones II has a total net worth of more than $3 billion.
Here are Jones' largest positions that pay dividends:
Click to enlarge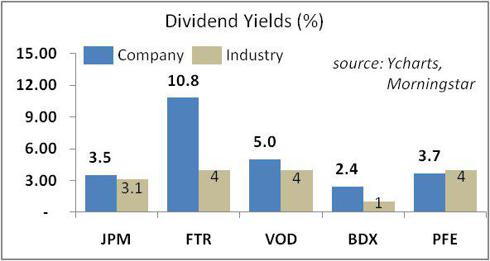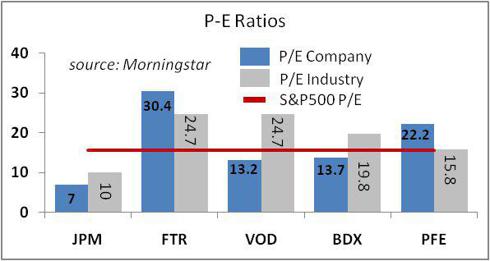 JPMorgan Chase & Co. (NYSE:JPM) constituted the sixth largest holding in Paul Tudor Jones' hedge fund portfolio in the latest 13F filing. At current market prices, the stake is valued at $43 million. JPMorgan has $2.3 trillion in assets and is the largest U.S. bank by asset size. Last week, driven by strong commercial lending, the bank reported financial performance that beat analyst expectations for both earnings and revenues.
This took place against the $5.8 billion loss associated with a rouge trader's botched trades in the credit derivatives market. The actual trading loss was nearly triple the initially estimated $2 billion. The bank pays a dividend yielding 3.5% on a low payout of 28%. Its peers Citibank (NYSE:C), Bank of America (NYSE:BAC), and Wells Fargo (NYSE:WFC), pay dividend yields of 0.2%, 0.6%, and 2.6%, respectively.
JPMorgan is trading at a price-to-book ratio of 0.7, slightly higher than the industry average of 0.6. Its return on equity is 9.5%, compared with 6.7% for major money center banks. The stock has a forward P/E of 7.1, below the industry and the bank's historical averages. The stock is currently trading at $33.90 a share, down 15.2% over the past year. After selling his preferred stock, the company's Chairman/CEO, Jamie Dimon, has just purchased in direct or indirect beneficial ownership some 500,000 shares of JPMorgan common stock worth about $17 million. Fund managers Ken Fisher and Lee Ainslie are also bullish about the bank.
Frontier Communications Corporation (NYSE:FTR) was also one of the largest positions in Jones' latest 13F filing, currently valued at $22.5 million. The company is a $3.7 billion telecommunications business providing wireline, broadband, and other communications services to residential and business customers. Its revenues and EPS have dived in recent years because of the rising popularity of competing mobile technologies and services. The company also has a lot of debt, with debt-to-equity ratio hovering around 190%.
Although the company boasts a dividend yield of 10.8%, that yield is based on a payout ratio of 333% of earnings and 51% of free cash flow. The company's free cash flow has been on a decline since 2009 and so has been Frontier's dividend. The EPS plunged at an average rate of 28.4% per year over the past five years. Analysts see a rebound in the EPS over the next five years. The company's competitors AT&T (NYSE:T) and CenturyLink, Inc. (NYSE:CTL) pay dividend yields of 5.0% and 7.0%, respectively. Based on the forward P/E, the company's stock is trading at a premium to its industry. The stock is changing hands at $3.74 a share, down 10% over the past year.
Vodafone Group plc (NASDAQ:VOD) was another major position in Jones' portfolio according to the latest 13F filing. It is currently valued at $22.5 million. The company is UK-based and the world's second largest mobile communications operator providing services to more than 400 million customers worldwide. Vodafone has a market cap of $140 billion. The company's regular dividend yields 5.0% on a payout ratio of 67%. Its peers Deutsche Tele Ag Ads (OTCQX:DTEGY), Telefonica (NYSE:TEF), and AT&T pay yields of 8.3%, 15.3%, and 5.0%, respectively.
Vodafone reported last week that its group revenues plunged 7.7% in the just-ended quarter (below consensus estimates), dragged down by dismal sales in Italy and Spain, and a weak performance in the U.K. Verizon Wireless and German operations posted fairly strong growth. Still, reflecting robust smartphone penetration trends, group data revenue grew 17.1%. The company expects the next few quarters to remain challenging. In terms of valuation, the company's stock is trading at a discount relative to its peers on average. The stock is changing hands at $28.20 a share, up 9.4% over the past 12 months. Fund manager Boykin Curry and billionaire David Einhorn are big fans of the stock.
Becton, Dickinson and Company (NYSE:BDX) represented a large new position in Jones' last 13F portfolio filing. The stake is currently valued at $21 million. Becton, Dickinson and Company is a $15.2 billion company selling medical devices, instrument systems, and reagents. It pays a dividend yield of 2.4% on a low payout ratio of 33%. The company's peers, including Covidien plc (COV), Baxter International Inc (NYSE:BAX), and Abbott Laboratories (NYSE:ABT) yield 1.7%, 2.4%, and 3.1%, respectively. The company's dividend and EPS grew at average annual rates of 13.1% and 12.0%, respectively, over the past five years.
The company is expected to expand its EPS at an average rate of 7.9% per year for the next half decade. Becton, Dickinson and Company's international revenues have grown at a solid pace. The company has just raised its guidance for this year, besting analysts' expectations. Moreover, the company has announced a deal to acquire Safety Syringes, Inc., a company that specializes in the development of anti-needlestick devices for prefilled syringes. The stock is trading at $74.80 a share, down more than 14% over the past year. In terms of valuation, the stock is undervalued relative to its medical supplies industry. The stock is one of the largest investments in Al Gore's Generation Investment Management (see its key holdings).
Pfizer Inc. (NYSE:PFE) was also a large position in Jones' latest 13F filing. That stake is presently valued at close to $21 billion. The company is one of the world's largest pharmaceutical companies, with a total market cap of $177 billion. The company's EPS contracted over the past five years; now, analysts forecast that the EPS will expand at a meager 2.5% per year for the next five years. The forecast rate of EPS growth is low given that patent expirations and price cuts due to generic drugs competition will cut into Pfizer's drug sales.
The company is currently a good income play. While the quarterly dividend was cut in 2009, it has rebounded since some 37.5% to the current annualized yield of 3.7%, which dwarfs the yields on the 10-year Treasury and the S&P 500. The company's peers Merck & Co. (NYSE:MRK), Johnson & Johnson (NYSE:JNJ), and Novartis AG (NYSE:NVS) pay yields of 3.8%, 3.5%, and 4.3%, respectively. Pfizer's dividend payout ratio is 72%. The company is also attractive on valuation: its forward P/E and price-to-book ratio are well below the company's historical metrics. At $23.70 a share, the stock is up 20% over the past 12 months and is hovering around its new 52-week high. It is hovering close to its 52-week high. Billionaires Ken Fisher and George Soros are big fans of the stock.
Disclosure: I have no positions in any stocks mentioned, and no plans to initiate any positions within the next 72 hours.