On Thursday, July 26, the second-most anticipated earnings report of this season will be at hand. Facebook (FB) will be releasing its Q2 2012 results after the markets close, and this will be the company's first earnings release as a public company. There will be plenty to talk about on the conference call, and in this article, we will break down a few of the things that we will be watching for. For purposes of disclosure, we hold shares of Facebook, but it is not a meaningful part of our portfolio. We will make a decision regarding whether or not to buy more after earnings are released.
Overview
Current estimates for Facebook stand at 12 cents per share for Q2 2012, as per data compiled by Reuters (taken from Schwab's website). Within the consensus estimates, however, there is a wide range of possibilities, ranging from 8 to 29 cents.

Revenue estimates are not compiled by Reuters, but most analysts are modeling for somewhere between $1 billion and $1.2 billion in quarterly revenue. It is unknown whether or not Facebook will be providing guidance. Some analysts, including those at JPMorgan, believe that Facebook will provide no guidance. But if the company does guide for the rest of the year, its outlook will be compared to current consensus estimates of 51 cents in EPS for 2012. The current consensus estimate for 2012 revenue is $4.9 billion.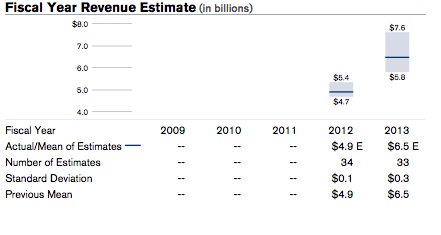 Since the company went public, expectations for Facebook's second quarter results have been ratcheted down. We turn now to Facebook's conference call.
Hoping to Hear from Mark Zuckerberg
After a controversial IPO, Facebook's standing with Wall Street and investors has been tarnished. Questions over the company's valuation and strategic vision have dogged the company for months, and that has been reflected in the company's stock. During the IPO process, Mark Zuckerberg was not very involved, and most of the details were handled by CFO David Ebersman. Zuckerberg's top two lieutenants, Ebersman and COO Sheryl Sandberg, had much more interaction with Wall Street during the IPO process that Zuckerberg. Hopefully, that will change in the quarters to come.
Facebook has said that it will be hosting a conference call after it releases its earnings, but did not say who will be participating. It is widely assumed that Ebersman and Sandberg will be participating. As CFO, it is a given that Ebersman will be on the call. And Sandberg is seen as the public face of Facebook. Still, we hope to hear from Mark Zuckerberg on the call, not for his take on the company's financial state or its quarterly results, but for his comments on Facebook's strategic direction and his vision for what the rest of 2012 and the years ahead hold for Facebook. Frankly, Facebook's financials are not so complex as to need the company's CEO to explain them. But, only one person truly knows where Facebook is going, and that is Zuckerberg. There is no real point to hearing him read through the company's income statement. But hearing his comments on Facebook's future as well as having him on hand to answer strategic questions would go a long way to rebuilding investor confidence in the company. Facebook should take its cues from Google (GOOG) in this regard. Google's CEO Larry Page appears regularly on the company's quarterly conference calls (with the exception of the latest call) to update investors on what is going on strategically at Google. While he is not required to participate, Page's presence helps reassure investors and show that he cares about the company's investors. Facebook needs to repair its image on Wall Street, and having CEO Mark Zuckerberg on the conference call would go a long way in doing that. As Bloomberg noted, "everyone in the world is going to be listening to this call." Zuckerberg should be part of the conference call, so that investors can hear what he has to say about where the company is going.
The Conference Call: Listening for Color on Acquisitions and Mobile
Facebook's conference call will be highly anticipated by both its investors and the broader markets. There are many possibilities as to what will be discussed, but we will be focusing on 2 in particular: acquisitions and the company's mobile business.
Facebook's IPO brought in billions in cash for Facebook, and the company has been on a sort of buying spree. Since its IPO, Facebook has bought 4 companies, including Face.com and Karma. While none of these have been on the scale of the company's $1 billion acquisition of Instagram, they are still important, for they help cement the company's position in mobile, which is where Facebook's future will be won or lost. We would like the company to provide some color on what kind of environment it sees in the startup sector, and how Facebook looks for new companies and/or talent to acquire. Facebook's competitive position is secure at the moment, but there is no guarantee that the future will be as kind to Facebook. Competition in the social space is fierce, and Facebook will have to stay ahead of Google in terms of acquiring startups, which is the only Silicon Valley company capable of being able to outmatch Facebook when it comes to acquiring socially-focused startups. That is why we want to hear what Facebook has to say about its acquisition strategy and the opportunities and risks it sees in the startup market.
The second, and perhaps most important aspect that we would like to hear about is Facebook's mobile strategy. Most investors agree that mobile advertising is both Facebook's biggest risk and opportunity. In its S-1 filings before going public, Facebook cited increasing mobile usage as a risk factor. Facebook introduced its first mobile-specific advertising platform on June 5, and as a result its Q2 results will include less than a month of mobile advertising results. That being said, we want Facebook to provide an update on that business. How has it performed in July? Is it meeting expectations? And what kind of response has the company seen from advertisers?
According to AdParlor, a leading manager of Facebook advertising campaigns, Facebook's mobile ads are performing well, with click-through rates at 11-15 times higher than for desktop advertising.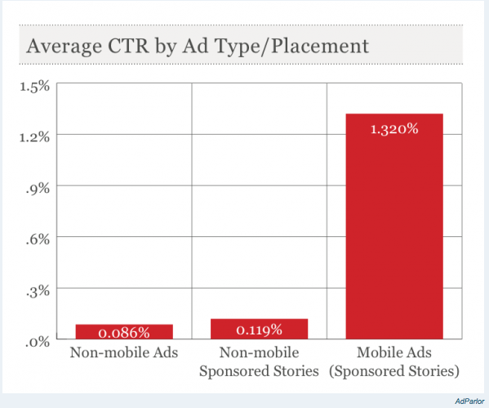 In the long-term, Facebook's ad business will be more mobile than desktop. In emerging markets, users access Facebook more from mobile devices than desktop computers, and that trends is also playing out in developed markets as well. In the weeks leading up to the IPO and the weeks after, there was clear unease with how Facebook is positioning itself in mobile. AdParlor's report should soothe some of those concerns, for it shows that mobile ads are in fact viable. To be fair, cost per click rates for mobile ads are lower than those for desktop ads.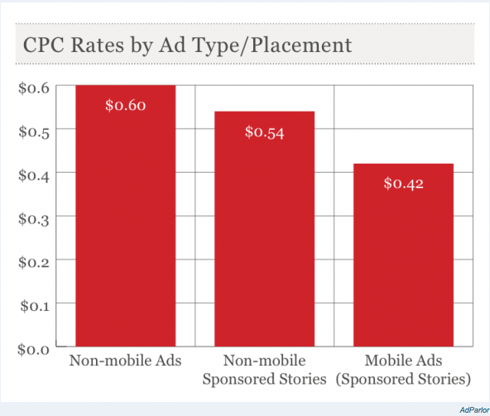 That being said, mobile advertising will be a bigger market for Facebook in the long-term than the desktop market, and lower CPC rates will be mitigated by volume, in our view. We look forward to hearing about Facebook's mobile advertising initiatives on its earnings call.
We would also like to hear what the company has to say about desktop advertising. At this point, that is the main driver of profits, and the company needs a stable desktop advertising market to transition successfully to mobile. And according to TBG Digital, Facebook's desktop advertising business did well in the second quarter. The firm estimates that click-through rates rose 11% in Q2 for desktop ads, and that cost-per-click rose 9%. We will be listening closely to hear how the desktop advertising business is holding up in the face of competition, especially Google.
Conclusions
Facebook's first earnings report as a public company will be scrutinized a great deal. We hope that CEO Mark Zuckerberg will discuss his strategic vision for Facebook and his outlook for the quarters and years ahead, and that the company will comment on its acquisition strategy and the state of its mobile advertising business. This earnings call is crucial to restoring investor confidence, and we believe that Facebook's top executives have devoted a great deal of time in preparing for it. We believe that investors should hold off on buying Facebook shares until the company reports its second quarter results, and look forward to hearing what the company has to say.
Disclosure: I am long FB, GOOG.
Additional disclosure: We are long GOOG via a mutual fund that assigns the company a weighting of 2.21%.