I recently purchased shares of Dreman/Clayman Dividend & Income (NYSE:DCS). It is a closed end fund that invests in dividend-paying common and preferred stock. Some of its top holdings are: Altria (NYSE:MO), Fannie Mae (FNM) Preferred 8.25%, Conoco Philips (NYSE:COP), Washington Mutual (NYSE:WM), Devon Energy (NYSE:DVN).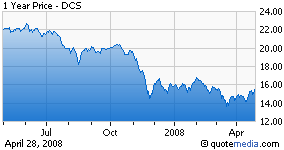 This is mainly a discount reversion play. DCS closed on Friday at a 15.28% discount to NAV which is at the higher end of its range. Its expense ratio of 1.42% is a bit high, but the fund offers leverage of 29% which allowed it to pay out an annual distribution of 8.44%. I think it is a good holding for an IRA or other tax-deferred account.
DCS uses auction rate preferred securities for leverage. It uses five securities totaling $425 million with current interest rates varying from 3.97% to 4.15% which is not bad, and well below what they earn from the portfolio. The asset coverage ratio on these preferreds is 294%.