As markets dropped again on Monday over fears in Europe, investors are looking for solid, safe companies to invest in. How about a company that continues to be the leader in its industry, is still crushing analyst estimates, and has plenty of financial flexibility? What if I told you that this particular name has actually dropped substantially since reporting another good quarter? Would you be interested? Well, you should be. If you don't know what I'm talking about, the name is Intuitive Surgical, Inc. (NASDAQ:ISRG), maker of the da Vinci Surgical System. Today, I'll show you why this recent decline provides a tremendous buying opportunity.
The Beats Keep Coming
Last Thursday, Intuitive reported its fiscal second-quarter earnings. For the full 10-Q filing, click here. The company reported revenues of $537 million, up 26% over the prior-year period. 26% revenue growth is nothing to shy away from. The reported number beat analyst estimates by about $14 million. Analysts continue to be conservative on the name. In terms of earnings per share, the company reported $3.75, which beat by $0.19. This was the smallest beat in the past four quarters, but the company still beat analyst expectations by 5.3%. Anytime you find a company that consistently beats estimates, you have to take it seriously.
Margin Fears Are Overblown
Those that don't believe in Intuitive point to unsustainable margins as a way to knock this stock down. They fail to actually realize how strong this company is. The following table shows Intuitive's three primary Q2 margins over the past four years.
| | | | | |
| --- | --- | --- | --- | --- |
| Q2 Margins | 2009 | 2010 | 2011 | 2012 |
| Gross | 72.99% | 73.22% | 72.02% | 72.02% |
| Operating | 38.18% | 39.83% | 39.49% | 41.99% |
| Profit | 23.94% | 25.29% | 27.58% | 28.87% |
Yes, gross margins are not at 2010 highs, but so what? Last time I checked, earnings per share were based off the bottom line and not gross margins. Operating and profit margins are still increasing. Intuitive maintained its gross margins in Q2. In fact, when I discussed its Q1 results, I noted that gross margins only improved by 3 basis points over 2011. But operating margins and profit margins both increased nicely.
Intuitive may see gross margins decline to 70% over the next couple of years, and I said may. But that doesn't mean the company can't improve other margins. In Q2 of 2009, selling, general, and administrative expenses totaled 25.83% of revenues. In the just reported quarter, they only totaled 22.53%. If Intuitive gets that number down to 20%, operating margins will increase, even if gross margins decline slightly. Also, because Intuitive gets about 80% of its revenues from the United States, it has a very high tax rate -- 32.45% in the most-recent quarter. If the company continues to expand its international operations, it should see that tax rate come down over time. That will help net margins as well. I would be extremely surprised if Intuitive doesn't hit 30% net profit margins over the next two years.
Financial Flexibility / Stock Buybacks
Other than Apple (NASDAQ:AAPL), there are not many companies whose financial health is as strong as Intuitive Surgical. The following table shows some key financial numbers at the end of the second quarter for each of the respective years (dollar values in millions). The cash and investments number includes cash and equivalents, as well as both short- and long-term investments.
| | | | | |
| --- | --- | --- | --- | --- |
| Key Financials | 2009 | 2010 | 2011 | 2012 |
| Cash & Investments | $1,172.0 | $1,588.2 | $2,171.8 | $2,631.2 |
| Working Capital | $643.8 | $1,020.8 | $1,145.7 | $1,356.5 |
| Current Ratio | 4.17 | 5.20 | 4.57 | 4.91 |
| Debt Ratio | 15.05% | 14.21% | 13.63% | 12.24% |
Working Capital continues to increase. The cash and investments pile has more than doubled over the past three years. The debt (liabilities to assets) ratio is decreasing each year. Actually, at the end of Q2, Intuitive had more cash and equivalents ($484.4 million) than total liabilities ($443.7 million). You don't see that often. Don't be worried if the current ratio ticks down a little in the next couple of years. At this point, Intuitive has so few liabilities that even the smallest increase could send the current ratio down (remember current ratio is current assets divided by current liabilities). As long as working capital continues to increase, no problems exist.
As long as Intuitive continues to have a strong balance sheet, it will be able to buy back plenty of stock. Intuitive did not buy back any stock in Q1, and only bought back $15.2 million worth of shares in Q2 (compared to $150.7 million in the first half of 2011). The company most likely did not buy back any shares because they were so high. But if the stock continues to decline, look for the company to pick up some shares while they are cheap. More on that later. At the end of Q2, Intuitive's current buyback plan had a remaining authorized amount of $553 million. That represents almost 3% of the current market capitalization.
Valuation / Growth Prospects
Intuitive Surgical's critics have always thrown the high valuation card out there. However, this company has basically no competition, has sky-high margins, is continuing to grow, and has great financial strength. Sometimes, you have to pay for a market leader, and in this case, I feel that the valuation is justified.
The following table shows Intuitive's price-to-earnings valuation over the past few years. The table represents the high and low P/E for the year based on the highest and lowest stock prices, based on that year's actual earnings.
| | | | | | | | |
| --- | --- | --- | --- | --- | --- | --- | --- |
| P/E | 2006 | 2007 | 2008 | 2009 | 2010 | 2011 | 2012 |
| High | 74 | 97 | 70 | 52 | 42 | 38 | 40 |
| Low | 45 | 23 | 22 | 14 | 26 | 21 | 29 |
Now the 2012 numbers are based on the high and low from this year, plus the currently expected $14.86 in 2012 earnings (from analyst expectations). But I think that number is headed higher.
Here's why. Back in February, I stated that Intuitive could trade for $700 within two years (meaning by early 2014). At that point, analysts were just expecting $14.49 in earnings for 2012. So in five months, estimates have come up by almost 40 cents, and since the company just reported a few days ago, some analysts probably have not revised their numbers yet, meaning the 2012 number could go even higher in the short term. I stated that Intuitive Surgical could earn $15.50 this year. Now, I still think it will do at least $15.25, and possibly $15.50. It probably depends on how much stock the company buys back. I was planning on more buybacks, which would have lowered the diluted share count, thus raising earnings per share. Still, $15 of earnings and a 35 P/E (roughly the average so far this year) gives you a price of $525. Last time I checked, we're a bit below that, and that $525 assumes only $15 of earnings and a middle of the road valuation. If the name were to trade for 38-40 times earnings or more, $600 or higher is not out of the question this year.
In February, analysts were expecting $16.94 in earnings for 2013. Those estimates are now up to $17.46, and we still have roughly 18 months until the company actually reports the 2013 full-year numbers. I said that if Intuitive reported another good quarter, I would raise my 2013 estimates to $19, and I am doing that today. Using that 35 P/E number again, you are looking at $665 by the end of 2013. Now you see how easy it could be for this name to hit $700 in the next 18 months.
We've Seen This Story Before
About six months ago, we saw this exact same scenario. Intuitive reported a great fourth quarter, where it beat revenues by $14 million (same as the Q2 just reported) and earnings per share by 40 cents. But you know what? It just wasn't enough.
The following table shows Intuitive's price action into and after earnings:
Click to enlarge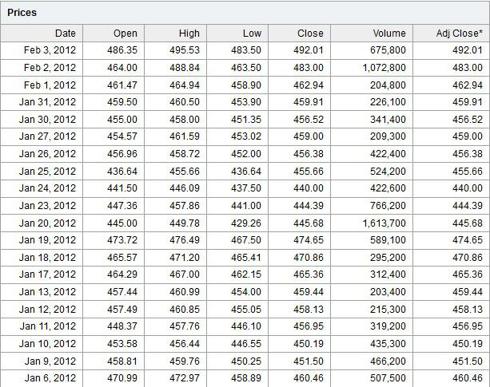 (Source: Yahoo Finance)
Intuitive reported results after the bell on January 19, closing just under $475. The next morning, shares opened at $445 and traded down below $430 at the low. But they closed that day at $445, and were up to $495 by February 3rd.
Last Thursday, Intuitive closed at $544.21. It has lost more than $65 in just two days, a loss of 12.26%. That includes the fact that it closed more than $10 off Monday's low. I don't see why this company has lost that much, and that is your opportunity. Remember how I said that the company hasn't bought back a ton of stock lately? Well, last week the name was above $550. Now it is at $475. This company is smart, and probably will buy back shares while they are low.
My Position / Final Thoughts
As a trader, I look for quick ways to make money. I bought some Intuitive shares Monday because I believe that recent events are ridiculous. The company beat handily again, improved its balance sheet even more, and analyst estimates have risen since. Does that seem to warrant a 12% plus drop in just two days? I don't think so. I'm looking for a quick rebound, possibly to $500 by the end of the week, just like I took advantage of the drop to $430 in January. Now, I am long the name at the time of writing here, but I probably will exit sometime this week. Like I said, I'm a short-term trader. I usually don't hold positions for more than a couple of days.
But if you are a long-term investor, this drop seems like a tremendous buying opportunity. Shares have not been this low since February, and since then, all the company has done is beat expectations twice more and improved its financial health even more. At Monday's close, the price-to-earnings valuation was just 32, near the bottom end of this year's range. I still think this name goes to $700 in the next 18 months, and given that we are just above $475, anyone who is a long-term investor should take a serious look at this name. If I was starting a long-term portfolio today, Intuitive Surgical would be one of my top two names along with Apple.
Disclosure: I am long ISRG.
Additional disclosure: Author long ISRG at time of writing, but probably will exit sometime this week. Author will provide update(s) to position status in the comments below.