When insiders buy shares on the open market, their companies are usually undervalued. Corporate insiders often have the inside track on their companies' prospects. Insiders probably wouldn't risk investing too much of their own money into their own companies unless they thought the stock might rise.
I screened for companies where at least one insider made an insider buy worth over $1 million filed on July 24th. Here are four stocks that I found:
1. Navistar International Corporation (NYSE:NAV) is a holding company whose subsidiaries and affiliates produce International brand commercial and military trucks, MaxxForce brand diesel engines, IC Bus brand school and commercial buses, Monaco RV brands of recreational vehicles, and Workhorse brand chassis for motor homes and step vans. The company is also a private-label designer and manufacturer of diesel engines for the pickup truck, van and SUV markets. It also provides truck and diesel engine service parts, another affiliate offers financing services.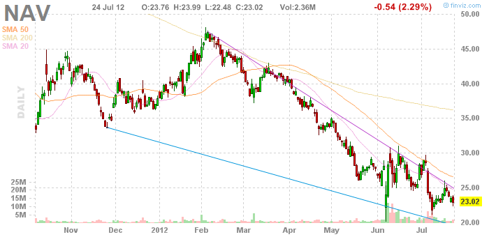 Insider buys
My analysis
I wrote an article about Navistar on June 9th. The stock has a $18 price target from the Point&Figure chart. I am not 100% confident that the price target will be reached, but if it will, I would consider it as a buying opportunity. The three largest shareholders control 48% of the company.
2. IMAX Corporation (NYSE:IMAX) is one of the world's leading entertainment technology companies, specializing in immersive motion picture technologies. The worldwide IMAX theater network is among the most important and successful theatrical distribution platforms for major event Hollywood films around the globe, with IMAX theaters delivering the world's best cinematic presentations using proprietary IMAX, IMAX 3D, and IMAX DMR technology.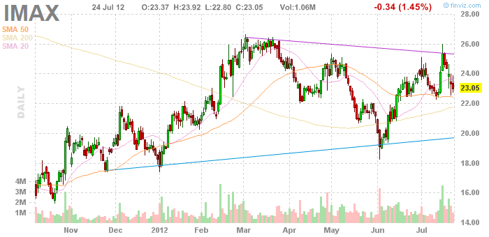 Insider buys
Financials
The company is scheduled to give Q2 2012 earnings conference call on July 26th at 8:30 a.m. ET.
The company reported first quarter results on April 27th with the following highlights:
| | |
| --- | --- |
| Revenue | $55.6 million |
| Earnings | $0.04 per share |
| Theatre system backlog | 261 |
My analysis
The stock has a $43.5 price target from the Point&Figure chart. I might take a long position in the stock during next 72 hours.
3. Westport Innovations (NASDAQ:WPRT) is a leading global supplier of proprietary solutions that allow engines to operate on clean-burning fuels, such as compressed natural gas [CNG], liquefied natural gas [LNG], hydrogen, and renewable natural gas [RNG] fuels, such as landfill gas, and help reduce greenhouse gas emissions [GHG]. Westport's technology offers advanced LNG fueling systems with direct injection natural gas engine technology for heavy-duty vehicles, such as highway trucks and off-road applications, such as mining and rail. Thanks to the company's joint venture with Cummins (NYSE:CMI), Westport designs, engineers and markets spark-ignited natural gas engines for North American transportation applications, such as trucks and buses. The Westport LD division is one of the global leaders for natural gas and LPG fuel in passenger cars, light-duty trucks, and industrial applications such as forklifts.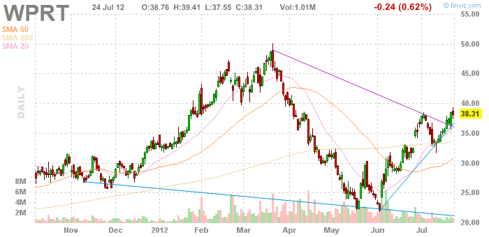 Insider buys
Kevin Douglas purchased 143,000 shares on July 23th and 300,000 shares on July 18th, and has purchased a total of 1.24 million shares during 2012. Kevin Douglas is a 10% owner of the company according to SEC filings.
Financials
First quarter highlights include:
| | |
| --- | --- |
| Revenue | $88.6 million |
| Net loss per share | $0.44 |
| Cash | $333 million |
My analysis
The stock has a $71 price target from the Point&Figure chart. I might wait for the second quarter earnings before going long.
4. Yahoo (NASDAQ:YHOO) is a technology-powered media company, creating deeply personal digital experiences that keep more than half a billion people connected to what matters most to them, across devices and around the globe. Yahoo's unique combination of Science + Art + Scale connects advertisers to the consumers who build their businesses.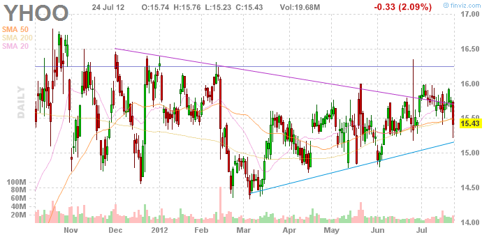 Insider buys
Financials
The company reported second quarter results on July 17th with the following highlights:
| | |
| --- | --- |
| Revenue | $1.081 million |
| Non-GAAP earnings | $0.27 per share |
| Cash | $2,401 million |
My analysis
The stock has a $12 price target from the Point&Figure chart. If we do reach this target I would consider buying the shares.
Disclosure: I have no positions in any stocks mentioned, but may initiate a long position in IMAX over the next 72 hours.