There has been a lot of debate on SA recently about corruption. Much of this debate has focused on emerging markets, which tend to have weaker corporate governance, lower levels of transparency, and less democratic accountability than advanced economies. This fact has often been cited as a reason to avoid emerging markets in general or particular countries that an analyst finds to be especially corrupt. The proliferation of single-country emerging market ETFs in recent years has also given investors the ability to gain emerging market exposure while avoiding countries with the greatest governance problems. The goal of this article is to examine whether investors would be better served by using a slice-and-dice strategy that limits emerging markets exposure to countries with relatively transparent governance.
At an intuitive level, it would seem that corruption is bad for investors. Corruption evokes images of sweetheart deals, expensive kickbacks, predatory state officials, and economic inefficiencies. Corruption means extra costs with no benefits, right?
Maybe. However, there are a few reasons to suspect that corruption does not entail lower returns for emerging market equity investors:
Uncertainty regarding the importance of corruption: corruption may be inefficient, but we do not have a clear sense of how much it matters. Sure, many public officials in, say, China, are corrupt, but does that mean that the entire Chinese economy is a Ponzi scheme?
Corruption is public knowledge: savvy investors may calculate that Indonesian political elites are less trustworthy than South Korean elites, so that information is already baked into equity prices.
Corruption can be a positive good for investors: businesses can use pliant state actors to avoid taxes or regulation, control competition, and capture state subsidies. This effect is most likely to hold for large, powerful, well-connected businesses.
In order to test this strategy empirically, I generated a universe of emerging market countries using the following criteria: a.) inclusion in Vanguard Emerging Markets Index (NYSEARCA:VWO) b.) existence of a single country index ETF that served as a proxy for country-level equity performance in a given year c.) inclusion in Transparency International Corruption Perceptions Index.
A brief note about the index: collected every year, the CPI is an aggregation of many different surveys and reports from anti-corruption oriented organizations that focuses on perceptions of public sector corruption. Transparency International collects these different sources to construct the CPI, which seeks to offer relative corruption rankings among countries. Thus, while a country's corruption score may not be directly comparable from one year to another, the index is well-suited to compare different countries within a given year.
For the years 2009-2012 (2012 is through 7.24.2012), I ranked countries by equity returns and levels of corruption. I found a consistently negative correlation between transparency and equity returns. That is, investors in more corrupt countries did better than those in less corrupt countries. Every single year since 2009.
| | | |
| --- | --- | --- |
| Year | Correlation | N |
| 2012 | -0.16 | 19 |
| 2011 | -0.12 | 19 |
| 2010 | -0.21 | 16 |
| 2009 | -0.08 | 12 |
Note: in 2010 and 2009 the sample size is smaller because fewer countries had single country ETFs during those years.
After this initial result, I devised two hypothetical strategies that captured differing views regarding the relationship between corruption and equity returns. The first strategy, the "Straight Shooters Index", captures the conventional wisdom assuming a negative relationship between corruption and equity returns by including the five least corrupt single-country emerging market ETFs each year (equal weighted). The second strategy, the "Bad Boys Index," implements my finding of a positive correlation between corruption and equity returns by including the five most corrupt single-country emerging markets ETFs each year (equal weighted). Here's the index lineups:
2012

2011

2010

2009

Straight Shooters

Hong Kong EWH

Hong Kong EWH

Hong Kong EWH

Hong Kong EWH

Chile ECH

Chile ECH

Chile ECH

Chile ECH

Taiwan EWT

Taiwan EWT

Taiwan EWT

Taiwan EWT

Poland PLND

Poland PLND

Poland PLND

South Korea EWY

South Korea EWY

South Korea EWY

South Korea EWY

South Africa EZA

Bad Boys

Indonesia IDX

Indonesia IDX

Colombia GXG

Brazil EWZ

Mexico EWW

Mexico EWW

Peru EPU

China GXC

Egypt EGPT

Egypt EGPT

India PIN

India PIN

Philippines EPHE

Philippines EPHE

MexicoEWW

Thailand THD

Russia RBL

Russia RBL

Indonesia IDX

Mexico EWW
Although Hong Kong is technically part of China, I included it separately because it has a different form of government than mainland China and receives a separate ranking in the CPI. I also included returns for VWO and all other single country emerging market ETFs for reference: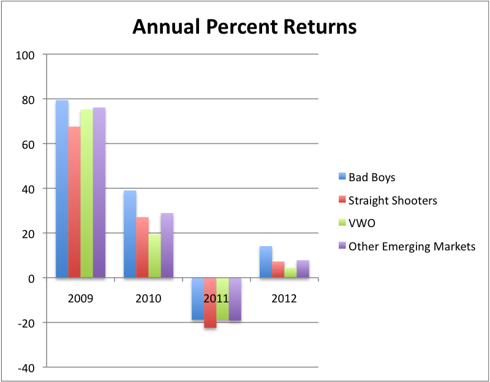 Click to enlarge
As the figure above shows, the Bad Boys consistently outperformed the Straight Shooters every year during the period 2009-2012. In fact, the Bad Boys Index outperforms Vanguard Emerging Markets VWO every year except for 2011, when their performances were roughly equal. The relative outperformance of the Bad Boys compared to the Straight Shooters in 2011 is especially remarkable given that one of the Bad Boys (EGPT, 20% of the index) had a revolution.
So what does this all mean? Emerging markets cheerleaders may point to the extraordinary growth and potential of developing countries, arguing that governance problems are overshadowed by their economic renaissance. Efficient marketeers may argue that perceptions of public sector corruption are reflected in asset values, so there is no reason to think that the Bad Boys will do poorly relative to the Straight Shooters in the future. I personally suspect that corruption may actually be conducive to investor returns in many situations, although the broader social effects of corruption are likely negative. Regardless, these results should give investors pause before adopting a slice-and-dice approach to emerging markets exposure that seeks to avoid countries viewed as highly corrupt.
I intend this study to be a part of a longer series on corruption and financial markets, and look forward to any comments, critiques or suggestions for future research.
Disclosure: I am long VWO.