Select Comfort (SCSS) is a vertically integrated manufacturer and a seller of mattresses and bed-related products (under the brand name Sleep Number). SCSS announced its earnings last week and has increased its 2012 EPS guidance on the back of favorable growth in sales. This comes at a time when competitors Tempur Pedic International Inc. (TPX) and Mattress Firm Holding Corp. (MFRM) are taking a beating in the market, due to a reduction in their respective outlooks for this year.
Financial Results Summary for Last Quarter:
Q2 turned out to be good for SCSS, against industry expectations. Below are the details:
Sales were up 27% YoY.
Same store sales were up 25% YoY, unchanged from the 25% for the same quarter last year.
The company was able to achieve an EPS of $0.3. This was 11% higher than the Street's estimate of $0.27.
The number of stores is being increased from 381 last year ending December 2011, to the 408-412 range at present.
The company has revised its guidance for FY ending December 2012. EPS estimates have been raised from $1.38-$1.46 to $1.41-$1.47; analyst estimates are $1.46. This favorable revision can be due to the increase in the number of stores being opened.
The company has been consistently beating analyst estimates. Below is a table of the actual quarterly EPS as compared to the Street's estimates.

Click to enlarge
Source: Yahoo Finance
Profitability Overview:
This quarter's gross profit is the highest in the last six quarters. The operating margin increased by 16%, as compared to the same period last year. This is due to higher sales (attributable mainly to non-inner spring mattresses), lower marketing, and lower selling, general and administration expenses. The profit margin is also 1.2% points higher than the last year.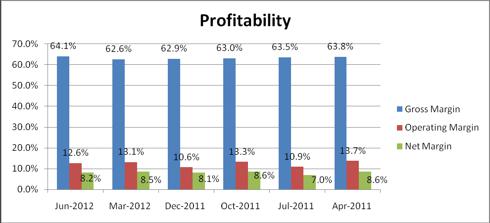 Click to enlarge
A cause for concern for SCSS is the decline in inventory turnover. The number reached 2.8x in the last quarter, down from 3 in the same quarter last year; this might indicate less demand for products. This would probably mean that rising gross profit margins are primarily due to premium pricing on the company's differentiated products.
There are two new product launches for July; the Memory Foam Bed for ~$4700, and the FlexFit Series for ~$1700. Pricing for the Sleep Number Bed Series (Queen Size) ranges from $999-to-$4,700.
The company is expecting more than $1.5 billion in sales and a 15%+ operating margin by 2015. According to the company presentation for July 2012, their market share is 5%, which gives them ample room for future growth.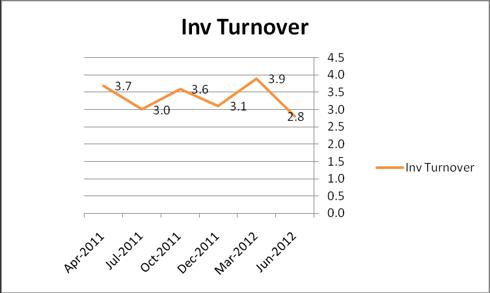 Click to enlarge
Cash flows are healthy and have increased from the same time last year. The YTD value of cash from operations reported in Q22012 was $43 million, compared to $34 million for the first six months of last year. Moreover, the company has no long term debt, and it had capital expenditures of $13 million in Q2.
Competitors:
Below is a graph showing U.S. housing starts compared to the stock price for Select Comfort , Tempur Pedic International Inc. and Mattress Firm Holding Corp. . Out of the three, SCSS seems to be the most correlated with housing starts. Since housing starts have been picking up, and the number for June (760,000) is the highest since 2008, it is no wonder that SCSS is doing well compared to its peers.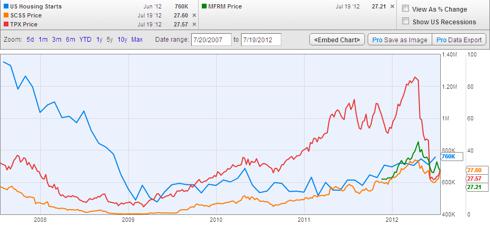 Click to enlarge
Valuation:
The current stock price is $27.9, and its performance can be seen from the graph above. Downward revision of estimates by TPX in June led to a drop in the stock price for all three stocks, as investors tend to extrapolate the negative results of one company to the prospects of the entire sector. According to TPX, its 2Q sales are expected to be 3%-5% less than the same time last year. This is why its stock was down to its 52-week low on June 26.
SCSS' growth rate for the last 5-years has been 29%. Long term (5-year) growth rate for earnings is 20% for Select Comfort, compared to TPX's 13.5% and MFRM's 24.4%.
The forward P/E for SCSS is 15x, compared to TPX's 9x and MFRM's 13x.

*2014 EPS estimate calculated by using 20% growth rate.
We recommend buying SCSS based on its profitability, differentiated premium products and growth prospects.
Disclosure: I have no positions in any stocks mentioned, and no plans to initiate any positions within the next 72 hours.