The 10-year Treasury note traded within a narrow four-basis-point range until Friday, July 20. That's when the fear bid returned, sending the yield from 1.54% to 1.49%.
Click to enlarge all images.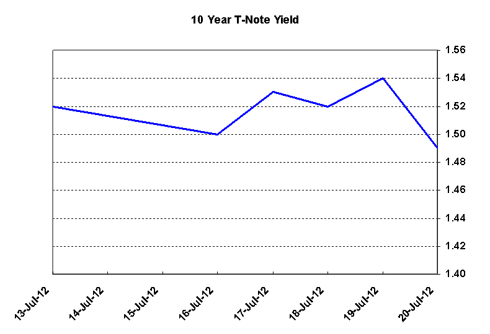 For the week ended July 13, the entire yield curve saw lower yields. Yields declined from one basis point to five basis points. The Three-Year Treasury note settled at 0.29% and the Five-Year Treasury note closed at 0.59%. These yields were the lowest closing yield for 2012.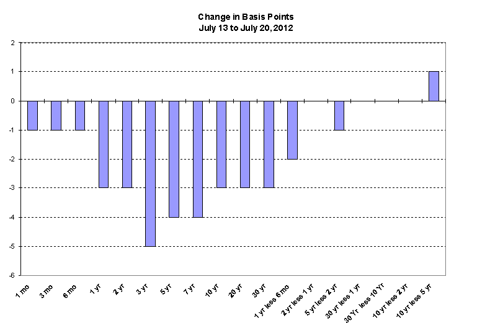 The 10-Year Treasury note yield is near the low for the year that was set on June 1, at 1.47%. The 10-Year closed July 20 at 1.49%. Will a new low yield be hit? It's hard to say. The better question might be: Will investors be happy earning a 1.50% return for a decade?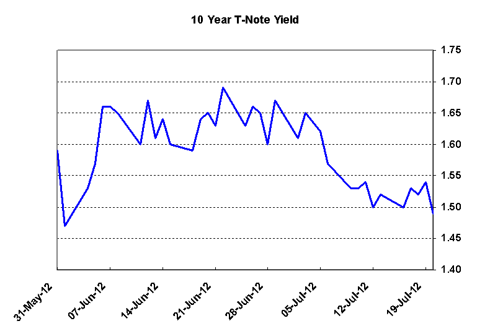 The following bond ETFs might be worthwhile to consider for those who think interests rates may stay stable or decline:
Vanguard Extended Duration Treasury ETF (NYSEARCA:EDV)

Closed July 20 at $134.58
Closed June 15 at $127.71
6.87 $ Change
5.38 % Change
More data on EDV is available here.

iShares Barclays 20+ Year Treasury Bond ETF (NYSEARCA:TLT)
Closed July 20 at $130.06
Closed June 15 at $126.40
3.66 $ Change
2.90 % Change
More data on TLT is available here.
PIMCO 25+ Year Zero Coupon Treasury ETF (NYSEARCA:ZROZ)
Closed July 20 at $123.47
Closed June 15 at $118.11
5.36 $ Change
4.54 % Change
More data on ZROZ is available here.
The following bond ETF may offer some protection from increasing interest rates:
PowerShares 1-30 Year Laddered Treasury ETF (NASDAQ:PLW)

Closed July 20 at $33.85
Closed June 15 at $33.40
0.45 $ Change
1.35 % Change
More data on PLW is available here.
An investor may want to use a combination of cash and various bond ETFs to construct a portfolio based on his or her risk/reward profile. The options are endless. Be sure to read and understand the ETF prospectus to understand its risk.
Being in the camp of expecting higher interest rates, a combination of cash and ETFs might be the answer. Better to be a steady singles and doubles hitter than swinging for the fence and missing. Even though the home run hitters may get the big bucks, their careers might not outlast the consistent singles hitters'.
Conclusion
Anything is possible in today's markets. Had someone told you in 1980, 1990, 2000, or 2007 that the federal government would run massive budget deficits and sell record amounts of U.S. Treasuries at interest rates that would set or be near record lows, wouldn't that person have been considered crazy? Yet that is what has happened. For some reason, investors have decided that lending to the U.S. Treasury is better than investing in U.S. corporate bonds and stocks. What will it take for that to change?
It is difficult seeing interest rates going much lower. But if the crowd is short, then short-covering might push rates lower than many believe is possible.
Disclosure: I have no positions in any stocks mentioned, and no plans to initiate any positions within the next 72 hours.