Treasuries (TLT) are climbing parabolically as a supposed safe haven as the European debt crisis remains at center stage. Spain's debt yields are reaching a record and Moody's is lowering their credit rating outlooks on Germany, Netherlands and Luxembourg. Capital has been seeking a safe place to hide, but that trend may change sooner rather than later.
Many are choosing the U.S. dollar (UUP) and U.S. treasuries as the Fed continues manipulating long term treasuries through Operation Twist until at least the end of the year. This has come after two rounds of $2.3 trillion dollars of QE. This was supposedly set up to stimulate the global economy. So far this has not happened.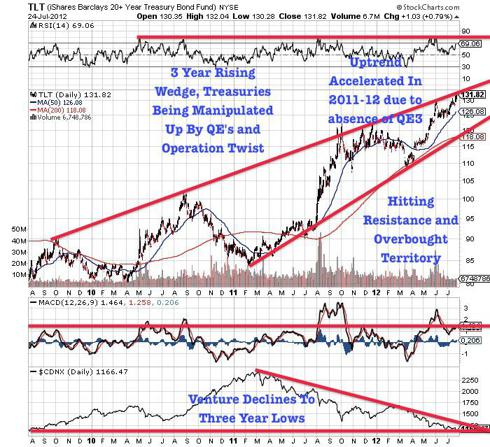 We have an inflated treasury market and an undervalued precious metals, commodities and mining equity market. Gold (GLD) is still in an uptrend despite what some short sighted analysts say. One must be careful of manipulations in the dollar and treasuries and look at the price of gold in other currencies such as the Euro (FXE).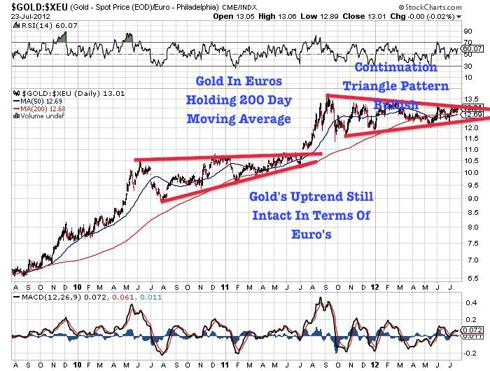 Gold in terms of Euros is holding its uptrend and 200 day moving average.
There is debate whether buying of treasuries through asset purchases to move into more negative yield territory would accomplish much. There is beginning to be talks of buying mortgage backed securities or using new accommodative measures never seen before by mankind. However, in 2012 the treasury market is outperforming all asset classes including the S&P 500 (SPY) reaching historically overbought territory.
The next meeting is on July 31st and the treasury bubble is in danger of popping. Interest rates have been at 0% for some time as the U.S. faces what some call the Fiscal Cliff in the 4th Quarter which includes automatic tax increases and entitlement cuts.
Recently Bill Gross, one of the top fund managers in the world echoed what we have been saying for many weeks, "that real assets such as commodities, energy, precious metals and mining stocks are a "better bet" amid negative real interest rates."
China seems to be taking his advice and has established a friendly relationship with Canada to acquire natural resources. This was evidenced by CNOOC's (CEO) acquisition of Nexen (NXY) for over $15 billion. Maybe the smart investors are already exiting the dollar and treasuries as the investment herd crowds into these supposed safe havens.