This morning the U.S. Census Bureau reported 350,000 new home sales for June 2012. Analysts expected 373,000 new home sales for the period. In the prior month, the Census Bureau reported 369,000 new home sales and this figure was revised upwards to 382,000. For June, the year-over-year change in sales was 15.1%.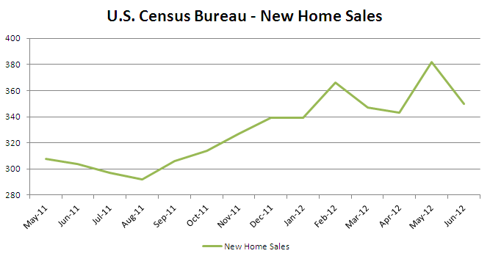 Homebuilders like Toll Brothers Inc. (NYSE:TOL), Beazer Homes USA Inc. (NYSE:BZH), and DR Horton Inc. (NYSE:DHI) will report earnings in the next few weeks. Overall, these stocks have gotten a fair boost from positive housing news the past few months. The trend may continue.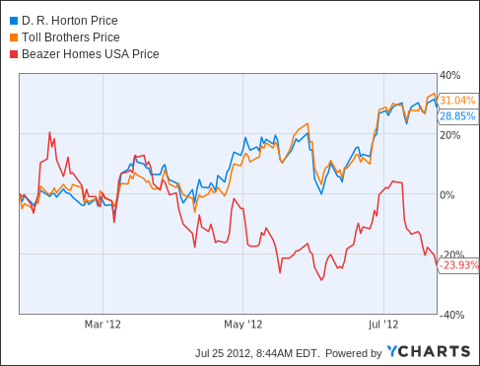 This report follows Tuesday's FHFA Housing Price Index report showing a monthly increase in home prices of 0.8% and a report from Zillow showing a 2.1% increase in home prices from the first to second quarters. Zillow also reports yearly appreciation in home prices for the first time since 2007.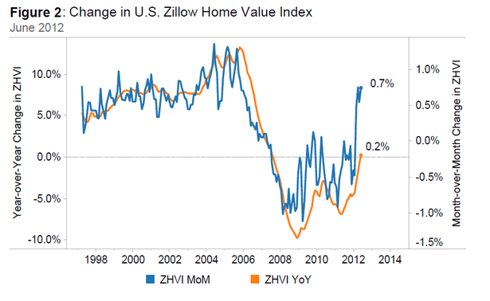 Thursday, the National Association of Realtors will report Pending Home Sales for June, which are expected to increase 0.9%. The previous report for May 2012 showed an increase of 5.9%, which far exceeded expectations of 0.5%
The strength in housing comes despite the fact that there is no real plan for housing finance. Regulators are still implementing a 2008 road-map to wind-down the mortgage market by eliminating Fannie Mae (OTCQB:FNMA) and Freddie Mac (OTCQB:FMCC). The fact is that the two companies have successfully mitigated losses on 2.3 million mortgages to avoid foreclosure and operated at a loss to provide capital for the market after private entities vanished during the crisis. The Conservatorship plan was flawed and meant to be punitive to the companies. Political motives can be the only reason, as the market has suffered from weakness in housing finance.
All politicking aside, former Treasury official Jim Millstein has drafted a plan to bring back private capital to the mortgage market and limit the disruption of capital flows by restructuring Fannie and Freddie. His plan should bring some money back to taxpayers similar to the restructuring of AIG (NYSE:AIG). Millstein even suggests that his plan will pay back taxpayers in full for the bailout of Fannie and Freddie.
As the Millstein plan circulates in Congress and housing quickly turns a corner, it should be a good time to look at investments in the housing market. Mortgage insurers, builders, retailers, and banks will all benefit from renewed strength.
Disclosure: I have no positions in any stocks mentioned, and no plans to initiate any positions within the next 72 hours.