By: Brendan Gilmartin
Overview
Starbucks (SBUX) is scheduled to report 3Q 2012 earnings after the close of trading on Thursday, July 26. Results are typically available several minutes after the closing bell and will follow with a conference call at 5:00 p.m. EST.

Outliers & Strategy
Key measures:
Earnings Per Share: The estimate is $0.45, compared with the company range of $0.44 - $0.45. (Source: Yahoo! Finance)
Revenues: Revenues are seen growing 13.6% to $3.33 bln.
Earnings Per Share Guidance (FY2012): Back in June, Starbucks adjusted its EPS guidance to $1.80 to $1.82 (prior expectation was $1.81 to $1.84), representing 18% to 20% growth over in FY11.

Sympathy Plays: Green Mountain Coffee Roasters (GMCR), Dunkin' Brands Group (DNKN), Coffee Holding Co. Inc. (JVA), and Caribou Coffee Company (CBOU).
Coffee Futures have rebounded off 2-year lows (see chart below), potentially cutting into profit margins late in the quarter. (Chart courtesy of StockCharts.com)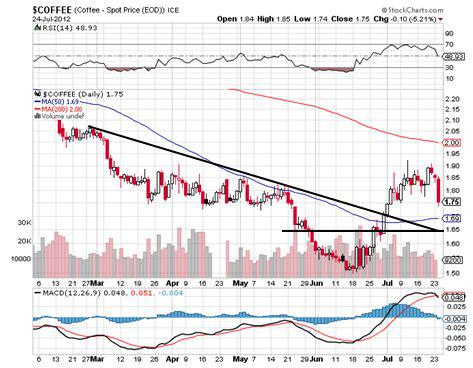 Recent News
07/19: Goldman Sachs is maintaining a Conviction Buy List rating and $63 price target on Starbucks, according to a report on StreetInsider.com. The firm cited increased market share in the single-serve market, based on data from Nielsen.
07/17: JP Morgan lowered the price target on Starbucks from $61 to $58, according to a post on Benzinga.com. The firm cited softness in Europe and a weaker comp in China, but maintained an Overweight rating.
07/13: UBS maintained a Buy rating and a $61 price target on Starbucks according to a report on StreetInsdider.com, based on increased market share in K-Cups and higher unit prices.
06/12: Starbucks CFO Troy Alstead slightly adjusted the EPS guidance range for the 3Q period to $0.44 to $0.45 (April guidance was $0.45 - $0.46) and lowered the high end of the FY2012 range from $1.81 - $1.84 to $1.80 to $1.82. Speaking from the William Blair Growth Conference, Mr. Alstead noted that the company has struggled with macro challenges from EMEA, with the weakening trends in the 2Q period carrying over into the 3Q.
Technical Review
Starbucks shares are off more than 18% from the 52-week high of $62.00 (April 16), taking out a key support level at $51.00 along the way. That $51.00 support level is now near-term resistance in the event of an upside surprise, followed by $54.00. Below $51.00, support is at the 200-Day SMA just below $50.00, followed by $49.00. (Chart courtesy of StockCharts.com)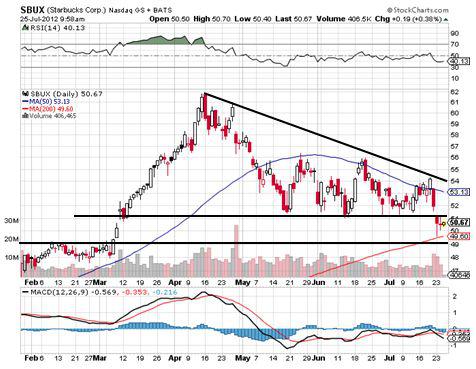 Summary
Starbucks has come under pressure in recent weeks, stemming from higher coffee futures, along with the weakening macro backdrop in Europe and China, prompting the CFO Troy Alstead to downwardly adjust 3Q and FY2012 EPS guidance. The pullback dragged the shares below key technical support at $51.00, a key level to watch off the earnings release. Despite this weakness, Starbucks is seeing increased market share in the single-serve market (hurting Green Mountain Coffee) and benefiting from new products, limiting potential downside.
DISCLAIMER: By using this report, you acknowledge that Selerity, Inc. is in no way liable for losses or gains arising out of commentary, analysis, and or data in this report. Your investment decisions and recommendations are made entirely at your discretion. Selerity does not own securities in companies that they write about, is not an investment adviser, and the content contained herein is not an endorsement to buy or sell any securities. No content published as part of this report constitutes a recommendation that any particular investment, security, portfolio of securities, transaction or investment strategy is suitable for any specific person.
Disclosure: I have no positions in any stocks mentioned, and no plans to initiate any positions within the next 72 hours.